What is one best practice for monetizing Ecommerce user-generated content?
To help you best monetize your Ecommerce user-generated content (UGC), we asked marketing professionals and business leaders this question for their best insights. From encouraging postings of your brand by customers to employing UGC in your ads, there are several tips that you may adopt as best practices to help you effectively monetize your Ecommerce user-generated content.
Here are 13 best practices for monetizing Ecommerce user-generated content:
Encourage Postings of Your Brand by Customers

Use Captcha To Verify Authenticity of Submissions

Equip Your

Email Campaigns

With Social Proof

Ask The Creator Permission to Use Their Content

Add User-Generated Content Reviews To Your Website

Be Authentic With Your Brand

Split-Test Your User-Generated Content for Optimal Performance

Use Call-To-Action To Max Conversion Rate.

Hold a Photo Challenge

Market The Right Content

Create a Subscription Service

Use All of Your Key Channels

Employ User-Generated Content in Your Ads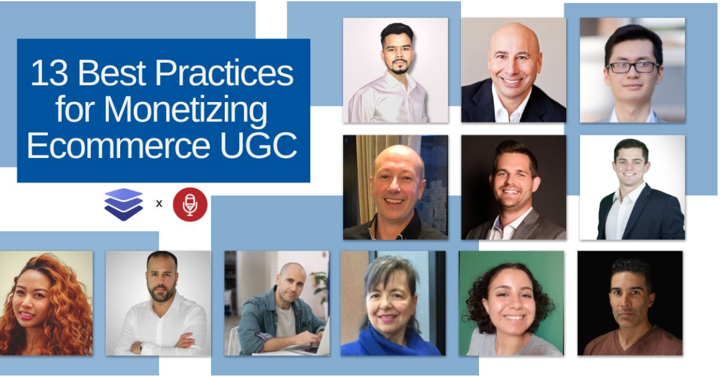 Encourage Postings of Your Brand by Customers 
User generated content (UGC) is gold and helps gain new customers in many ways. But first you need to get it. The best way is to encourage your customers to take a picture of themselves using your product and upload it to their social media accounts and tag/mention your business. The best place to do this in your "Thank You" email. Give them a couple of hashtags to use too. Once they post it, you'll get a notification. Then you can use that post for marketing wherever you want. Oh, and don't forget to thank them for posting it!
Giselle Aguiar, AZ Social Media Wiz
Use Captcha To Verify Authenticity of Submissions
There are many best practice strategies you need to put in place when you are looking at monetizing Ecommerce user-generated content but one that should be a priority is Captcha. This will verify that everyone submitting to your page is human and not a bot. Bots are a big problem on many pages from social media pages to websites and they are bound to get worse this year as it's an election year in the U.S. Making sure your site is bot-free will increase the credibility of your site and encourage many quality content writers to participate.
Baruch Labunski, Rank Secure
Equip Your Email Campaigns With Social Proof
Words coming from the mouth of your customer will be always more persuasive than any sales copy you could produce. This is because of social proof, a psychological phenomenon where people emulate the actions of others under the assumption that those actions must be desirable.
The data confirms that the vast majority of people are more likely to make a purchase if a business has real customer reviews. So next time you run an email campaign, include one or two customer reviews that talk about the results your customers have experienced. You could take things one step further by featuring video testimonials that showcase customers using your product in context. 
In addition to customer reviews, expert endorsements and media mentions are also effective forms of social proof.
Dean Kaplan, The Kaplan Group
Ask The Creator Permission to Use Their Content
Always ask for the creator's permission to re-use and monetize user-generated content. This essential best practice prevents customers from feeling like their content is being monetized without their consent. Most customers are excited to be approached about using their content for marketing purposes, but some may decide they do not want to be featured for personal reasons.
Breanne Millette, BISOULOVELY
Add User-Generated Content Reviews To Your Website
User generated content (UGC) can be a powerful asset for any ecommerce business. When used correctly, UGC can help to build trust and credibility, create a sense of community, and drive conversions. While there are many different ways to monetize UGC, one best practice is to feature user-generated product reviews on your website.
Product reviews provide valuable insights for potential customers, and they can also help to boost your search engine ranking. Additionally, featuring UGC on your site can help to build social proof and increase customer loyalty. When done correctly, monetizing UGC can be a great way to drive sales and improve the overall performance of your ecommerce business.
Jim Campbell, Wizve - Digital & Affiliate Marketing Agency
Be Authentic With Your Brand
Converting someone from a follower to a purchaser is hard. A  key element in a creator being able to monetize content is to be authentic to your persona. To get your followers to convert from viewers to purchasers, you need to be true to who you are. That's what makes them want to follow you in the first place: your authenticity.
Chad Rubin, Profasee
Split-Test Your User-Generated Content for Optimal Performance
Split test your UGC for optimal performance and create guidelines around what converts most effectively. Your customers are looking for certain values in your product to convince them to buy–knowing what those values are is key to optimizing your sales. For example, if you sell athletic shoes, those that customers review as "feeling like air" might convert more users to buy than reviews that state the sneakers are "comfortable" or "lightweight." 
Prioritize customer reviews of your products that stress those keywords and features most likely to convert new users for the best sales. The guidelines for UGC submission should point your customers in the right direction to incentivize reviews that will be most effective for your business.
Kevin Miller, kevinmiller.com
Use Call-To-Action To Max Conversion Rate
User-generated content (UGC) includes content such as pictures, text, and videos that are created by people instead of brands. When UGC uses calls-to-action (CTAs), it increases the conversion rate because it tells potential customers what you'd like them to do. In the case of Ecommerce, you usually want them to buy a physical or digital product so adding a clear and compelling CTA at the end will get results.
John Cammidge, JTC Consultants
Hold a Photo Challenge
Monetize user-generated content (UGC) by holding a photo challenge that showcases creative ways your customers use your products in everyday life. You can set a specific time period for the challenge, such as five days, two weeks, or even just three days. 
Establish guidelines so that user-generated photos are high quality and align with your branding. Add a unique hashtag they need to use when posting their photos. Make the challenge more fun by creating photo categories. Create fanfare at the end of the challenge by livestreaming the announcement of winners for each category.
Kevin Huang, Ambient Home US
Market The Right Content
User-generated content not only gives you insights into what customers feel about your brand but also gives you a myriad of ideas to re-market the same content. But, let me tell you, not every content piece will be a right fit for your marketing campaigns or simply publishing on your social media or website.
Some might be negative reviews, or some photos or videos would be low-quality. What you should do instead is to pick the viral-worthy, high-quality content, and feature it in your campaigns. You can also set a recommended content standard guideline if customers want to be featured.
Robert Warner, Virtual Valley
Create a Subscription Service
User generated content can be a powerful tool to help generate revenue for your ecommerce business. One way to monetize this content is by creating a subscription service that gives users access to exclusive content. This could include anything from video tutorials and product reviews to behind-the-scenes looks at your business. 
Not only does this give users access to content they can't find anywhere else, but it also helps create a sense of community and loyalty around your brand. As long as you continue to produce high-quality content, your subscribers will be happy to keep paying for access. If you're not sure how to get started, reach out to some of your most active and engaged users and ask if they'd be interested in contributing content. You may be surprised at how many people are willing to help out – and how much great content you can end up with as a result. 
Syed Ali Abbas, Target Cooking
Use All of Your Key Channels
When it comes to content marketing, specifically user-generated content (UGC), making use of all of your key channels is important in order to maintain visibility and convert viewers into customers. These channels can include your ecommerce store, social media like Twitter and Instagram, email marketing campaigns, and ad creatives like TikTok and Facebook ads. However, you don't want to overwhelm your customers with too much UGC. That's why it's important to focus on a few specific channels where you want to promote it.
The places you choose to promote UGC will depend entirely on where you receive the most traffic and genuine engagement. If your Instagram consistently gets 1000 likes per post and 100 comments but your Twitter only gets a fraction of that, it would be ideal to make Instagram one of your key channels for promoting UGC. Using 2-3 key channels for promoting UGC will allow you to focus your marketing efforts where you know they work while reaping the benefits.
Dustin Ray, Inc File
Employ User-Generated Content in Your Ads
There's no better way to realize you need something than to see yourself through the eyes of someone else. When customers share their opinion on a product or simply show themselves using it, we can't help but connect with the person, and if we're indeed the target customer for that product, seeing someone else we can relate to using it will certainly help us jump the gun.
In a way, influencer sponsorships are the polished version of user-generated content (UGC). Employing UGC in ads in the final stage of the advertising funnel, after the prospect has expressed in some way their high intent of purchasing a product, reaching the checkout page, is the best way to increase your conversion rate and therefore monetize UGC.
Maria Chan, Scalify
Terkel creates community-driven content featuring expert insights. Sign up at terkel.io to answer questions and get published.