How does your brand use social media?
To help your brand figure out how to use social media to advance its marketing goals, we asked PR experts and business leaders this question for their best ideas and examples. From highlighting exciting initiatives to personal brand development, there are several ways your brand can use social media.
Here are eleven ways your brand can use social media:
Promoting content to build your audience
Displaying your workplace culture
Highlighting exciting initiatives 
Showcasing recipes
Encouraging exploration
Celebrating our healthy pets
Personal branding on LinkedIn
Educating our audience
Recruiting potential employees
Networking in our community
Meme-ifying museums
1. Promoting content to build your audience
Unstack uses social media primarily for content distribution, but we've been trying to grow our following and engage with our audience more this year. Recently, I've been sharing blog posts and podcasts from Unstack's LinkedIn profile more regularly, and I've been spending more time providing value in the text, adding images, and tagging authors. Most of our posts now have some engagement and a couple hundred impressions, depending on the topic. But our biggest success lately blew this out of the water—and I didn't do any of that extra work. I posted a simple, text-only promotion of our latest podcast sharing the results of our startup marketing survey, and it has over 5,000 organic impressions. 
Ceillie Clark-Keane, Unstack
2. Displaying your workplace culture
Our goal on social media is to share the good that's happening in the workplace. We work with companies that we're proud to represent. We use our social media presence to elevate brand awareness, hiring opportunities, and pioneer thought leadership.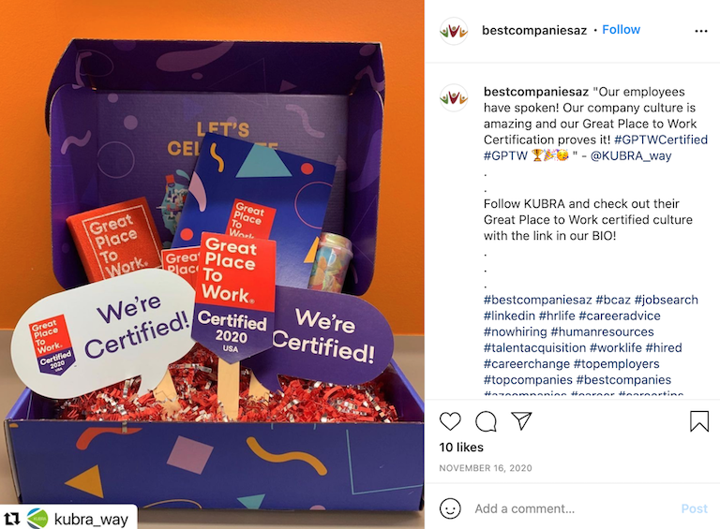 While work can grow tiresome, at BCAZ we want to remind you that it's possible to absolutely love your job, boss, and workplace culture. We believe people deserve to be in positions where they feel valued and a sense of purpose. That's the message we want to be communicated in every post we share.
Chelsea Vaughn, BestCompaniesAZ
3. Highlighting exciting initiatives 
We use social media to elevate and highlight exciting initiatives in our company. Whether it is highlighting an employee and all that they do for the company or sharing our involvement in the opening of a new Biogas facility, we want to share our accomplishments with our followers. I believe our social media presence humanizes our brand and helps promote us as thought leaders in our industry!
Kimberly Kriewald, AVANA Capital 
4. Showcasing recipes
As a company that specializes in culinary-grade stocks and sauces, we use our social media to showcase the wonderful meals you can make at home with no chef needed!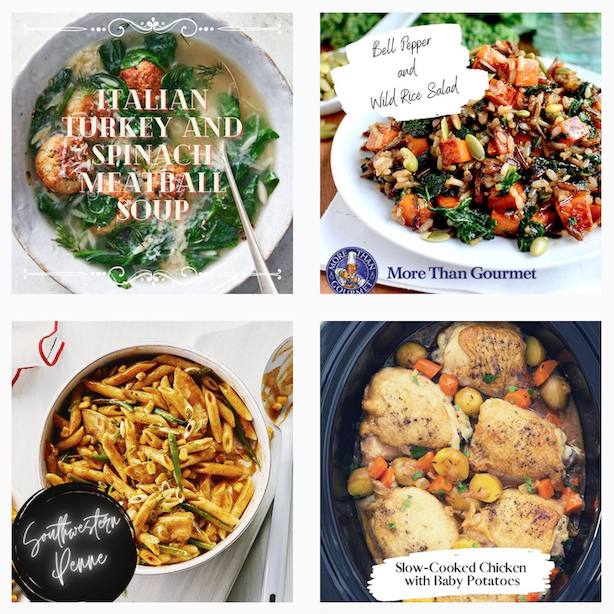 More Than Gourmet on Instagram
It is so important for us to inspire our customers and show them the variety of meals they can make with our products, which is why we are always posting new recipes and enticing their taste buds all through social media posts. 
Brad Sacks, More Than Gourmet
5. Encouraging exploration
Here at Cruise America, we use our social media to inspire individuals to put in that vacation request and go on an adventure with their friends or family. Luckily, we have tons of customers who provide us with user-generated content and tag us in their adventures. Because of this awesome connection with our customers, we are able to share their stories and attract more and more people to our business every year.
Randall Smalley, Cruise America
6. Celebrating our healthy pets
We use social media to celebrate our community of furry friends and to share all the special ways we care for them through our food and pet health assessment.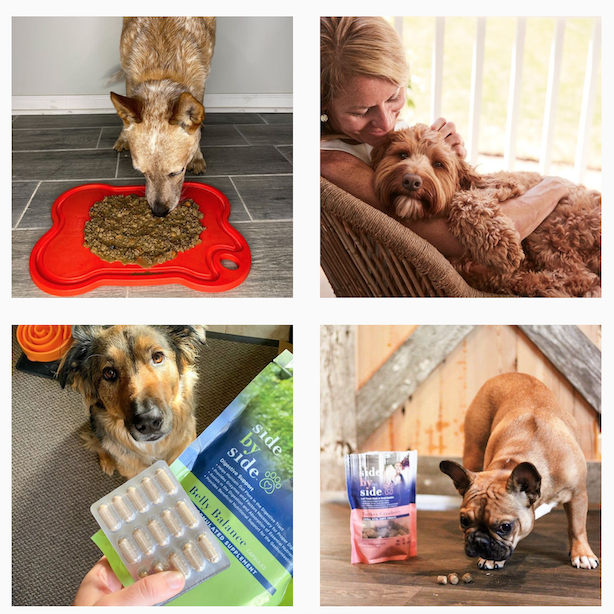 As a specialty dog food company, we want to educate our followers on the benefits of feeding their pets high quality, freeze-dried food and we do so by sharing tons of user-generated content. We love seeing before and after pictures from our customers, full of all the smiles and tail wagging that come with a bowl of Side By Side.
Carol Bramson, Side by Side
7. Personal branding on LinkedIn
As an insurance and retirement advisor, establishing a personal presence and brand on LinkedIn is the best way for our company to use social media. The small businesses and families that we want to connect with spend significant time on the platform, and in our business, people buy insurance because they trust the person selling it. That trust can be established by being active on the LinkedIn platform through actions like completing a profile, sharing status updates, and connecting with others. For any business that does account-based marketing or simply sells to individuals, your personal brand on LinkedIn matters. 
Chris Abrams, Marcan Insurance
8. Educating our audience 
We use social media as a way to make SEO knowledge go viral! The majority of our posts are informational, as our goal is to help educate small business owners in everything SEO so they can succeed online.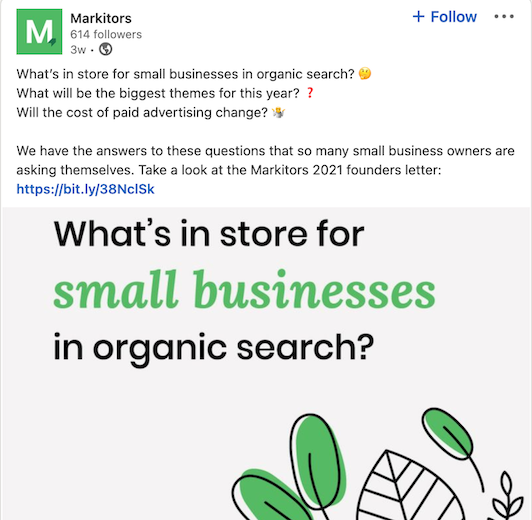 I think the goal of social media should always be to produce valuable content that helps people. There is already so much noise out there, so to truly be engaging on social, you need to have a solid mission.
Nikitha Lokareddy, Markitors
9. Recruiting potential employees
In addition to our regular posting on company accounts, our brand uses social media to interact with potential employees. We encourage our current team members to post about open positions and other company news.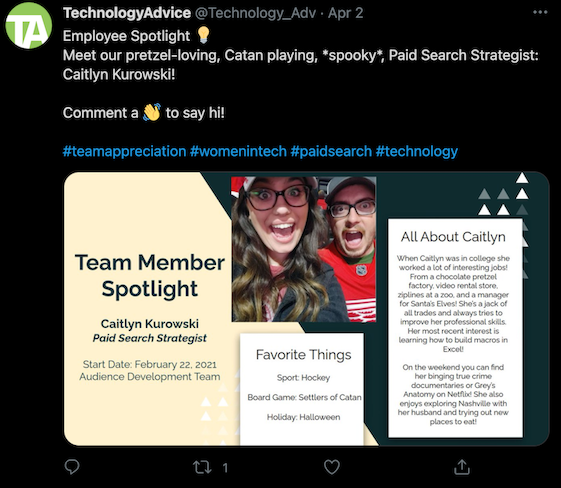 We recently ran a campaign where every employee at TechnologyAdvice posted on their personal social media promoting several open roles. As a result, we saw a 1,348% increase in visitors to the careers page on our website from social media. We are actively illustrating our culture through these platforms so candidates have an accurate depiction of who we are as a company.
Emily Whalin, TechnologyAdvice
10. Networking in our community
One great yet underused networking opportunity comes from Twitter communities. A good way to connect with people on Twitter is to browse various lists related to a specific topic or industry. Additionally, participating in Twitter chats is a goldmine for connections. These events allow users to answer specific questions and tag them with the chat's hashtag in real-time. This creates an opportunity for deep, meaningful conversation, which in turn creates deep, meaningful connections.
Natalya Bucuy, LiveHelpNow
11. Meme-ifying museums
Our sister company, Museum Hack, built a 35k Instagram following by leveraging the power of memes. Pictures of classical paintings tend not to draw much attention on social media. Most folks either prefer to see pieces in person or do not give much thought to art at all. However, when we slapped witty captions above Renaissance masters' masterpieces, the content became more relatable to modern audiences.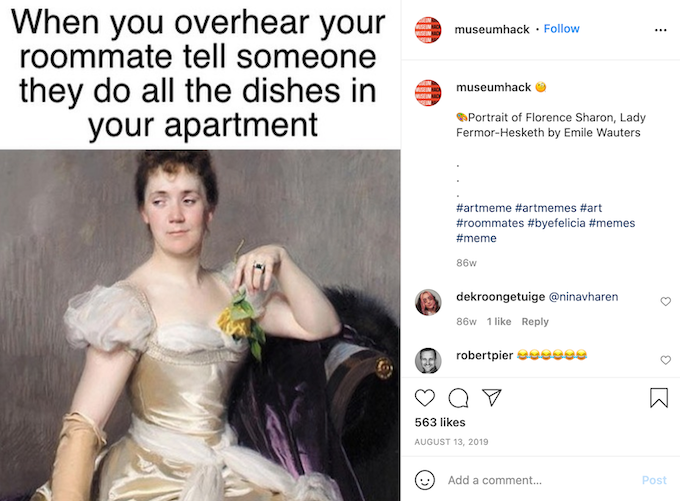 The result was thousands of likes, shares, comments, and follows. We maintained the momentum and posted a steady stream of museum memes that earned our brand several new fans, many of whom inquired about or booked our museum tour services.
Michael Alexis, Teambuilding
Use these social media campaigns for inspiration
When you're trying to grow a following for a small business or a startup, you need to focus on how you're going to regularly create content to share. That's why campaigns and series are so valuable. Now, use these social media campaign examples for inspiration and start brainstorming your own.