Customer retention is one of the most important yet most challenging things to achieve as an eCommerce business. Data from Shopify shows that the customer retention rate for new businesses is only 15%. Hence, most of their sales come from new customers.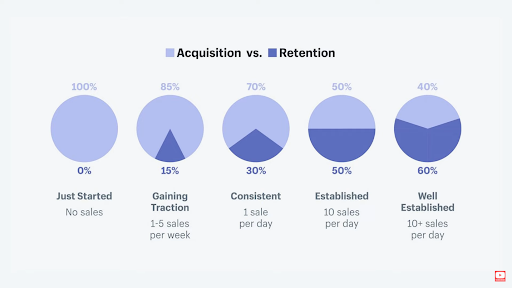 There's nothing wrong with having new customers. You need them to scale your business. However, repeat customers bring numerous benefits for a business. 
For instance, the probability of selling to an existing customer is 60-70%, compared to 5-20% for a new customer. An existing customer is 50% more likely to try a new product than 31% in the case of a new customer. And only a 5% increase in customer retention can increase profits by 25-95%. 
So, it's worth investing your time and resources in re-engaging your inactive customers and encouraging them to buy from you again. Here's where email comes into the picture. Email marketing is one of the best tools to re-engage customers. 
Here's a definitive guide to using promotional emails to re-engage your inactive consumers. 
Why Do Customers Stop Buying from You?
A common challenge faced by almost all eCommerce businesses is retaining customers. In this eCommerce era, shoppers have just too many options to choose from. There are 12-24 million eCommerce stores globally. A customer can shop from a different store every day and still not run out of options. 
However, people don't stop buying from you because they have many options. There could be some specific reasons, such as:
They're Unhappy with Your Product
The easiest way to lose customers is to deliver a low-quality product that doesn't meet the customers' expectations. Perhaps the product's quality isn't good, or it isn't what the customers expected. 
For example, if a product's description says 100% waterproof but stops working when exposed to water, it'll turn off the customers. Not only will they be unhappy, but it's likely they won't return to you. In fact, 64.2% of eCommerce returns occur when the product doesn't match the description.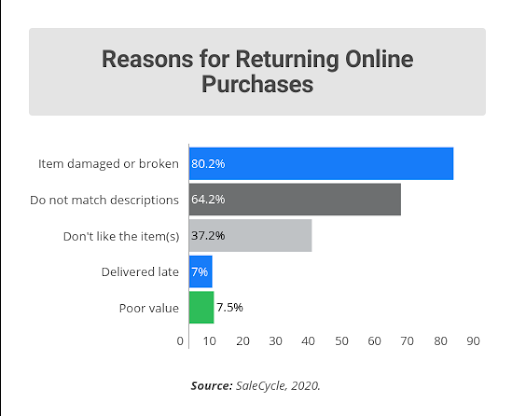 They're Unhappy with Your Customer Service
Poor customer service is another huge turnoff for customers. Suppose your website says "Free Returns – No Questions Asked," but a customer can't return their product. They seek help from customer support but receive rude treatment and unsatisfactory responses. What will they do? Most likely, they won't ever buy from you again. 
You Have Slow Delivery Times or Extensive Shipping Fees
Customers realize that the eCommerce vendor will take some time to deliver the product. However, the delivery time should be reasonable. If you take two or more weeks to deliver a product, you'll give your customers a good reason to abandon you. 
The same goes for shipping fees. Shoppers realize that online delivery comes with a nominal shipping fee. But if you charge an excessive delivery fee, customers will simply look for affordable alternatives. 
They Have Nothing to Buy from You
Many niche eCommerce stores face this problem. Suppose you sell smartphones. If a person buys a smartphone from you, they'll probably use it for at least a year or two. During that time, they won't have anything to purchase from you. 
Your Competitor Offers a Better Deal
The competition level in the eCommerce industry is high. No matter how great your offer is, there'll always be a competitor offering a better deal. Therefore, eCommerce businesses need to be continuously innovative and find better ways to encourage customers to shop from you. 
Can You Re-Engage Your Customers?
Yes! You can re-engage your customers. Online shoppers are forgetful and fickle. Even if they had the worst experience with you, they'd be willing to shop with you again, provided that you have fixed the previous issues. Once you resolve the problems your customers faced earlier, you need to communicate the resolution to them. Here's where email comes into the picture. 
Emails can play a colossal role in re-engaging inactive customers. They are less intrusive and can be highly impactful. If done correctly, re-engagement emails can go a long way in bringing back lost customers. A re-engagement email, also known as reactivation or win-back email, is a sequence of emails sent to previous customers to make them buy from you again. 
Before proceeding, it's essential to understand when to send a re-engagement email. If you send an email to a user who has been unengaged for ten days only, you may not receive a positive response. 
This chart draws a clear relationship between the number of unengaged days and the response rate received on a re-engagement email.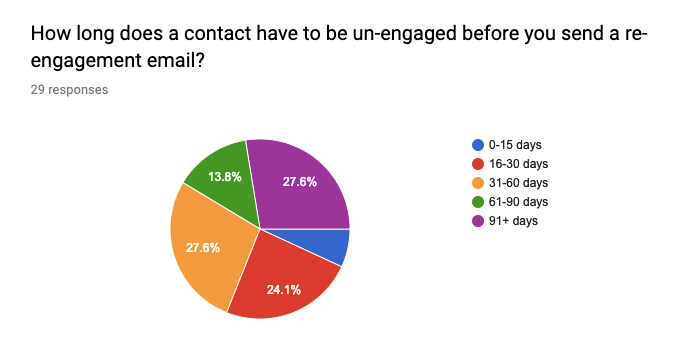 Ideally, 30-60 days is the suitable waiting period, followed by 90+ days. 
How to Use Email to Re-Engage Inactive Users?
Re-engagement emails can bring customers back. But how do you send them, and how often? What should you include in your emails, and how long should you wait before sending follow-up emails? Setting up a re-engagement campaign can be confusing, especially if you've never done it before. 
You don't need to worry. Follow these strategies to set your re-engagement campaign up for success. 
Personalize Your Emails
Personalizing your emails is a simple trick that can have an enormous impact on your customers. By merely addressing the recipient from their first name, you can make them interested in your email. Another way to personalize your re-engagement emails is by talking about the specific needs and benefits the recipient cares about. 
Here's an example of a personalized re-engagement email from Splitwise, a payments service provider. Though Splitwise isn't an eCommerce company, you can use the same approach in your emails.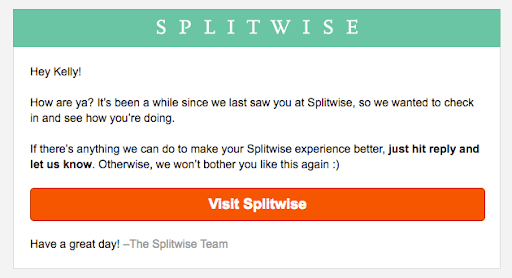 Offer Discounts and Extra Value
Offering discounts and special benefits is a proven strategy to re-engage inactive customers. Sometimes, inactive consumers need a reason to buy from you, and offering a discount or incentive can get the job done. 
Here's a classic example by Nordstrom Rack, a fashion and apparel store. The email offers a special discount.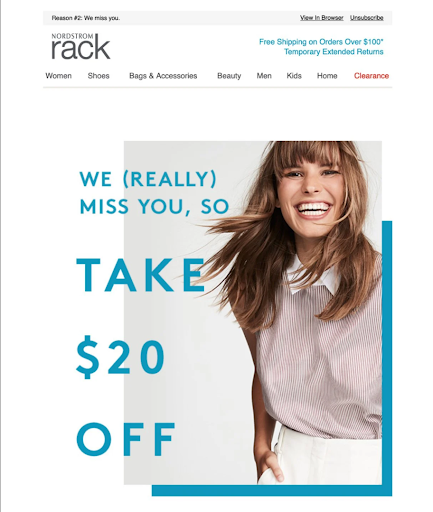 You can make your re-engagement emails more interesting and intuitive by including discount codes in the form of QR codes. A branded QR code with a logo adds mystery to the email, arousing the user's interest and encouraging them to scan it using their smartphone. 
Remind Your Customers Why They Bought Your Product
Sometimes, people stop shopping because they forget you exist and why they purchased from you. An average person sees 4,000 to 10,000 advertisements in a day. With such an influx of brands and information, they may forget about your business and product. In that case, you need to remind them why they became your customer. 
Kate Spade, a fashion luxury company, takes the reminder approach to engage its customers. The email tries to remind the recipients that they might not be getting their weekly emails in the primary inbox.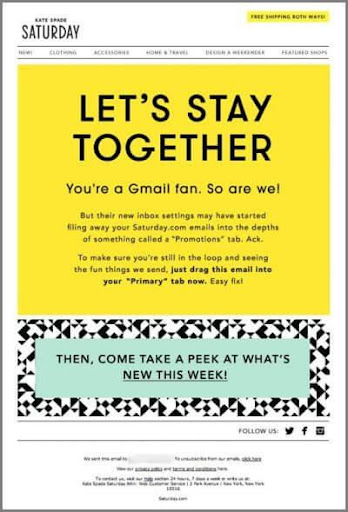 The strategy used here is simple. Kate Spade reminds its users that they exist and invites them back with an intuitive call to action (CTA). 
Show Them What They Have Missed
Another powerful re-engagement email strategy is to show the inactive consumers what they have missed. Suppose a user hasn't engaged with your eCommerce site for 60 days. What happened while they were away? How many new customers shopped from you? How many new products did you add? How many sales and offers did you run? Share this data with them. 
Here's an example from SurfStitch, a fashion and apparel store. The email tells what the recipient might have missed while they were away. 

You can also use this approach to tell your consumers what they are missing and what else they could miss if they remain inactive. 
Don't Shy Away from Targeting Emotions
Emotions are an essential aspect of sales and marketing. You probably used emotions to convince your customers to buy from you in the first place. Don't shy away from using them again to re-engage your users. 
You can play around a lot when it comes to using emotions. You can use a sad message from the CEO, who is saddened to see the customer leave. Many brands use graphics to highlight their feelings. 
See how Urban Outfitters, a lifestyle retailer, uses emotions to bring back inactive customers. They roleplay as a couple breaking up, which can be a significant emotional trigger.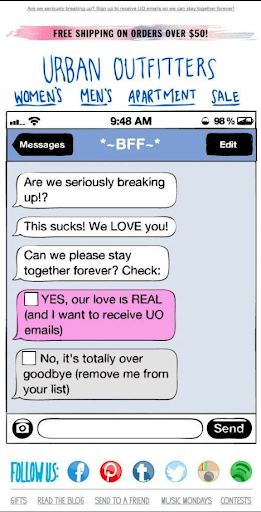 Notice that they highlight "Free Shipping on Orders Over $10!" to give the user a reason to stay. Combining emotional messaging with benefits can go a long way in retaining customers. 
Show that You Have Made Improvements
If a customer stops shopping with you because of an unpleasant experience, re-engaging them can be challenging. However, you can bring them back by accepting your mistakes and communicating that you have fixed them. 
Suppose a customer stopped buying from you because they had a terrible refund experience. You realized the issue and fixed it. You can contact the user and tell them you have resolved the problem that made them leave. 
Look at this example from Lowe's, a home improvement retail company. Their re-engagement email mentions that they have made some improvements. They say the things they have changed, giving the users concrete reasons to come back.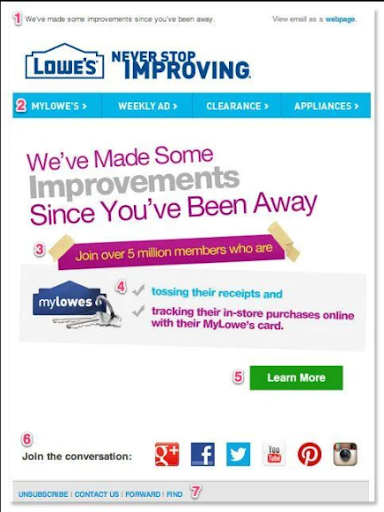 Follow Up Regularly
A whopping 75% of all marketing emails are ignored. It could be because the recipient isn't interested in your emails. Or maybe because their inbox is crowded with many other emails. An average person receives hundreds of emails in a day, and most of them are from brands. Perhaps they didn't see your email. 
You can resolve this hurdle by following up with your inactive customers. Ideally, you can send up to four follow-up emails before removing someone from your email list. Most companies send three to four emails before letting their customers go.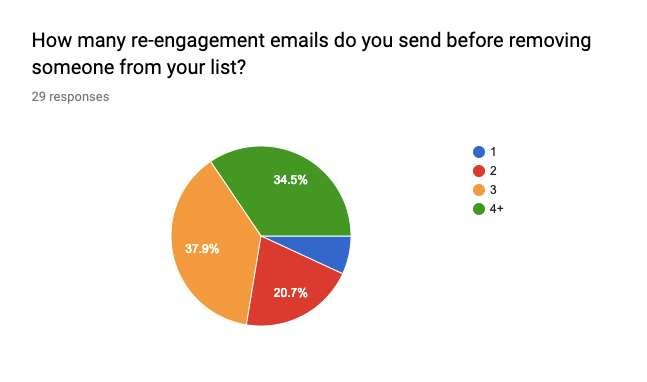 Offer a Clear Option to Unsubscribe
This will hurt, and it might feel counterintuitive, but you need to let your customers walk away if they want to. You can't force your customers to shop from you; all you can do is try to bring them back. It's alright to remove them from your email list if they don't respond to your re-engagement emails even after following up multiple times. 
A better way to deal with this situation is by including a big and clear unsubscribe button. This way, users will have a clear option to stop receiving any further emails from you. Revolve, a designer clothing brand does a great job with this approach.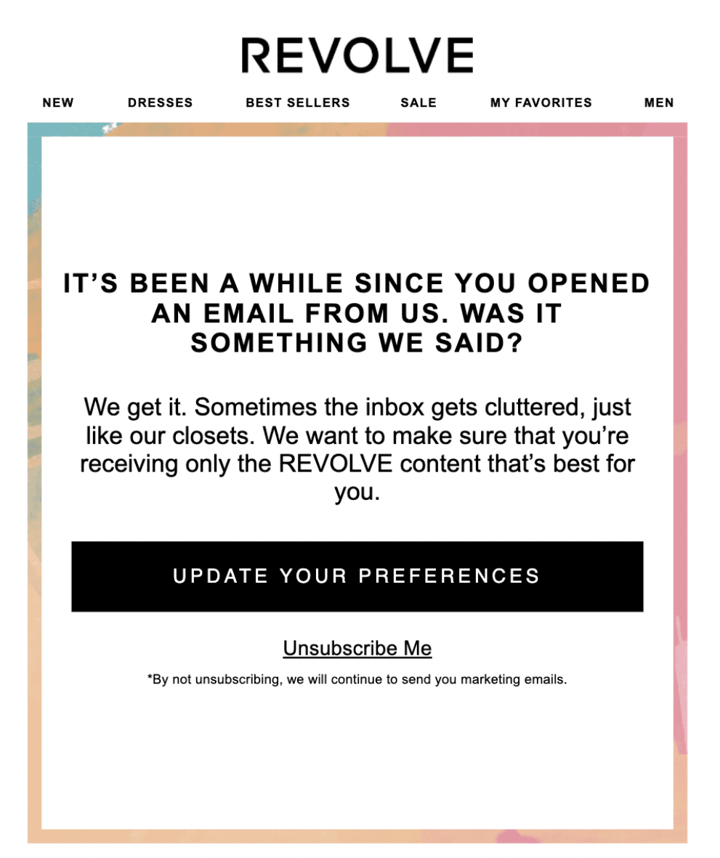 Bonus: Follow This 4R Sequence
If you're new to re-engagement campaigns, deciding how many emails to send and what content to include in each email can be challenging. You can follow this 4R email sequence to run your re-engagement campaign effectively. 
Remind

: Send an initial email reminding your customers that they have been inactive for a while. 

Receive

: Offer them a discount or incentive to encourage them to come back to you. 

Review:

Allow them to revive their email preferences (unsubscribe, reduce the frequency, etc.)

Regret

: If they don't respond or take action, send them a goodbye email and remove them from your

email list

. However, give them an option to come back. 
Final Thoughts
Churn is a part of the game for every eCommerce business. Not all customers who buy from you will become repeat customers, and you'll need to let them go. However, you can use re-engagement emails to bring some of your inactive customers back and encourage them to buy from you again. 
Since repeat customers mean more revenue and profits, re-engagement campaigns should be a part of every eCommerce business' marketing strategy.