Now, any time a customer connects with your business online, they expect a confirmation email. Whether they have purchased a product or signed up for a webinar, your customer or prospect wants to know their action has been received and what next steps they should expect from your business.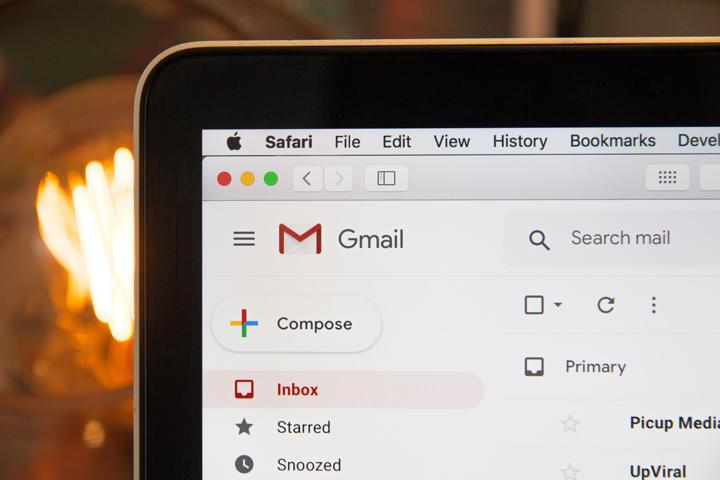 But how can you make the most of these must-have emails? That's what we're sharing today. Here are six ways to write a stand-out confirmation email that your reader will remember:
Personalize the confirmation email 
Recommend related products or services
Send referral codes 
Encourage return customers with discounts
Plug your social accounts
Set clear expectations
Before we get into the tips to improve your email, let's make sure we're clear on definitions.
What is a confirmation email?
A confirmation email is any automated message your business sends to leads and customers when they complete specific actions on your website. This can include making a purchase, booking appointments, or completing a form. 
Because this communication is expected, there's standard information that you need to include. The confirmation email should include all of the pertinent details the recipient needs to know, including:
Product name and numbers
Service or offering booked
Date and time of arrival
Customer number
Customer service information
Next steps
Depending on your email marketing system, you can use populated fields to generate this information automatically. 
It's beyond this information that you have the opportunity to create a memorable touchpoint with the email recipient, whether they're a prospect or customer. 
Why does your confirmation email matter?
Just because your email confirmation is automatic doesn't mean that it should feel like it is. Oftentimes, confirmation emails can seem robotic, generic, and boring. This is fine in some cases—when I place an order, I just want an email confirming it's being processed—but it's always a missed opportunity. 
More individuals want to connect with the brands they support for products and services. According to a recent Sprout Social report, 64% of consumers expect brands to connect with their customers.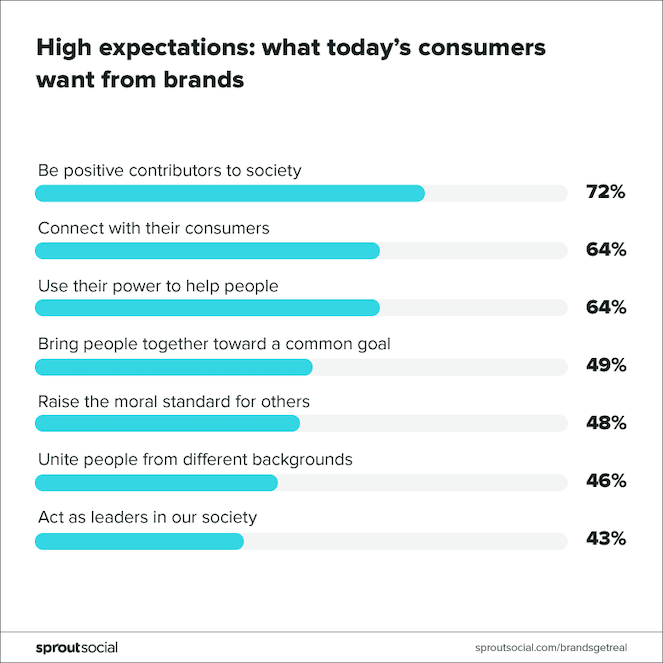 That means now more than ever, it is important to write better email confirmations that are personal. 
How to write a more memorable confirmation email
Now that we've covered what a confirmation email is and why it's important to make the most of the contact, let's jump into how you can write a better, more memorable confirmation email.
1. Get personal in your email copy
Your confirmation email is automated, but it's still an interaction between the recipient and your brand. You should address the recipient by name, and you should also maintain your brand voice as it appears in other content and marketing materials. That way, you can showcase your brand's personality throughout the email and make sure you're offering a consistent—more memorable—brand experience.   
 Additionally, you should also incorporate "we" and "you" throughout the email to create a more conversational tone and personify your brand further. Let's take a look at Polaroid's order confirmation email.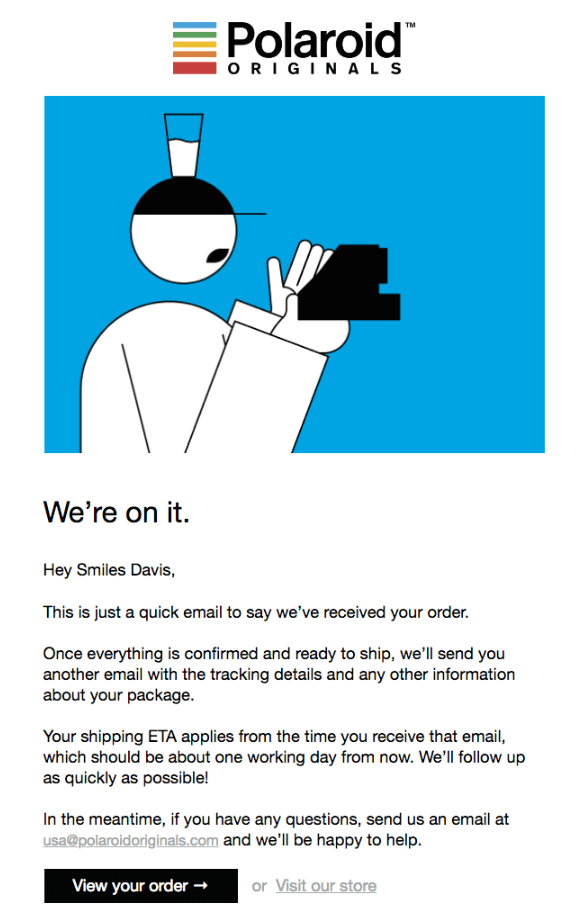 While this is a straightforward autoresponder, it does contain the bit of personality that is required to make this email more memorable and seem less robotic. By saying, "We're on it," Polaroid is letting their customers know that they matter and that the company—or, you know, whichever employee is assigned here—is paying attention to their order. All buyer concerns are addressed in this confirmation email through conversational copy.
Even better, the confirmation email stays completely on target with the brand image Polaroid has developed over the years. 
2. Recommend related products or services
It's far easier to retain an existing customer than it is to acquire a new one. Some studies even suggest the probability of selling to an existing customer is about 60% while the probability of selling to a new customer is 5%. I know which odds I'd pick.
With that in mind, you can write a better confirmation email by including copy that serves to help get new business from existing customers. You don't want to push a hard sale on your customers. After all, this confirmation email is coming in just as soon as they purchased your product or booked a service. But that doesn't mean you can't sell at all.
The simplest and easiest way to make your email confirmation work in your favor is to provide recommendations for more offerings at the bottom of the email. For a post-purchase confirmation email, these can be related items (think the "Customers also bought" section on Amazon) or your company's best sellers. For a newsletter subscription or content download email confirmation, try including relevant resources. Here's an example I got from HubSpot recently.
In the rest of the email, there are graphics and CTAs pointing to take courses and download other content, but I like the simplicity of this extra link and the "momentum" copy they use here. 
Including recommendations for other offerings like these in your confirmation email can help you gain new business without much effort required on your part. 
3. Send referral codes
Most of the information is email confirmation is reserved for the individual who placed the order or booked the service, absolutely. But that doesn't mean you can't offer value to anyone else. You can provide referral codes in these messages that help you grow your customer base. 
People trust their peers. Referral customers can provide your brand up to a 16% higher lifetime value than non-referral customers, so it is in your best interest to seek these customers out as often as possible. 
Referrals will help you gain returning business from existing customers and grow your customer base. Better still, you can work in your referral code anywhere in your email confirmation. This tactic for writing better confirmation emails works in everyone's favor, a win-win!
4. Encourage return customers with discounts
This one is similar to Tip #3, with a slight twist. You can create a more effective confirmation email by offering exclusive discounts to returning customers. This code should be presented in a tasteful manner, however. After all, this is an email confirmation that is supposed to give your customers all of the information they need to know about the product or service they recently purchased from your brand. 
When offering discounts, consider offering the most effective deals:
Site-wide discounts (Earn 25% off your entire purchase price)
Dollar-off amounts (Receive $10 off regardless of purchase minimum)
Minimum order value (Get $20 offer a minimum order of $80)
Buy-one, get-one offers (Purchase one item/service, receive one free or at 50% off)
Free shipping 
Consider this order confirmation email from Rue La La.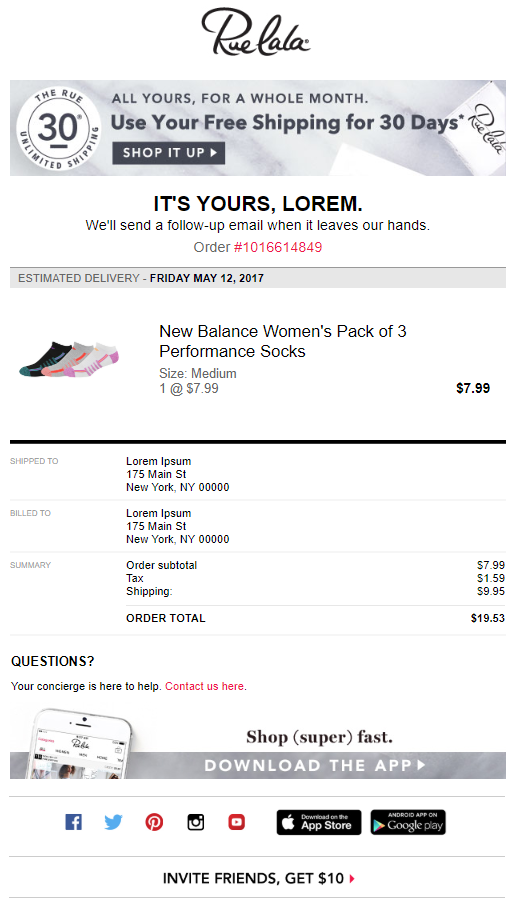 We can see that this brand has checked all of the boxes. The brand is offering free shipping on the customers next order. 
Bonus points, the email includes reassuring copy and matches the brand's identity. 
5. Plug your social accounts
When it comes to creating a memorable confirmation email for your business, you should consider how it can work beyond that interaction. Another way to do that is to encourage social media follows in your email confirmation. When you grow your social media followers, you gain more touchpoints to speak with your customers. This helps you get your marketing message out to more individuals. 
Dollar Shave Club is effective at exercising this tip in their email confirmation. Better still, it does not take up a large amount of space in their confirmation emails. Take a look at this example.
Dollar Shave Club's customers can easily share their purchase right from their confirmation email. Aside from sharing the purchase, their customers can also share a referral code that allows the customer and their friends to receive a discount on their next purchase. This provides significant incentive to share the purchase and return back to Dollar Shave Club. 
If offering a referral code does not make sense for your business, don't fret. You can still utilize their tip. Add user-generated content and provide real reasons why customers will gain benefits from following you on social media. Just make sure you add in buttons in your confirmation email that make it easy to follow your brand. 
6. Set clear expectations
We've talked about getting personal and maintaining your brand voice, and we've talked about furthering the connection. 
But we can't forget the main reason a confirmation email is sent out to a customer. They are expecting to know all of the details about the product they purchased or the service they booked. Then, they want to know when to expect future updates and how to get a hold of your customer service team. In order to write a stand-out confirmation email, you need to first make sure you're writing an accurate one.
Make sure your email copy is reassuring and clear, and make sure all the information is correct. You don't want to hide important information and make it difficult to see your customer service information. 
Of course, this does not mean you should toss the other tips out the window. It simply means you need to make sure your confirmation email is easy to read, clear, and provides benefits to all parties involved. As long as you have this foundation, you can move on to making a great experience.
Write a winning confirmation email
You have to send confirmation emails—period. Your customers and prospects expect to receive this communication from you when they purchase a product or register for a webinar. Use these tips to take advantage of your confirmation emails, and then be sure to measure progress with email metrics like open rate, unsubscribes, and click-throughs.
By including more options for purchases or interactions, you can encourage more meaningful engagement with your audience—just remember to include all the necessary information first!