Each month, more than 70 million blog posts are published. That's a lot of content. Still, only 25% of bloggers say their blog brings them "strong results."
That's a lot of wasted effort.
So how do you make the most of your blog and see strong results? You need to post a variety of content that's optimized for search and people.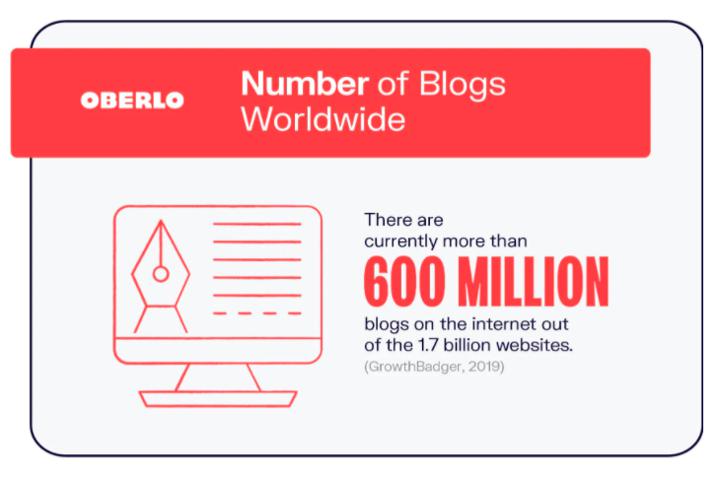 In this article, we're going to break down the five types of blog posts that every website needs to grow. Before we get into those, let's start with the reasons why you need a variety of content types and the benefits of doing so.
Why should you publish different types of blog posts?
Maintaining a blog might give you some quick traffic each time you hit "Publish," but it takes a solid, varied content strategy. 
Even if you or your audience prefers one kind of blog post and it's easy to stick to it, branching out into other content types will give your blog (and motivation) the spice it needs. Here are a few key reasons why every blog needs diversity in its content.
1. Attract more people in your target audience
Not everyone in your target audience is searching solely for "how to" articles. Instead, they're likely also searching for "best of" articles, listicles, and product reviews, to name a few.
By diversifying your content, you can reach the same demographic of people who search for slightly different queries. In fact, HubSpot found that the average person searches on Google three to four times per day.
The company Aura, for example, helps Amazon sellers maximize their sales.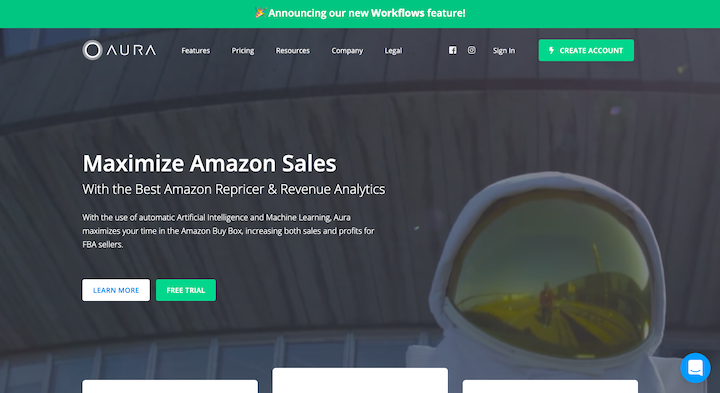 Instead of just posting blog posts about how to make money on Amazon, they also post content that teaches readers about Amazon seller tools, how to limit competition, Amazon ACoS, and many more topics their target demographic is searching for.
2. Target a wider range of valuable keywords
The best type of content targets specific, long-tail keywords that are related to the topics the company wants to be known for best.
In fact, many content marketers swear by the use of pillar pages, which are long-form blog posts that cover a big topic broadly (such as "make money online") and then link out to their other blog posts that break it down more in-depth (such as "how to start a freelance writing business").
We can see from the SERP for "digital marketing course" that people are also searching for queries like "what is the cost of a digital marketing course."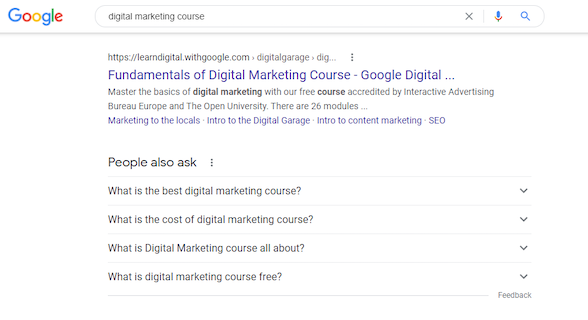 These are keywords that your target audience is searching for in addition to the ones you're already writing about.
Not only does this allow you to reach more people, but it also fills your blog with more content—something that can be hard to do consistently.
Furthermore, according to Traffic Generation Cafe, an increase in published blog posts leads to an increase in traffic. More specifically, once your blog has reached 21 posts monthly, the traffic it gets can increase by up to 30%.
3. Establish thought leadership in your industry
By covering a wide range of topics in your niche and publishing different kinds of blog posts, and content in general, you position yourself as the expert who knows the latest industry news and can teach others what it means and how to use it.
Thought leadership comes with many perks outside of just being considered an "expert." The more other experts talk about you, the more their audiences hear about you—which means you're simultaneously building your own.
In the process, you'll see an increase in organic traffic to your site, generate more leads, build more trust with your existing audience, and open up more opportunities.
Not only can you do this by writing diverse content for your own blog, but also for other people's. Guest posting is a phenomenal way to not only get in front of another person's audience, but also increase the domain authority of your own site. Not sure what yours is? You can use Moz's free tool.
The higher your domain authority, the easier it becomes to rank for high-volume keywords on Google—which means more leads and better industry authority. 
4. Build trust with your readers
You'll never convert your target audience into buyers until you prove yourself to be trustworthy to them, especially if they aren't ready to purchase yet.
Depending on the keyword or search query you're targeting in your content, some readers will practically come to you with their wallets out. However, most are likely still trying to educate themselves about the problem they're facing and considering all of their options.
For this reason, making a valuable first impression and presenting yourself as a trustworthy figure is of the utmost importance.
Fortunately, blogging is one of the best ways to do this.
Optinmonster reports that blogs have been rated as the fifth most trustworthy source for gathering online information.
Take advantage of that by making your blog a space of expertise, education, and value.
5. Seamlessly support your readers through the buyer's journey
If you only publish one type of content, you're most likely targeting only one phase of the buyer's journey.
The buyer's journey is defined by HubSpot as "the process buyers go through to become aware of, consider and evaluate, and decide to purchase a new product or service."
It consists of three main stages:
Awareness stage
Consideration stage
Decision stage
Each potential customer goes through this journey until eventually converting into one. Where they convert is a matter of where they find the most value and which website helped them through their journey best.
Whether you're a big corporation or a blogger by night, your goal should be to write content that supports your ideal buyer (or "buyer persona") in each of these three stages.
Content written for those in the awareness stage is different from content for existing customers in the decision stage.
As a result, not all content should be created equally, and variety is key to creating a seamless buyer journey.
For example, the Allen Law Firm has a blog that covers a variety of topics relating to the field of personal injury. 
Their blog post about what happens when you're at fault for a car accident is an example of an awareness stage piece of content. However, they also have content for people in the consideration stage—or, people who already know how to solve their problem. Take their post "Nine Factors That Determine How Much to Expect From a Car Accident Settlement" as an example.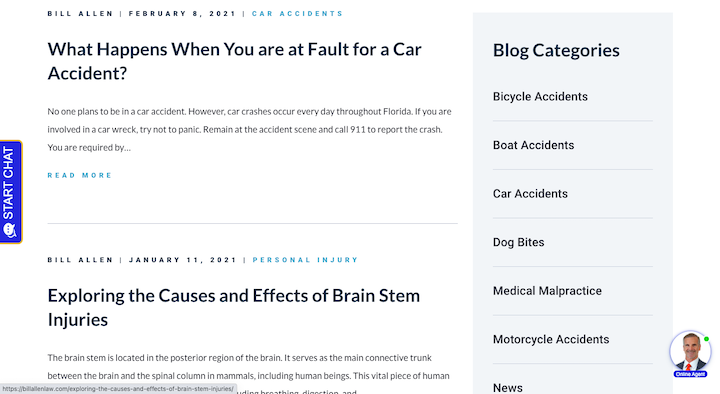 The 5 essential types of blog posts you need
Now that you understand the importance of diverse content types and how it benefits your blog, let's dive into the five types of content that will bring you those results.
1. Long-form "how-to" blog posts
Long-form blog posts bring multiple benefits to your site, in terms of both organic traffic and user experience.
But what exactly does "long form" content mean?
According to Market Muse, long-form content "offers a lot of information and/or great depth of information on a given topic" and the minimum length should be 700-2,000 words. However, the meaning of "long-form content" is constantly changing, as content marketers are always trying to improve their craft.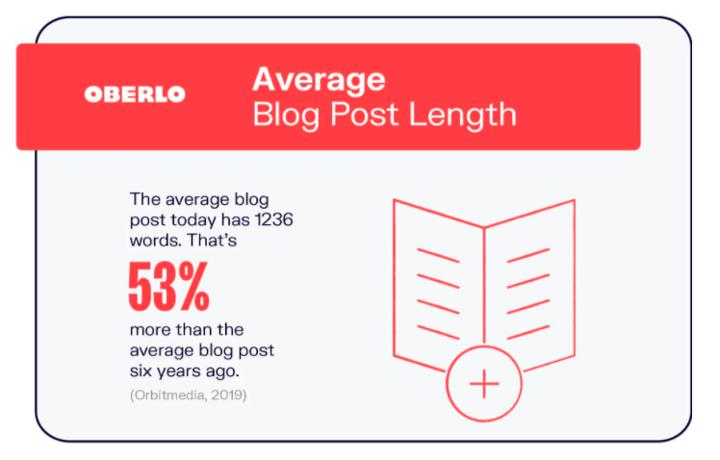 Long-form content usually comes in the form of "how to" guides or "ultimate guides." How-to guides show readers step-by-step how to do something and ultimate guides give in-depth answers to questions, such as "what is email marketing" or "how do I boost user engagement."
Not only does this benefit your blog in terms of reader satisfaction and engagement, but it also scores a multitude of SEO points.
A good example of a company that does this well is tagDiv. They create helpful "how to" guides on a multitude of topics like this one: How to update a plugin.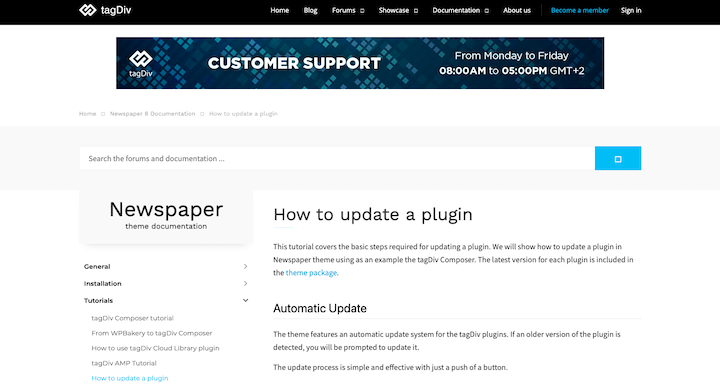 According to Optinmonster, bloggers who write articles 2,000 words or longer are more likely to have strong results by far. And as far as "how to" guides, they found that headlines with "how to" in them are the third most popular preference among searchers, at approximately 17%.
When it comes to creating long-form content, you're up against some relatively low competition—which is always a plus.
Orbit Media reports that 55% of bloggers write less than 1,000 words per post, while 20% write more than 1,500. As a result, the average blog post length is 1,236 words—which means creating long-form content of 2,000+ words will set you apart from the competition.
With that being said, HubSpot found that 2,250 to 2,500 words is the best blog post length.
2. Visual-heavy posts with infographics and videos
Visual content is becoming more and more popular throughout the years. In fact, when asked what kind of content they want to see more of, 54% of consumers responded with "videos from brands they support."
When your content contains creative visuals—such as pictures, infographics, and videos—it makes your blog more readable, as long sections are broken up.
Not only do visuals keep readers on the page longer, but they also bring in more traffic.
Social Media Today reports that blog content that uses images receive 94% more views.
While placing images within content isn't a new practice, embedding videos is—and not many people are doing it. According to Optinmonster, only 19% of bloggers include videos in their regular blog posts.
They also report that video content is 50 times more likely to receive organic traffic than plain text. Infographics and video content are also great ways to build links towards your website.
And if that's not enough to convince you of the power of visuals, HubSpot found that content that features an image every 75 to 100 words receives two times more shares.
3. Listicles and "best of" posts
Another popular form of content that's not going anywhere is listicles, also referred to as "best of' posts. This type of content features a list of items—physical or not—and tells the reader about each one.
For example, this blog post can be considered a listicle since it features the five types of content a blog needs.
A listicle becomes a "best of" post when it features the best of certain products, trends, ideas, etc. For example, an article titled "Top 10 Best Saas Websites" or "10 Ways to Make Money Online" is considered a "best of" or "listicle."
Among readers, these types of posts are quite popular, with 36% of them preferring list-based headlines.
Furthermore, if your goal is to prompt readers to buy a product, Demand Metric found that 60% of people purchase a product after reading a blog post about it.
Even SaaS websites can benefit from creating listicle posts that educate the reader on the subject or teach them more about the industry. For example, LawRank, an SEO company for lawyers, has a listicle post that features nine steps for law firms to improve their local SEO.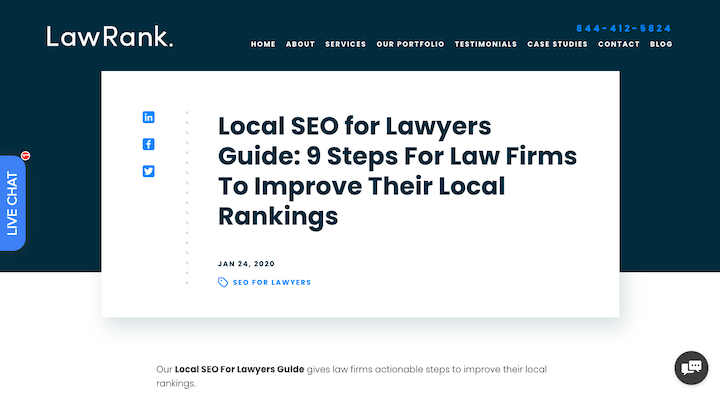 4. Interviews with industry experts
Featuring an industry expert on your blog does two main things—first, it presents yourself as an expert in front of your readers and second, it puts you in front of your guest's audience.
When trying to grow an audience, many bloggers use guest posting as their primary tactic. While being featured on someone else's blog is a great strategy, featuring them on yours not only reaps many of the same results, but it also gives you more content.
When someone is interviewed for a published piece of content, they're just as invested in it as you are. Therefore, once it's finished, the person being featured will likely share it with their followers.
For this reason, interviewing experts is one of the most useful strategies for growing your audience. Instead of writing for someone else in hopes that their readers click on your links, you fill your blog with quality content that the expert is going to share online.
5. Industry news and trends
Over the past few years, evergreen content has been the way to go. As a blogger, you want your content to be relevant for years to come, not just a few months.
However, Buzzsumo found that in the B2B niche, evergreen content isn't as trendy as it used to be. Instead, predictive headlines—such as "The Future of Marketing Automation Software"—are outperforming all other content types, and at a surprisingly fast rate.
Usually, this type of content is most popular during the first quarter. And it's easy to understand why—during the first few months of a new year, everyone wants to make sure their strategies and goals are on track to getting them the most growth.
If you're the one to provide them with those answers or reassurance, you become more known and respected as a key figure in your industry.
Diverse content is the key to a successful blog
And there you have it—the five crucial types of blog posts that every blog needs.
In the digital world, content diversity is one of the secret ingredients to a highly successful blog—in terms of both user experience and SEO.
You can achieve blog post diversity through creating a variety of content types—from long-form content to industry news—and aiming to target a wide range of word counts.
The case has been made and it's now solved: high-quality, diverse content leads to more traffic, social media shares, and reader satisfaction.
About the author
Freya Kuka is the founder of the personal finance blog CollectingCents, which teaches readers how to grow their passive income, save money, improve their credit score and manage debt. She has been featured in publications like Business Insider, Fox Business, the Huffington Post, and GoBankingRates.