Getting started on your first blog post can seem impossible. That pressure to establish your company's voice. That blank page. That blinking cursor. That nudge from your mom to send her the link when it's finally posted. (Just me?) 
The good news is that if you're not sure how to write your first blog post, or even if you're just not clear on what your first blog post should be, we can help. You can use some standard first blog post ideas so you can skip getting stuck and move on to getting started. Here are six infallible first blog post ideas that you can write today:
Introduce your company's mission
Analyze industry trends and predictions
Solve a problem for your target audience
Publish product announcements
Feature a successful customer
Share your biggest successes and failures so far
But first, let's make sure we're all on the same page here about why we're writing blog posts in the first place.
Why should you start writing your first blog post now?
Writing blog posts is key for growing your traffic, increasing your brand awareness, and, in many cases, building your business. 
Consistently publishing keyword-optimized blog posts can set you up to rank on Google SERPs, which helps increase traffic to your website. Now, more traffic doesn't automatically mean more customers and more revenue. But when over 40% of revenue comes from organic traffic, it's nothing to overlook.
Plus, by getting started now, you're setting yourself up for even better chances of increasing traffic down the line. According to HubSpot research, 1 in 10 blog posts are compounding, meaning they continue to grow traffic over time, and these blog posts are responsible for 38% of traffic.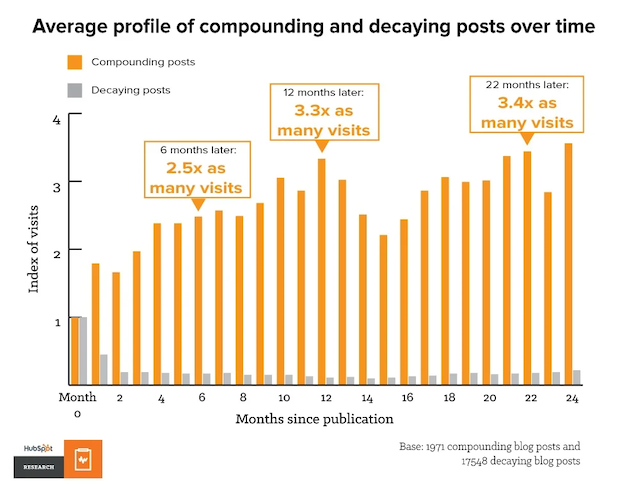 Convinced it's time to get started? Let's go through some first blog post ideas to launch your content strategy.  
6 first blog post ideas to launch your content strategy
Now that we're clear on the why, let's move on to how to write your first blog post. Here are some ideas for a first post to launch your blog with a splash—and keep providing value for your business over time.
1. Introduce your company's mission
Let me be clear: You shouldn't use your first blog post to introduce your company. Your name and your product or service should be clear on other pages, like your homepage and your about page. But a first blog post is a great opportunity to introduce your company's mission. 
A company mission statement declares the purpose of your company, including why it exists and how it's different from others. This purpose isn't your offering—it's the results of your offering.
Here's an example of a great company mission statement from Slack.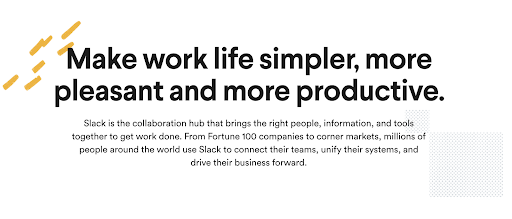 Slack's mission—to make work life better—is the result of everyone using their product. And it's appealing.
For your first blog, explaining your company's mission is an opportunity to share with your audience the current problem, your inspiration and process, and your goal for the solution, your product or offering.
2. Share industry trends and predictions
It might seem like your first blog post should be all about your company, but that doesn't have to be the case. You're likely starting a business in an existing market or targeting an existing industry. Exploring the state of that industry is a great place to start and an essential type of blog post for most businesses.
Are there trends that popped up recently? Trends that changed from last year? Any predictions for moving forward? For instance, take a look at our posts on B2B SaaS websites. We included great websites, but we also identified the reason for the trends and what they could mean for the future of SaaS website design.
A first blog post on trends or predictions is also a great way to network and establish the authority of your content right away. If you can include quotes from other professionals, your blog post will be a better resource for your readers. HubSpot has a useful guide to sending out a Google Sheet to collect crowdsourced answers. That saves you time copy and pasting all your answers, plus it saves your responders an email.
3. Explore a common problem for your target audience
You developed your company to solve a problem. Maybe it's a coaching service for health and wellness. Maybe it's a digital marketing agency serving small businesses. Maybe it's software for human resources. Whatever your company is, it solves a problem for your target audience. 
Why not explore another in your first blog post? 
Your target audience's needs will drive your content marketing strategy, so this is a great place to get started. What is your target customer worried about? What are they trying to do? Take the coaching service, for example. We know that a customer looking for health and wellness coaching is invested in learning about these topics. A blog post with tips for incorporating wellness practices into a daily routine will help this target customer, before they're ready to convert and even after. Plus, it's a great opportunity to establish your business's authority on the topic.
4. Announce new products or services
If you've been building your company for a while, you might be writing your first blog post in an effort to scale your business with content. That's a great move, and it also means you have a great opportunity for your first blog: Announce any recent upgrades to your offering.
You'll probably want to include product announcements on your blog regularly to let your customers as well as your prospects know about new capabilities for your product or your team. For your first blog post, though, you can share any recent updates—and maybe even reflect on the differences between your current offering and your original, pre-launch idea. 
Remember, when you're talking about products, you want to share the feature but focus on the benefits. The feature is the part of your product or service; the benefit is the impact on the customer. Consider this pizza cutter, for example.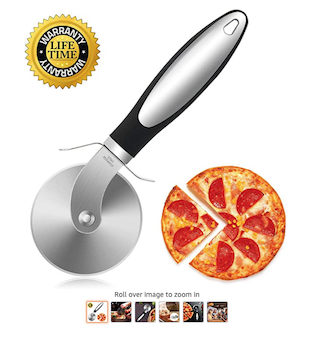 A blade made of durable anti-rust stainless steel is a feature. Knowing that you'll get an expert cut and don't have to worry about sacrificing a tip or topping for years to come? That's a benefit.
5. Feature a successful customer
Here's another first blog post idea for businesses that have been around for a minute: featuring a happy customer. 
Social proof is key for any business, and customer case studies are especially important for B2B businesses. In fact, 97% of B2B customers regard customer testimonials as the most reliable content when considering a purchase. A great way to highlight the benefits of your offering and establish your business as a trustworthy, authoritative brand is to have a customer do it for you by sharing a first-person account of using your product or service.
So if you have customers who are succeeding and using your product or service along the way, feature them in a spotlight to get your blog started.
6. Share your biggest successes and failures so far
And now we're ending with my favorite. A great way to launch your blog is to get personal and share your experiences—that means successes and failures. What was the biggest challenge you've faced so far? What was the biggest surprise success? What were the marketing plans that worked? How about the ones that didn't? Sharing these moments with your audience humanizes your brand, which is important for connecting with your audience.
Plus, you can share what you've learned along the way to let your audience know how you've improved—or so they can use these tactics themselves, if you're in your target market.
Here at Unstack, for example, we're an early stage startup trying to improve our product and scale our business. A lot of our customers—and our audience—are building or working for early-stage startups, too. So when we share our B2B SEO strategy that helped us grow traffic 500%, it's not so that our audience knows we have some people visiting our website and reading our blog. It's so that they can use these same strategies to grow their business, too. 
Get started with these first blog post ideas today
There you have it. These are some solid first blog ideas so that you can stop getting stuck and start posting content that can help grow your business. Now that you know how to write your first blog post, it's time to go get started!