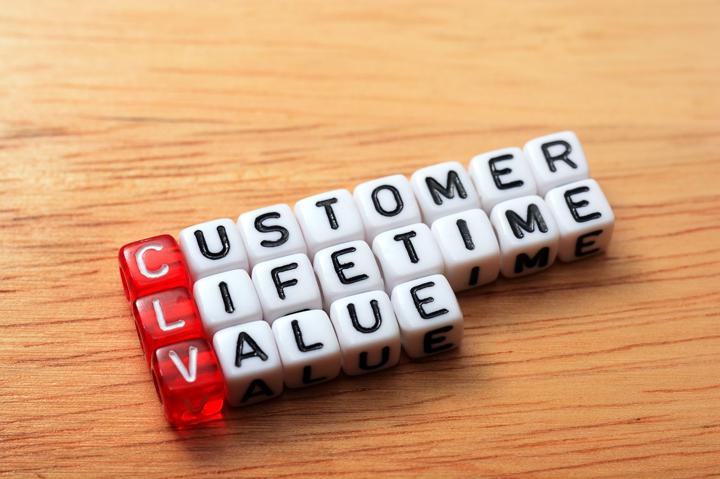 source: depositphotos.co
When it comes to marketing goals, most businesses tend to focus on widening reach and getting conversions. But while acquiring new customers does make a great way to boost revenue, it's not the only outcome worth investing in – on the contrary.
Statistical data shows that there are several ways in which customer retention outperforms acquisition. For one, Marketing Metrics states that there's a 60-70% chance of selling to an existing customer (as opposed to the 5-20% of selling to a new customer). Moreover, according to Harvard Business Review, increasing customer retention by just 5% boosts profits by 25-90%. That's anything, if not impressive!
With this in mind, it becomes clear that increasing customer lifetime value should make it to any brand's list of top priorities. And there are a few relatively straightforward ways to do it.
The following are the best ecommerce marketing strategies for boosting retention and CLV.
Increasing Average Order Value
One of the simplest ways of boosting customer lifetime value is to increase the average order value. There are a few stand-out benefits to taking this approach.
For one, the tactic is relatively easy to implement on any ecommerce platform. Secondly, it can make for an excellent incentive for new customers to try out as many of your products as possible. Finally, the bigger the sale, the smaller your overall costs are likely to be. So here are a few ideas to consider for increasing AOV.
Offer Product Bundles
The simplest way to increase the average spend on your ecommerce website is to answer more than one of your customers' needs at a time. And while you may not be able to develop a product that does everything, you can definitely create product bundles that effectively cover a few of those uses.
For example, Rain or Shine Golf expands its SkyTrak Golf Launch Monitor Package with product bundle suggestions. The offer gives users the opportunity to purchase everything they need for an at-home golfing experience, with the benefit of saving $100 compared to if they were purchasing each of the items separately. 

Source: rainorshinegolf.com
What's also great about this execution is that it allows for just the right amount of personalization. Buyers can not only choose the perfect size golf mat for their space, but can complete their setup with other useful accessories. This way the brand makes sure that each customer gets the best possible fit for their home, all the while saving $100 on their purchase.
Add a Free Shipping Threshold
According to data from Statista, 73% of consumers say that their shopping decisions are greatly impacted by the offer of free shipping. Moreover, people are prepared to spend more if it qualifies them for free shipping. Plus, they are pretty likely to abandon their cart if delivery options aren't satisfactory.
It's also not a bad idea to consider that the world's leader in ecommerce, Amazon, offers a multitude of free shipping options, including same-day and one-day delivery that make the platform particularly appealing to consumers.
But, the one problem with free shipping is that someone has to absorb its costs. So, if you know that most consumers aren't ready to do so, you'll have to create a plan to make that sacrifice worth it for your business.
One effective way to give people what they want while increasing your AOV is to create a threshold. Such a solution will incentivize consumers to spend more but will still offer a benefit that will make it worth their investment.
For inspiration on how to communicate free shipping thresholds on your website, you can check Macy's website. In the cart section, the brand calculates how much more a customer needs to spend to enjoy the perk, which is a great way to get the message across.
Source: macys.com
Offer Discounts on Large Purchases
Research has shown time and again that price plays one of the biggest roles in consumer buying decisions. And, a new study by RetailMeNot shows that almost all online shoppers (94%) search for deals when shopping online.
There are a few things that make these findings relevant for ecommerce businesses trying to increase customer lifetime value.
For one, when you offer a discount on an expensive item (or bundle), you're automatically lowering the risk involved with the buyer making a purchasing decision. Even if the discount is marginal. Therefore, by incentivizing people to buy more, you're automatically making it easier for them to try your brand all the while increasing your AOV.
For some inspiration on how you can make this happen for your ecommerce store, check out the Saks Fifth Avenue website. There, the online retailer advertises "up to $200 off" on beauty and fragrance purchases. 
But, what's interesting about the special offer is that it's presented as a tiered discount, making people believe that the more they spend, the more they save. However, a bit of math reveals that it's all the same 20% discount. Nonetheless, it's cleverly presented in a way that's more than likely to inspire shoppers to make bigger purchases.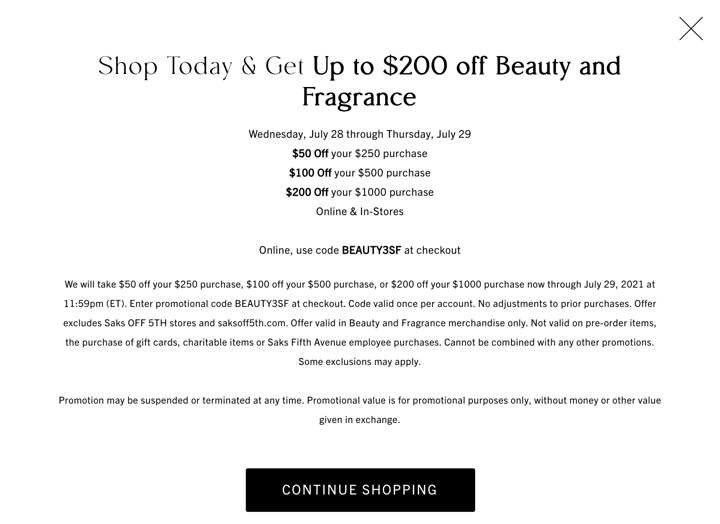 Source: saksfifthavenue.com
Give Out Freebies for High Order Values
Another thing you can offer to increase customers' spend? Free products. 
If you choose to go in this direction, make sure that you give away something of value. Ideally, it should be related to what your clientele is after. Otherwise, potential buyers won't be likely to justify the higher spend.
For a great example of how to go about this strategy, look to Clarins. Their Earth Day offer includes a gift set, which they proudly advertise with banners and a dedicated Special Offers page.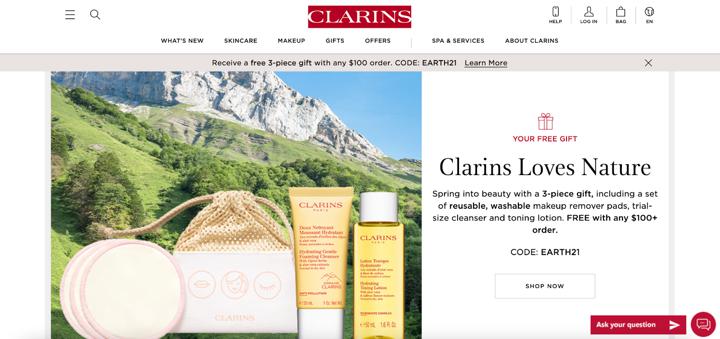 Source: clarins.com
Explore Financing Options
In 2020, C+R Research conducted a study to pinpoint the shopping behavior of people during the pandemic. And, surprisingly enough, they have found that the events of the last year greatly impacted people's shopping habits.
Not only did consumers purchase more items online during the pandemic, but as many as 60% of them have used a "buy now, pay later" financing option to do so - despite the financial risk of such a decision. Moreover, 56% of the people surveyed said that they preferred these solutions to using a credit card, which goes to show that ecommerce stores need to start offering versatile payment options to their target audience. Especially for high-value items.
With this in mind, if you plan on encouraging your website visitors to spend more money in your ecommerce store, it's not a bad idea to consider allowing customers to pay for high-value items in installments.
Gili Sports implements this idea marvelously on its product pages. Not only does the brand highlight that it offers free shipping, returns, and a 2-year warranty. It also points out that while the product costs $530 upfront, it's attainable for a much more affordable price of $132.50 per month over four installments.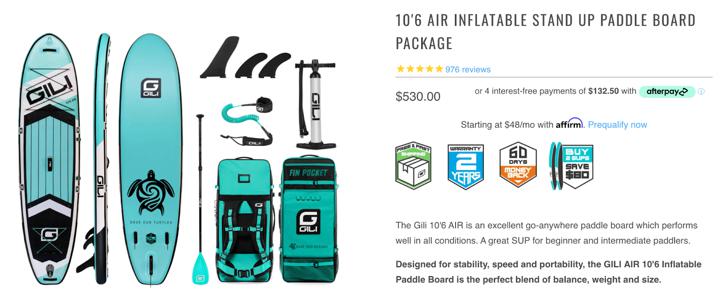 Source: gilisports.com
Allow Free Returns
Finally, to boost AOV, consider making the shopping process as risk-free as possible with free returns.
According to a 2018 study by Klarna, 75% of shoppers say their purchasing decisions are impacted by the returns process. 78% say that the risk-free practice encourages them to spend more money. And 86% say that the option incites them to come back to a retailer over time.
With this in mind, brushing up and promoting your returns policy truly has the potential to increase your customer lifetime value. To get the absolute most out of it, make sure to not just advertise it but also to make the returns process smooth. Otherwise, you may see the whole thing backfire.
Increase Order Frequency
While the first strategy in this guide to increasing customer lifetime value focuses on the things you can do to win consumers over (and encourage them to spend more), the second one explores methods to positively impact customer retention. 
In theory, getting people to shop with your brand more often gives you several benefits. One of those is, of course, a bigger CLV. But another thing you should not underestimate is a steady stream of income that can ensure the longevity of your business and allow you to scale it over time, without having to worry about outgoing costs becoming too big to handle.
So, if those look like perks you might enjoy, here are a few things you can do to get people to shop more often.
Back In Stock Notifications
For most small businesses, having an endless supply of products in stock is an almost impossible undertaking (and a liability). Therefore, it's likely that the time will come when you won't have all your best-selling products ready to ship.
That shouldn't prevent you from proudly presenting them on your website, however. Just make sure that it's clear that there might be a small delay in delivery.
To ensure that your potential customers don't give up on you and decide to buy from your competition, give them the option to sign up for notifications about a product. This solution from Ettitude works perfectly well, thanks to its simple design and straightforward instructions. And it doesn't just benefit the brand but gives consumers peace of mind as well.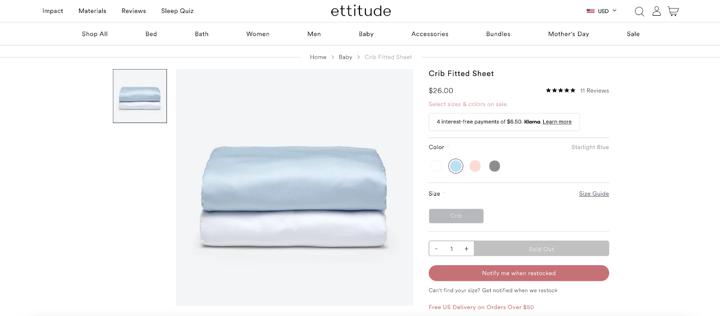 Source: ettitude.com
Time-Sensitive Promotions
Another great way to encourage consumers to buy from you is to offer limited promotions.
You can showcase your promotions via banners or hero section visuals. Or, you can even do both like Stasher did for their Earth Day sale.

Source: stasherbag.com
If you have the resources, you will get even better results if you manage to create a sense of urgency. A countdown timer on your site is a great tool for that. But, you can also just add an end date to let users know how long they have before the offer expires.
Plan Product Releases to Boost Off-Season Slumps
Most experienced ecommerce business owners will tell you that there's a predictable pattern to the way people shop. 
So, if you know that sales always pick up before Christmas but tend to stay low throughout Spring, you can try to time your product releases in a way that'll encourage consumers to shop even during the off-season. And, you can even use these new product releases to upsell (and boost CLV).
Most big companies do this regularly (for example, Apple with its recent Spring event), seeing how it doesn't just allow them to gain a steady income but also takes some pressure off of their development departments by breaking up sales activities into more manageable bites.
Retarget Existing Customers
One common mistake brands tend to make is that they think that customer loyalty comes from merely providing an exceptional user experience.
Sure, leaving a great first (and second, and 50th impression) does count. But it's also not a bad idea to remind your satisfied clients why they chose you in the first place.
One way to remain on their radar is to retarget existing customers with relevant ads and content. Make them aware of your current offers. Send personalized recommendations via email (like Netflix does with its "Here's what's coming soon to Netflix" newsletter).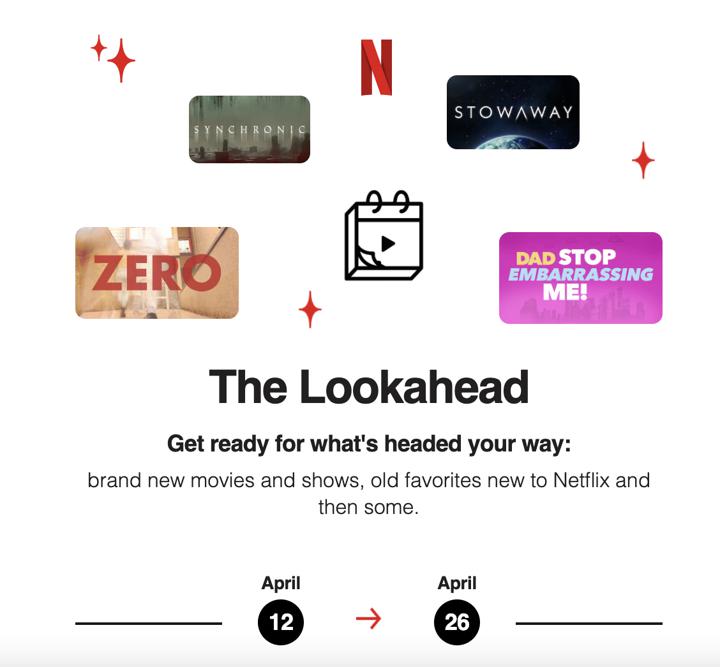 Source: gmail.com
Or alternatively, create a content marketing strategy that will provide them with value (and a reminder to stock up on your products).
For example, Mannequin Mall does an excellent job at the latter, with content that serves not just the purpose of acquiring new leads, but also makes for a valuable resource to their existing customers. 
It's a budget-friendly approach to digital marketing. But when executed just right, it holds the promise of high ROI and an increased customer lifetime value.
Invest in Increasing Product Lifespan
The last strategy for increasing customer lifetime value doesn't have much to do with advertising. However, it's a surefire way to guarantee that your customers remain loyal supporters of your brand, spending more than if they just made a one-time purchase then moved on to your competitors.
Be the Absolute Best You Can
Product quality and innovation are obviously going to play a big role in doing this. Do your best to offer cutting-edge technology along with quality. Moreover, think of ways you can get feedback to improve your services. 
An incentive for people to review your products or fill out a satisfaction survey, like this one by Black Hills Honey Farm, offers several benefits:
The brand gains valuable social proof it can use to acquire new customers.

It gets feedback about its products and free advice on ways to improve/broaden its offer in the future.

Satisfied customers get a discount, which encourages them to spend more money with the brand and develop a loyal relationship.
To implement this tactic, however, you have to set some boundaries. Don't be overbearing or a bother, and only send hyper-relevant messages by segmenting your audience.
Offer Top-Notch Customer Support
In business, it's always a good idea to prepare for instances in which things don't go according to plan. 
Don't just do your best to prevent issues. When they do happen, resolve them as soon as possible. 
By taking the right approach, you can turn your customer service team into your brand's strongest asset. And consumers won't be shy to share their feedback. Just check out the reviews on this Transparent Labs product page as an example. Customers have clearly stated their intention to continue buying (and recommending to others), in large part because of great customer service. 

Source: transparentlabs.com
Explore Subscription Models and Loyalty Programs
Apart from maximizing the value you offer and keeping communication with your customers at a high level, think about approaches that could serve as a way to both build retention and increase profits. 
Sometimes, these things take a bigger initial investment. However, a high customer lifetime value depends on a years-long relationship with your clients. So, it's not a bad idea to remember that you're in it for the long run.
Offering a subscription model like Native, for example, is an excellent illustration of how to communicate your devotion to providing great products. If nothing else, it shows that you believe in the quality of your goods and that what you offer is so great that people will automatically want more.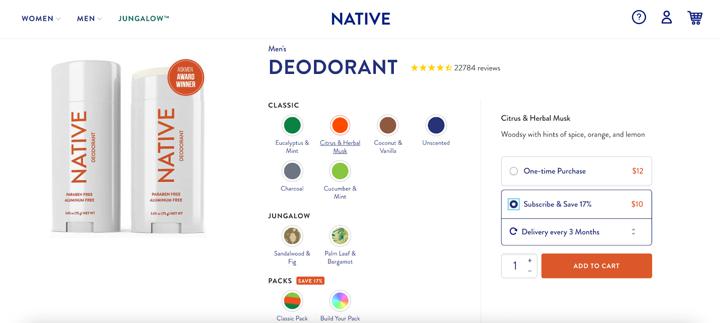 Source: nativecos.com
Alternatively, you can also develop a loyalty program. This would harness the power of word-of-mouth while providing both you and your customers with benefits.
Over To You
As you can see, increasing customer lifetime value in ecommerce rests on the shoulders of three basic concepts: 
great products

exceptional

customer experience

marketing messages communicated in the right way at the right time
By upholding all three, you'll build a loyal and devoted following with users who appreciate your approach to business. 
Lastly, remember that becoming a go-to brand in your industry also means committing to constant improvements. So don't forget to seek out and implement feedback. In the end, your readiness to give your users exactly what they're after could be the one thing that helps your business thrive for years to come.