If you are establishing a brand or looking to grow your audience, building an online community is a great option. With an online community, you can maximize your online reach, visibility, and ability to garner new followers, fans, and even potent customers.
Here, we're sharing everything you need to know to get started, including:
What an online community is
Why you should build an online community
How to build an online community
What is an online community?
An online community is a group of individuals who gather in one central location, such as a website, message board, or even a social media page. Online communities may appear available to the public with the use of social media and public image boards, or they may be created as private communities such as message boards or forums that require usernames and passwords to gain access. 
Here at Unstack, for example, we started our online community on Slack.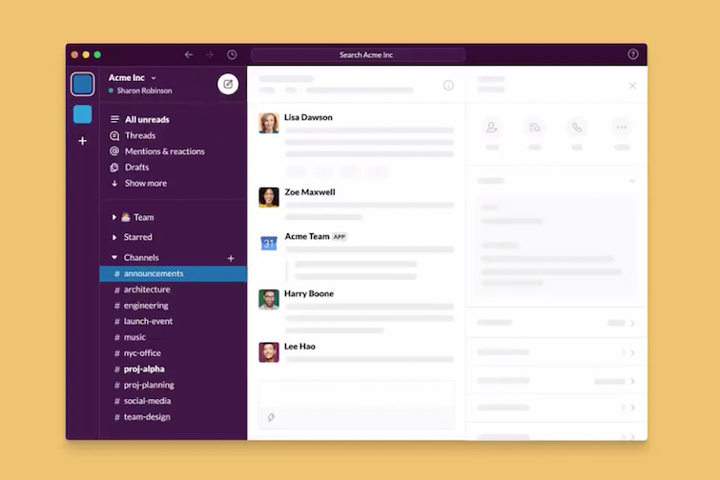 We created this place for users to swap tips for building their websites and growing their businesses. This is a common option, but your online community could also take place on social media, like a Facebook group or Twitter hashtag, or it could take place on your membership website. 
Why build an online community? 
Building an online community helps you increase your brand's visibility online, attract more followers, and even generate leads and sales. More and more people each year are participating in online communities because it's an engaging way to connect with people who have similar interests.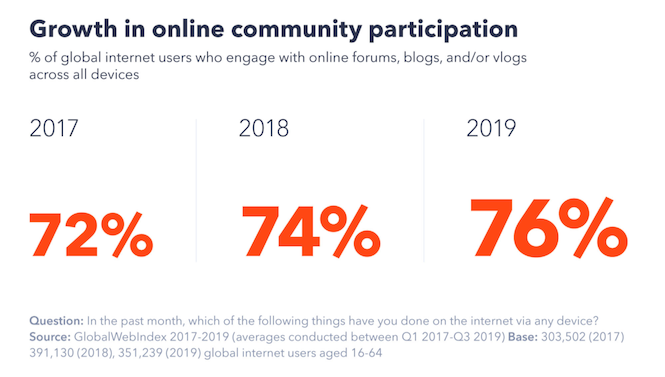 Here are some more notable benefits of having an online community for your product, service, or brand as a whole:
Set yourself apart: Stand out from your competitors by creating a community that attracts followers and customers while garnering loyalty. Avoid appearing "too corporate" or robotic if you want to connect with users by learning how to build an online community.
Encourage brand affinity: Having an active online community will encourage user engagement and repeat visits, helping you to solidify your business and brand with your logo, color scheme, and overall design aesthetic. Users who are active members of your online community are much more likely to recognize and remember your logo as well as your brand's purpose when/if they see it again in the future.
Make informed decisions for your product: Establishing a thriving online community is a great way to discover what your users and prospective customers want from you. Collect user data and browsing data to learn more about which content of yours is most popular, which topics are trending, and how you can better engage your users within the community to keep them coming back for more. 
Still not totally convinced? The ROI for building a community can be impressive. In fact, a HigherLogic found that online communities on average see 4,530% ROI. That kind of return is impossible to ignore.
How to build an online community
Now that we've covered what an online community is and why your business could benefit from creating one, let's jump into how to start building.
1. Define your purpose
When creating a brand new online community, it is important to carve out an objective for the community you intend to build while considering its overall purpose. Is your intention to create an online community to discuss specific topics in a niche market? Or are you interested in promoting your products and services within your community itself? Is the online community you are building open to the public, or will it require registration? 
One great example of an online community with a clear, simple purpose is #nocode on Twitter. (We're #nocode here at Unstack, too.)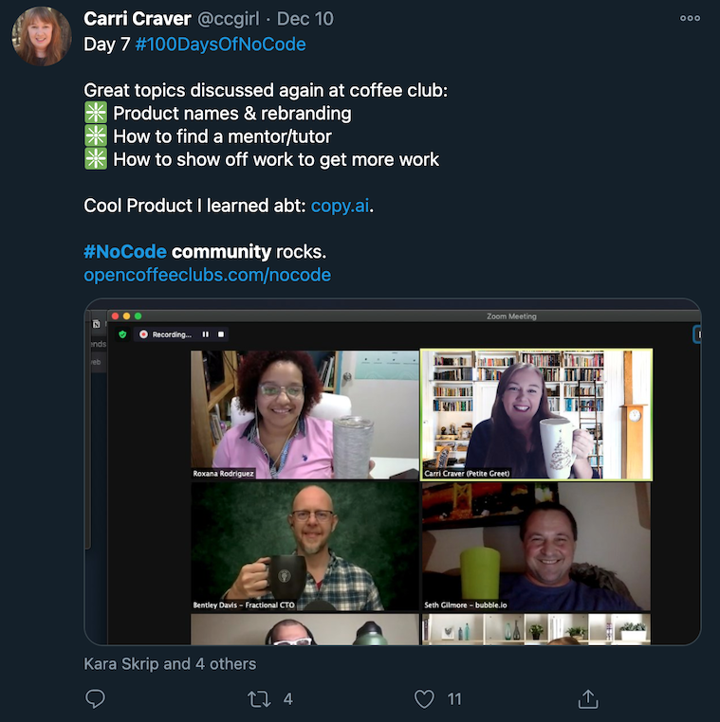 So consider why users will visit and/or join your online community when you're setting the purpose. Are you solving a problem or addressing a pain point with your community? What benefits does an individual have registering as a member of your community? Knowing the purpose and objectives of your communities is a must before getting started. 
2. Set your goals
The purpose of your community is one thing—what you want to get from the community as a company is another. Is your goal to drive traffic to your website, increase your social media following, or simply generate sales and revenue? 
The same Higher Logic study we mentioned above identified the biggest benefits companies saw from building online communities:
Improved customer loyalty
Lower support costs
Greater brand awareness
These are great goals, just remember to set measurable specifics, like so that you can measure your progress. Lower support costs is good—a 10% reduction in support tickets in the first 60 days is better. 
3. Consider your target audience
Define your target audience before you begin choosing the design, features, and functions of your online community. Ask yourself the following questions while you define your target audience and the demographics you intend to reach:
What age range am I interested in reaching? Why? 
Is my online community location-based and only for those from specific regions, cities, or zip codes?
What type of hobbies and interests might the members of my online community have in common with one another?
What problems and pain points do I intend to address with my online community?
What communities is my audience already involved in?
How do I intend to create an online community that stands out from current competitors? 
Spending more time considering your target audience will help you create a community with these users in mind. It will help you determine how to find users for your community, too.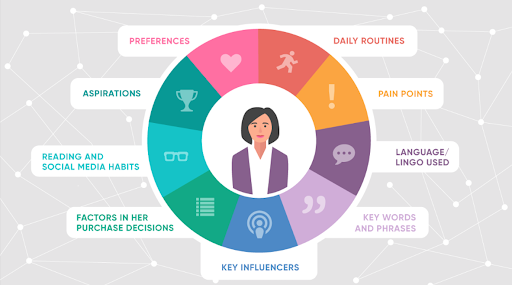 Will you launch digital marketing ad campaigns with social media, PPC, or email to help spread the word about your online community? Once you determine who your audience is and where they're active, you'll be able to answer that and start attracting members.
4. Keep your branding top-of-mind 
Branding your online community is essential, whether you are building a public forum, a private message board, or an inclusive website. To get the most brand awareness out of your community, it's best to keep your community brand in line with your company brand. 
Make sure your materials are effective and compelling:
Use high-quality logos.
Stick to your color scheme.
Keep messaging consistent.
Messaging and voice is key. Your community might be more informal or relaxed than your brand voice, and that's okay. Just make sure it isn't completely unrecognizable. You want to stay on brand across all platforms and online networks when promoting your community.
5. Craft your content strategy
Content is still one of the most important elements involved in creating a successful online presence for any business or brand, regardless of market or industry. Crafting a content marketing strategy is a way to establish your online community as an authoritative source, especially if your visitors find your content invaluable, unique, and highly engaging. 
The best way to make sure your visitors will find your content invaluable? Ask them what they're interested in and pay attention. Venessa Paech, a content and community strategist, puts it succinctly: 
Tap into community discussions and debates and highlight naturally popular or engaging topics. Build content around that topic, and involve members in its creation wherever possible.
By offering specific, useful content such as guides, tutorials, and even interactive free resources, you will not only attract new prospective visitors and future members, but you will also showcase your own expertise and knowledge in your preferred market or industry. Using the right content strategy can help to maximize your reach while also significantly improving your website and brand's SEO, or search engine optimization. 
6. Establish your web presence
Establishing your web presence is so important. If your online community is your business, get set up with an official, membership-enabled website as well as social media pages. If your community is a part of your business, add a dedicated page to your website. 
Either way, use high-quality logos, the same slogan, and links to your official website across all of your preferred platforms. 
7. Keep growing and evolving
Building an online community is not a one-and-done process. You have to commit to growing your members, engaging your audience, and evolving your community as more people participate.
Here are some tips to keeping growing your online community:
Implement a working content strategy. Set yourself up with an ongoing schedule to keep your followers engaged and to keep them revisiting your community in the future. 
Engage with users. Respond to questions and inquiries, and provide open and transparent responses to negative comments or criticism.
Host contests and giveaways. Encourage participation and incentivize followers and users on social media to share your content and to help spread the word about your community.
Showcase and highlight members. This is huge. Show that you care!
Ask for feedback and input. Whether it's features and functionality you plan to implement into your online community or products you're looking to improve, learn more about what your users want.
Start building your online community today
Now you know how to build an online community! Creating a community for your business or brand is one of the best ways to optimize your time spent marketing and spreading the word about your product and offerings online. With the right tools, vision, and a deep understanding of the audience you intend to reach, you can start building your online community today!