There are many reasons why users churn. It could be a weak product, a bad fit, or a mistake—those do happen. 
In most cases, however, the reason why your customers churn is your onboarding process.
So what is the secret to effective onboarding? Killer onboarding emails.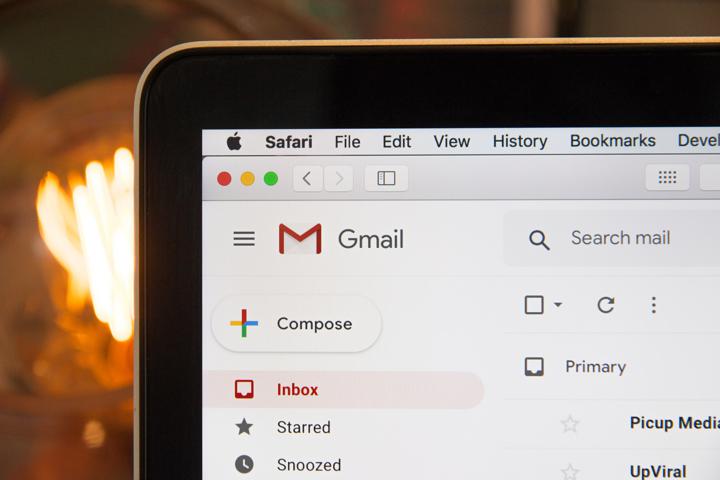 In this article, I am sharing some proven tips on implementing an educational, engaging email sequence to increase user retention rate in a SaaS startup. Here are eight tips to help you write killer onboarding emails.
1. Define key milestones for your SaaS product
Avoid taking a random approach to defining the content of your onboarding sequences. Instead, try to look at emails more strategically.
Start with defining what actions within your app can help your users realize your product's value faster. 
For example, if you are managing a SaaS that offers heat maps and website session recording, installing a tracking code on the webpage can be one of these milestones. The next milestone can be exploring the first user session or heat map by visiting a dashboard.
In the first case, your email content should be focussed on encouraging a user to install a code. To achieve this, you can give a quick heads up on how to do it with a few clicks.
In the second case, you could show the value a user can get by viewing heat maps. For instance, you could provide some inspiration by showing your client's case study.
2. Build dynamic onboarding flows
Once you have defined your SaaS milestones, you can set up marketing automation to reach users at different levels of their user journey.
The common mistake SaaS businesses make when creating their onboarding campaigns is sending the same emails to the whole user base.
To get users to open your emails, you have to segment your user base. Imagine that some users haven't used your product yet, while others have already achieved the first milestone you have set up. These groups would find different content useful.
As you grow your user list over time, the need for segmentation becomes urgent—users have to receive more relevant updates than one would send in mass emails.
By creating dynamic lists or tagging users based on their interaction with your tool, you can tailor personalized campaigns that resonate with your trial users. 
Set up campaigns around your predefined milestones. Create a set of emails for the first milestone. Send them until a user achieves the milestone. Once they do it, suspend your automation and start another one designed for the next milestone. Want some examples as this sounds like some rocket science?
Let's get back to the example of the session tracking SaaS. Once users have installed a code on their page, they could be tagged in a marketing automation software and moved to a different list. 
As a result, they won't receive more emails with the tips on setting up an account. Instead, they would start receiving emails on analyzing heat maps. 
To recap, by focusing on user behavior and tagging your contacts properly, you can send them more relevant information that will resonate with them.
3. Help users explore features with you
Once you have written down your key customer onboarding milestones, you can define where you should send your user to get them to explore the benefits of your SaaS.
As a SaaS founder, you may find your SaaS tool quite intuitive and simple to navigate.  However, for your new users, your tool can look complicated. Don't expect your users to spend hours reading your knowledge base to figure out what to do with your tool. 
If you want them to explore your tool step by step and do it effortlessly, guide users with simple recommendations and tips. 
Explain features as you would to your grandmother—in the simplest way possible. Try to accompany your narrative with some good examples and client case studies.
4. Inspire and encourage users to take the next step
Consider this example. Compose.ly has analyzed five successful SaaS companies and pointed out the success behind Intercom's content strategy. According to this research, Intercom shows multiple ways how their product can be put in action. This could be the way you can approach your onboarding sequences—just give practical examples to where your product fits and what challenges it helps resolve.
Send users to relevant places in your app. Use dynamic links that will send users to your SaaS panel to finish the next task.
Check out how Headspace uses this onboarding email to send users to relevant pages.

5. Add contrasting CTAs
Prominent CTAs are indispensable in your onboarding emails. These directions act as a connector between your email and a specific page in your product. Without a good CTA, you won't bring a user to their app destination.
When adding a CTA to your email content, remember about these two things.
1. Your CTA should stand out
Change your CTA button's color to a contrasting one so that it drives more attention than the rest of the content. Remember that users skim and scan text online focussing on the headers, bright buttons and highlighted text.
2. Get specific in your CTA
Avoid using generic CTAs such as "Click here" or "Go to page," as they introduce zero value to a user and can be considered spammy. Instead, use CTAs to show a user what to expect next. 
Let's say you offer a money-saving SaaS app. You can add a description to one of your text segments as follows: "Generate monthly savings recommendations with a few clicks to cut $500 spending every month." Your CTA could follow the context of your description" "Start saving today." 
With this scenario, users are well-informed about what comes next once they click the button. It adds some predictability and points out at the value they can get by taking this action.
Check out how Asana, a project management SaaS, is using CTAs in onboarding campaigns. Their CTAs clearly stand out from the rest of content and contain the text encouraging a user to take a specific action.

Not sure if these HTML templates perform better than plain text? As performance of HTML emails varies across industries, you have to test out both plain and HTML. For example, Sender claims that plain text emails can help build relations with users on a personal level better than HTML ones.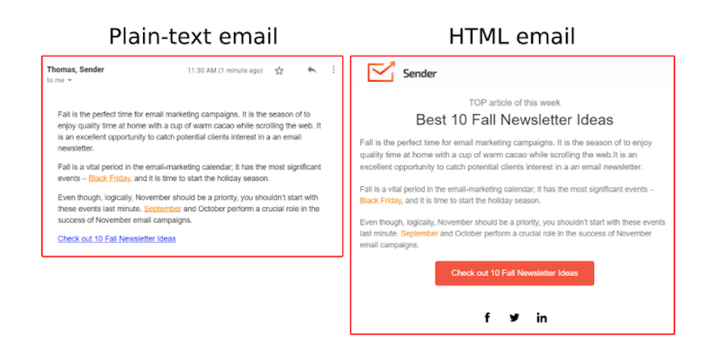 Source: Sender
6. Break content into visual elements
As our attention spans are historically low these days, your newsletters should be designed in a way to focus the user's attention at the key things and make it easier to consume text content online. Images, icons, and clear division of segments can help you out in creating a professional email.
Sprinkle your CTAs across text segments to drive user action. You can also consider including some animation to make your emails more interactive.
Check this app's newsletter—they have placed the key benefits of their platform in separate sections adding a contextual banner.  Each section includes a clear CTA and the images in accompanying sections make this newsletter more visual.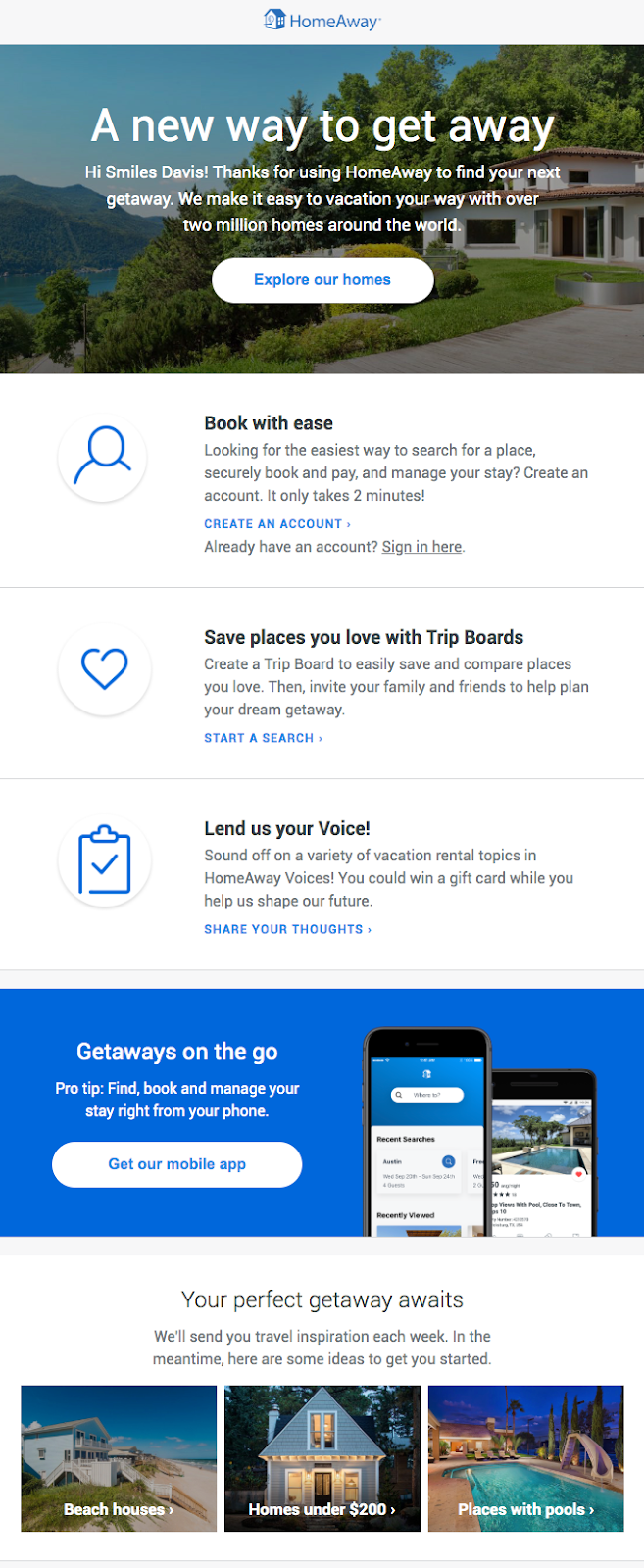 Remember that these structures can help integrate multiple content elements aimed at educating your client about the product. For example, in one of the blocks you can elaborate on one of the core features, while the other will introduce a product webinar to give an interactive walkthrough to your SaaS.
7. Set up success criteria and measure
You can start by analyzing open rates and click-through rates of your emails. The outcome of your analysis will help understand if your email headlines perform well and if your CTAs encourage users to click.
Consider using tracking links to analyze the performance of every CTA button and link in your campaigns. For example, you can check their performance in the "Campaigns" tab of your Google Analytics account. 
Keep track of a bigger picture, as well. Retention rate could be one of the core criteria to help understand how effective your new onboarding is.
Track user activity rate, too. This will help you understand if your emails make a difference and bring users to the tool again and again, motivating to explore the key features and experience value.
Monitor what users have upgraded their accounts and if they have interacted with the onboarding emails. In simple words, try to establish some form of conversion attribution. 
8. Keep improving  your onboarding emails
These tips will help you write some targeted onboarding emails that engage your users—and, hopefully, reduce churn. 
But just because these emails are better doesn't mean your work is done. You need to keep optimizing your onboarding emails and looking for ways to improve them. Here are a few great strategies to use:
Check on your competitor's strategy. When working on your onboarding sequences, you can largely benefit from analyzing your competitors' strategies. While you should never blindly copy what other businesses do in your niche, competitors' tactics can give you some inspiration on approaching your SaaS marketing strategy. Sign up for a free account with your competitors and check out how their onboarding works. Use SEO tracking tools in the beginning of your research to spot the most active competitors.
Train account managers. Are you targeting enterprise clients as well? In this case, your customers won't upgrade to a paid plan or buy a more expensive one with some add-ons without the help of an account manager. While selling more expensive plans, train your salesmen to provide better assistance and guidance to your enterprise clients. Then make sure they convey any tips or ideas back to your team to improve your emails based on these interactions.
Collect feedback from users. You can use chatbots to ask active users questions about your onboarding and collect their feedback on whether it is efficient or not. Do they understand the basics of how your SaaS tool works? Are your emails informative and useful and do they help users explore your tool in the way you intended? 
Write better SaaS onboarding emails with these tips
Getting users to stick with your SaaS is not a piece of cake. It requires a well-thought-out onboarding email strategy that educates users based on their previous interaction with your tool. Sending the same onboarding campaign to all users no matter how much they know about your tool won't work. 
If you want to send personalized onboarding sequences for a better result, start with defining the key milestones you want users to achieve. Design your emails to help users explore your core SaaS functions and show examples of your tool in action.