We have exciting news here at Unstack. We've officially launched an integration with Semrush, the leading SEO tool for growing your online visibility and identifying marketing opportunities. That means that, starting today, Unstack users can use Semrush data to power their content marketing—without ever leaving the platform.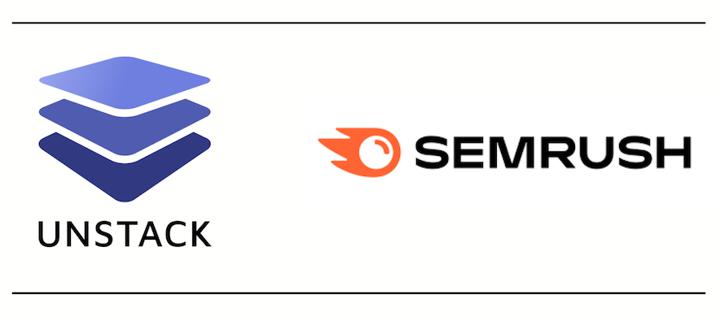 Here, I'm going to explain exactly what SEO features are included in this awesome new integration. Then, I'm going to share why I think this is so exciting for me as a content marketer—and, I hope, for you, too.
Let's jump in.
What Unstack's Semrush integration includes
Our new Semrush integration offers two primary features: the Semrush Keyword Magic tool and the Semrush Competitor Lookup tool. You can find both by clicking on the "Research" section in the left-hand navigation in your Unstack account.
Once you're in your research section, you can find your in addition to your Google Search Console data and these two Semrush features.
Now, let's take a closer look at these two new tools.
Ready to get started? Try Unstack for free!
Keyword research
Whether you're looking for long-tail keyword opportunities for content marketing or looking for terms for your Google Ads campaigns, keyword research is essential. Semursh's Keyword Magic lets you access one of the largest keyword databases with metrics for more than 20 billion keywords. 
With this integration, you can access all of that right in the Unstack platform. 

To use this tool, simply enter your seed term for a PPC or SEO campaign or the broader topic you're looking to cover in content and hit enter. You'll see millions of related keyword results, plus all the info you need, including competition monthly search volume, cost per click, and more.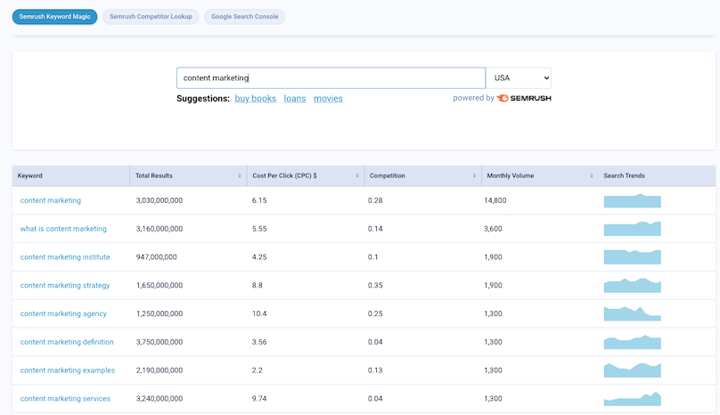 If you want more details, click the keyword and a pop-up window offering a closer look at search trends, global and US monthly search volume, and CPC appears.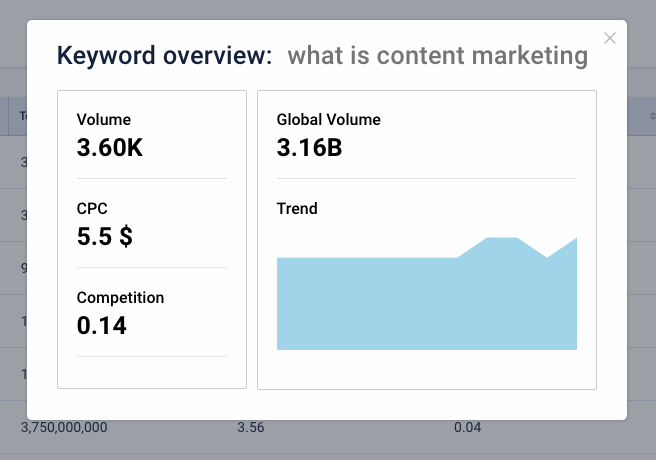 With all this information, you can find long-tail keywords for your blog posts, find the terms for your Google Ads campaign, and so much more. 
Competitor research
Keywords are a huge part of your SEO strategy and your PPC campaigns. But in order to grow either, you need to know what your competitors are doing. 
That's where Semrush's Competitor Lookup tool comes in.

With Semrush's Competitor Lookup, you can look up any domain and get details about its performance. This includes its domain authority and backlink profile, as well as a similarity number. Semrush uses its extensive database to compare how the domain you search stacks up to the results.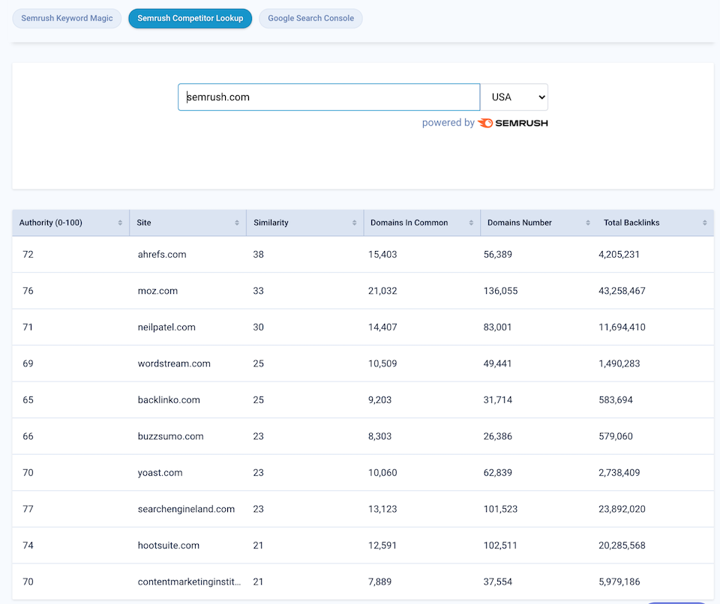 While this is great for looking up competitors, it can also be useful for seeing how your own domain is performing or checking on your client's websites, too.
Why we're so excited about the Semrush integration
I spend so much of my day here at Unstack managing our content. That includes emailing with guest posters, checking content analytics, researching keywords, planning blog posts, writing guides—and more. That also includes switching between lots of different tools, different tabs, and different tasks.
With our new Semrush integration, though, I can switch between researching keywords, monitoring performance, and publishing blogs—all without having to leave the Unstack platform. So much better.
Now, that might sound self-interested, but I'm not the only marketer who's going to benefit from this.
Gary Amaral, co-founder of Breadcrumbs, uses Unstack and Semrush, and this integration helps streamline managing marketing for his startup. "Unstack keeps making things easier for me," he said. "Now, with their Semrush integration, we can quickly iterate or create pages fully-informed by relevant keyword and competitive research—all in one place, in one platform. Anytime a multi-tool, multi-screen, or multi-step process can be accomplished so effectively in one place I'm in."
Watch Gary's whole chat with Zach.
This efficiency benefit is huge. It makes life easier for marketers trying to manage research, planning, and creation quickly. Plus, it can have a real material impact on your business. It can take up to 25 minutes to regroup after an interruption. All that tab-switching and multitasking isn't just annoying—it's costly. Luckily it's completely avoidable.
How to start using Semrush in Unstack today
If you're an Unstack customer, you can access the Semrush integration right in your account. Not an Unstack customer? Get started for free now!