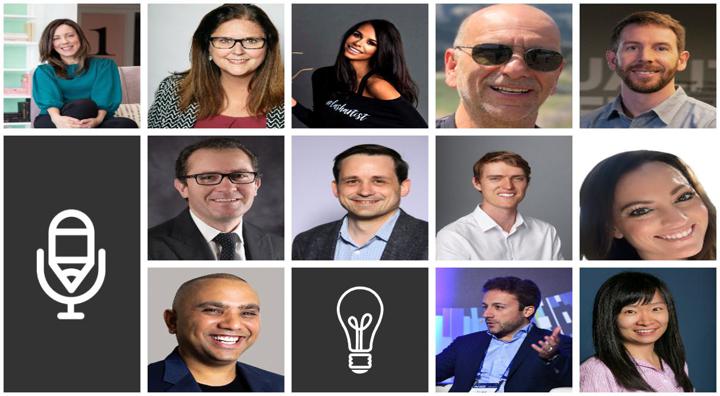 If you're in the eCommerce industry, this post is for you. We've compiled a list of the 12 best practices to help with your eCommerce marketing. Whether you're just starting out or have been in business for awhile, these tips should be helpful!
Here is what 12 eCommerce business leaders had to say:
Create Promotional Ad Campaigns 

Incorporate Educational Blog Content

Get Email Signups With Special Offers and Discounts

Real-time Support with Live Chat and Chatbots

Own Your Owned Media Platforms from Day 1

User-generated Content Builds Loyalty for Your Business

Create Campaigns Targeted at Wearables and VR Tech

Leverage Nano- and Micro-influencers

Abandon Cart Sms

Include Customer Reviews and Testimonials

Create An Affiliate Program

Use Tiktok to Boost Business
Create Promotional Ad Campaigns 
We spend more time online on social media than doing anything else, so if you're not marketing in the right place, you're missing out. You can use targeted ads or boosted posts to reach those you want to sell your products to, and at a fraction of the cost of traditional advertising. While you're at it, advertise on Google as well, so your products are the first ones people see when they search for relevant keywords.
Peter Babichenko, Sahara Case
Incorporate Educational Blog Content
You can and should incorporate educational blog content into your marketing strategy. Customers may normally be turned off by obvious marketing blogs, but informational posts with relevant content that ties in with your products will spark a different reaction. By showing you know what you're talking about, the tie-in to your products will seem natural, and the trust you've built up can translate into a sale.
Stephanie Schull, Kegelbell
Get Email Signups With Special Offers and Discounts
People who otherwise wouldn't sign up for marketing emails will still usually jump at the chance to get a discount or promo code in exchange for subscribing. Even if their inboxes are already full of marketing emails, the ones that consistently get opened are the ones with these special offers and discounts. Connect email signups to special offers, and watch as your marketing messages reach even more inboxes.
Vanessa Molica, The Lash Professional
Real-time Support with Live Chat and Chatbots
To best engage with consumers and ensure that their needs are met as quickly as possible, real-time support has become a non-negotiable for a strong eCommerce marketing strategy. Including a live chat function on your eCommerce site - whether the responses come from a human or AI - can greatly increase conversions by ensuring no time is wasted in engaging potential customers. A positive customer experience is crucial to the success of eCommerce businesses, and real-time support is an important component.
Stephen Light, Nolah Mattress
Own Your Owned Media Platforms from Day 1
The #1 marketing channel every eCommerce company should prioritize is owned media. This includes any platform where a brand is talking directly to customers - which is really everything from the website itself to all the email, social media, and customer communications they put out. The most obvious reason for doing this is it allows companies to control how the brand is being presented, but, beyond that, the real value of building and nurturing a brand's owned media channels is the creation of a direct relationship with their consumers. This relationship is ultimately invaluable as the brand learns, grows and evolves as authentic customer connections can't be bought or built quickly - it is also the most cost-efficient way to advertise a brand!
Amy Zwagerman, The Launch Box
User-generated Content Builds Loyalty for Your Business
User-generated content is an excellent way to strengthen customer loyalty. Our audience is typically B2B- specifically B2B2C, gift-givers such as event professionals, senior-level execs, and HR professionals who give SnackMagic to global teams, event attendees, or business partners. We then send satisfied customers to our G2 reviews page, an industry standard for software companies to collect reviews for people to compare and contrast products/services. The reviews are all credible and honest, and interested prospects will come across these reviews when searching Google. This makes for an organic way to collect content that you can then share on your social media. And it's customer-centric.
Furthermore, recent studies show that consumer reviews are trusted nearly 12 times more than product descriptions and produce an average 18% uptick in sales. (CXL) It's this kind of social proof that helped us scale our business from zero dollars to $20 million in annual revenue in eight months.
Shaunak Amin, SnackMagic
Create Campaigns Targeted at Wearables and VR Tech
Consumers are increasingly embracing wearable and VR technologies as their preferred methods of interacting with the outside world. In this new landscape, eCommerce businesses will do well by creating marketing campaigns that target these two technologies, in a bid to grab and retain users' attention. The major benefit of targeting wearables and VR tech is that their users are eager to stay up to date with trends and as such, are likely to convert when they are served trendy ads through these tech tools.
Thoroughly assess your target audience to determine which of these tech tools they are already using, and craft powerful marketing campaigns designed specifically for these technologies. Use a survey tool to determine customer perception of the targeted campaigns as you run them. The insights will help you fine-tune your campaigns so that they generate more leads and conversions.
Patrick Crane, Love Sew
Leverage Nano- and Micro-influencers
Leveraging social media influencers has become a cost-effective strategy for e-commerce marketing, especially with local nano-influencers and micro-influencers.
Using social media is a smart move for businesses of any scale, but you can take it a step further by connecting with local micro-influencers for marketing. These influencers have followers that range from a few thousand to a hundred thousand, which can cost less than going for bigger players in the field.
They also have more organic, trust-based interactions with their audience, making the marketing ploy feel more genuine.
Nunzio Ross, Majesty Coffee
Abandon Cart SMS
We've seen great success by retargeting shoppers who abandoned their cart via SMS and offering them a coupon or simply reminding them they left something in their cart.  SMS is a great way to get in front of shoppers in an untraditional way and you can toy around with the time delay between abandonment and SMS (as well as the messaging) to find something that works for you - we've found that a pretty immediate SMS + small coupon work well for our users.
Sylvia Kang, Mira
Include Customer Reviews and Testimonials
One of the best ways to sell your products is to let satisfied customers do the marketing for you. Prospective customers trust sellers with verified testimonials and often read reviews before finalizing any decision. Without reviews and testimonials, customers lack a valuable resource that could sway them toward making a purchase. Tap into the marketing resources you already have, and prominently display reviews on your website.
Michelle Conarty, Lily and Llama
Create An Affiliate Program
The best practice an Ecommerce business can implement is an affiliate program. It adds referral marketing directly into your strategy and helps spread awareness quickly. Plus, affiliate programs are usually a win-win for both businesses and partners. It makes a great networking tool.
Brandon Adcock, Nugenix
Use Tiktok to Boost Business
After winning the "most visited" site of the year ranking, I see TikTok gaining ground to boost eCommerce businesses, especially small ones and startups. Both website owners and influencers can drive sales by attracting a highly engaged audience through the platform and generating demand via hashtags like #tiktokmademebuy; the most creative, engaging willing to share knowledge content creators have an edge towards the rest as "noise" remains high as users seek quality content
Luigi Matrone, eBusiness Institute
Terkel creates community-driven content featuring expert insights. Sign up at terkel.io to answer questions and get published.