As 84% of customers who watch a brand's video claim to buy the advertised product, video marketing is something eCommerce companies need to explore more.
Video marketing: should you try?
Where one would need hundreds of words to explain a complex product or service, a video can get it done in less than thirty seconds. Video is one of many viral marketing tools that will help promote your eCommerce brand and reach target customers. 
The good news is that you don't need to invest a fortune to produce a Hollywood-like video. You don't need special effects to engage with your audience and see video views (and sales) skyrocket.
In this article, you will read about seven examples of video marketing a brand like yours can produce at a shoe-string budget. Also, you will get a few tips on how to use video for a better reach and engagement by circulating it across other marketing channels.
Example #1. Testimonial video
When your customers watch a video testimonial, it engages the mechanism of social proof – something Robert Cialdini coined back in 1984, in his book Influence. According to this idea, people tend to copy other people's behavior. Video testimonials work the same way as a five-star review on Google or a recommendation from a colleague.
Have a quick look at this user testimonial in the form of a video. Pay attention to how clients of this innovative streaming solution describe the tool's value proposition and their favorite features.
When recording a testimonial with customers, get them to talk about how your product has helped them, what results they have managed to achieve, and why they have chosen your services against competitors'.
Once you have the video ready, you can add it across your website – on product pages, blog articles where it is relevant, and even on the main page. You can also improve email campaigns with video by integrating a video snippet with a testimonial in your nurturing campaigns. These are all the important touchpoints with your clients that can increase conversion rates. 
Example #2. Demo video
Video tutorials or demo videos are a great tool for showing your products in action. Results are what customers expect and no other video type can present the results better than a demonstration of a product. 
You can choose to invest more in the campaign and work with an influencer who can give your product a try and record it. Otherwise, engaging your customer who is happy with the product might be an idea.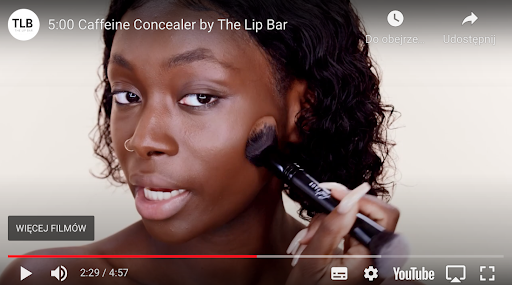 Tutorial videos can also be an effective way to engage your clients by showing them new ways or variations of how your product can be applied. As they acquire more skills and knowledge, they start achieving better results with your products and end up purchasing more.
Example #3. Explainer video
With explainer videos, unlike with tutorials, brands showcase their product from a broader perspective, explaining how they work, mentioning the product's history, and the context for creating it.
TOMS is sharing their unique product story in this explainer video, telling how the idea for the shoe brand appeared and how their business model has evolved. The brand grew out of the one-for-one concept into a more sustainable model of donating ⅓ of profit to worse-off communities.

Example #4. Product close-ups
Close-up videos help showcase your product from different angles – something even professional product images can't provide. Product close-ups give a better idea of the product value and help customers understand what exactly they end up buying.
When recording your close-up videos try to zoom in as many details as possible and show a product from different angles.
In this product close-up, iPhone is showcasing their new product blending the demo video with close-up elements.

Example #5. Lifehack videos
With lifehack videos, you can share short tips and tricks on solving a particular problem your customers face. Your target customers can stumble upon this educational video content while researching the ways to resolve a certain issue they are dealing with. They will then end up buying your product as in a lifehack video it is shown as a solution.
If you were selling knives, it would be a good idea to record a few lifehacks on life-changing experiences of using them when cooking, like in the video below. 

Example #6. Unboxing video
Thanks to unboxing videos, people can experience your products better. Unboxing videos recreate the feeling of receiving a present. It's like a feeling of Christmas morning when you rush to a Christmas tree to open some presents.
On YouTube, unboxing videos are hugely popular. Check this example of an unboxing video recording by a YouTube influencer.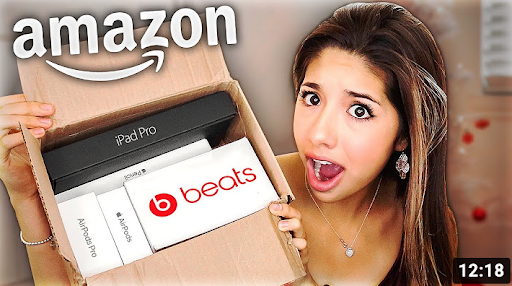 It can be a good idea to engage in some partnerships with influencers who create their content for your target audience.
Example #7. Comparison videos
Often, when customers are looking for a specific product, they might have a few brands in mind and want to compare them. With comparison videos, you can make this job easier for your potential clients. Remember that your target customers can be overwhelmed with the number of options your competitors are offering in their online stores.
By comparing your products with competitors', you can help them understand the specifics of each product and make the right choice. However, when recording a comparison, avoid being too critical about your competitors – instead, offer a straightforward and unbiased review. 
Check out this comparison video to understand how they can be structured.

How to incorporate videos in your marketing strategy? 
Now that you have an idea of what your eCommerce business can achieve with product videos, let's see what you can do about adding product videos to your overall marketing strategy. 
Use in retargeting ads
Videos can be a powerful tool to convert those website visitors who have been on your webpage but haven't bought your products yet. By launching video campaigns on Facebook, you can effectively reach the warm audience that knows your brand and needs just another push to buy.
Create social media posts 
As video content is more engaging, it's easier to attract the attention of bored social media users on sites like Instagram, Facebook, and TikTok. Consider transcribing your video content and adding subtitles as often people prefer to watch videos without sound, especially when scrolling the feed at public places or work. This is also a great way to build brand awareness. 
Use on live streaming platforms 
Consider using live streaming platforms to reach more users with your eCommerce videos online. Downloading content to YouTube or Facebook is one way to go. However, by doing more live sessions, you will be able to reach a much wider audience (social media still favor live content over static one. After running a live session, you can save the video and use it for social media posts or ads.
Add to page content
Use your videos across product pages, F.A.Q. sections, and even on your blog. Distribute your videos wherever it makes sense and fits the context. Remember to write good headlines or captions for each video you embed, so you get users interested (and intrigued) with its content. Avoid posting videos that autoplay as they are extremely annoying.
Create a video popup
By creating a video popup, you can draw visitors' attention to the message you want to convey. A video popup can be embedded on a small screen, somewhere in the page corner, with an option to play it full-screen.
There are some ways video pop-ups help improve conversion. For example, by triggering your video popup when users exit the webpage, you improve your bounce rate and get them to use your special offers or discounts.
Wrap up
There are many video types that you can use to promote your eCommerce brand and boost sales. You can record every video at zero or very little cost – you can even use your mobile device for video productions. However, it's worth spending some time to think through the strategy for your video. Behind a popular video usually stands an interesting idea. It's time to work on yours!