As much as email marketing is widely regarded as the most potent digital marketing outfit, what you can get out of it still boils down to what you do with your list.
When I launched my company, I wanted to keep my costs down to a minimum so I was forced to put in the hours to figure out the best way to do email marketing. But I know that, at a startup, you have thousands of other things to manage. That's why I'm more than happy to share what I learned the hard way in the hopes that it will help you save hours of research.
Here, you'll find the 12 best practices to help you maximize your email marketing potential and become an email list management expert.
1. Define your goals to plan ahead
I'll start this with a quote.
"Give me six hours to chop down a tree, and I will spend the first four sharpening the ax" – Abraham Lincoln. 
How does this relate to email marketing? How about to email list management? You know if you're doing it right when you're spending more time laying the groundwork than you do running the actual campaign. You have to realize it's humans at the end of your campaigns, most of whom are fickle targets. So you have to be prepared to ace it at every step of the way.
Goal setting should always come before planning. You need to set goals for every step of the buyer's journey and then plan towards them. Goals also serve as yardsticks to measure your campaign performance against.
I suggest drawing up a calendar or worksheet before launching a campaign. Make sure to have checklists for all your activities to guard against straying from set goals. 
2. Engage your subscribers
Your first goal for every email campaign should always be to engage the human at the other end. Here are some very effective ways to keep subscribers very engaged:
Add reply-to address: One-way conversation is a good way to have a disengaged subscriber base. Always include a reply-to address in your emails whenever possible, and encourage subscribers to respond.
Learn from your audience: Create stronger bonds with your audience by involving them in your brand journey. Send out surveys with interesting questions that are relevant to your industry. Let them help you understand their preferences to have better ideas for content they'd be interested in.
Add a human touch: Use a conversational tone while writing your content. Ask thought-provoking questions and provide channels for the response. Make sure you have your name in the from line for every email. People are more likely to engage if it feels like a one-to-one conversation rather than just a generic email.
Design for it: Create compelling email designs that your audience can easily consume. Use elements creatively like images, white space, vector graphics, and GIFs in emails. Create your plan for your audience—find out the kind of design that works in your industry.
 Segment your list: Segmentation helps you focus the right email to the right lead and at the right time.
Send personalized emails: Personalization means targeting specific messages to contacts based on the data available on them.
Big, bold CTA: You should always be looking to evoke an action with every email and ensure your CTA is hard to miss.
Need some inspiration? We put together 107 CTAs you can use now!
3. Segment your list
Segmentation helps you to send targeted messages to groups within your contact list who have things in common. Segmentation provides context for email content, and it is crucial to increase the relevance of your message to your audience and the actions you get out of them.
According to Campaign Monitor, marketers who ran segmented campaigns saw a 760% increase in revenue.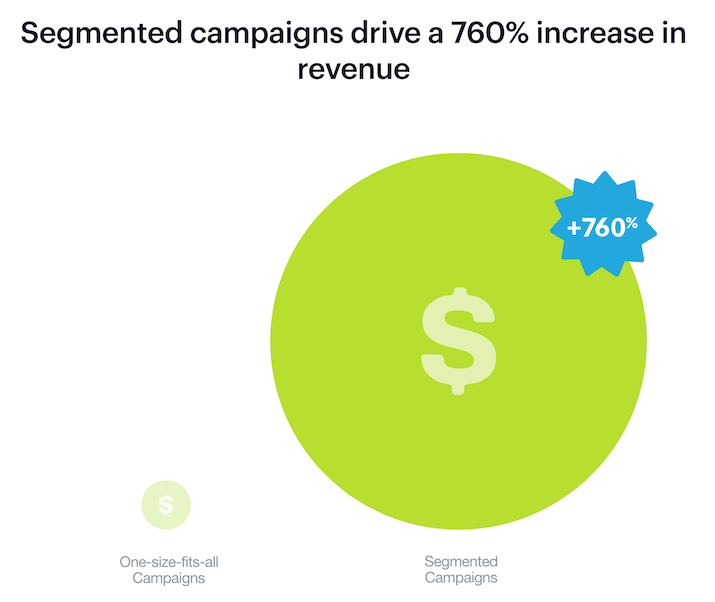 That's worth it. You can plan for your segmentation by:
Creating a well-organized contact database.
Tracking and recording useful information.
Using both explicit and implicit data.
Explicit data are provided by your contact themselves through forms or surveys. Some common fields are, for example, contact name and company name. Implicit data are those recorded unknown to your contacts, such as engagement data and conversion data. You'd usually need marketing software to automatically gather implicit data.
You can segment your contacts by buyer personas or location in the buyer's journey. That way, you can target your communication to new visitors, existing leads, and customers.
4. Provide dynamic and personalized experiences
Personalization means sending out information to your contacts based on the context of what's happening around them right now. Of course, it always helps to have a working database and a segmented list to begin with.
You can create personalized experiences using the data you have on your contacts, like their names, gender, location, and previous purchases. You can drive up your open rates and engagements through personalization. In fact, Campaign Monitor found that personalizing your subject line can boost your open rates by 26%.
Catch your reader's attention in the inbox with a strongly personalized subject line and preheader text, then follow that up with targeted email content.
You should also go beyond just using data like a contact's first name in emails. Use the data in your email list to create different content for your audience based on their information in these data categories. This brings me to my next tip.
5. Maintain a healthy list
You must have a contact management strategy in place before launch. This is essential for successful email list management. It pays to have a well-organized database to collect and store contact data. You can use a contact scoring strategy to better understand the quality of your leads and group them accordingly. There are so many email service providers that offer developed contact databases you can pick from.
You should track both positive and negative engagements to score your contacts and then determine a cut-off point where you have to say goodbye to unresponsive contacts.
Positive engagements include:
Opens
Click-throughs
Replies
Goals attained
Negative engagements include:
Hard Bounces
Unsubscribes
Spam reports
Having a big-fat mailing list means a big email marketing budget for your business, which is why you should always avoid the futility of investing in dead leads. Set a timeline for all leads to be appraised and set your criteria for either deletion or disengagement.
6. Design for mobile
Mobile-friendliness should be your top priority when designing emails. About 46% of all email opens happen on mobile apps. If you do not make sure your emails look good on mobile, you're literally neglecting half of your list, which will likely earn you unsubscribes and spam reports.
The main concern when designing for mobile is the width of your email elements. If you're sending HTML emails, you can have a developer code your emails for mobile responsiveness—emails that adjust elements based on the viewing environment (screen size).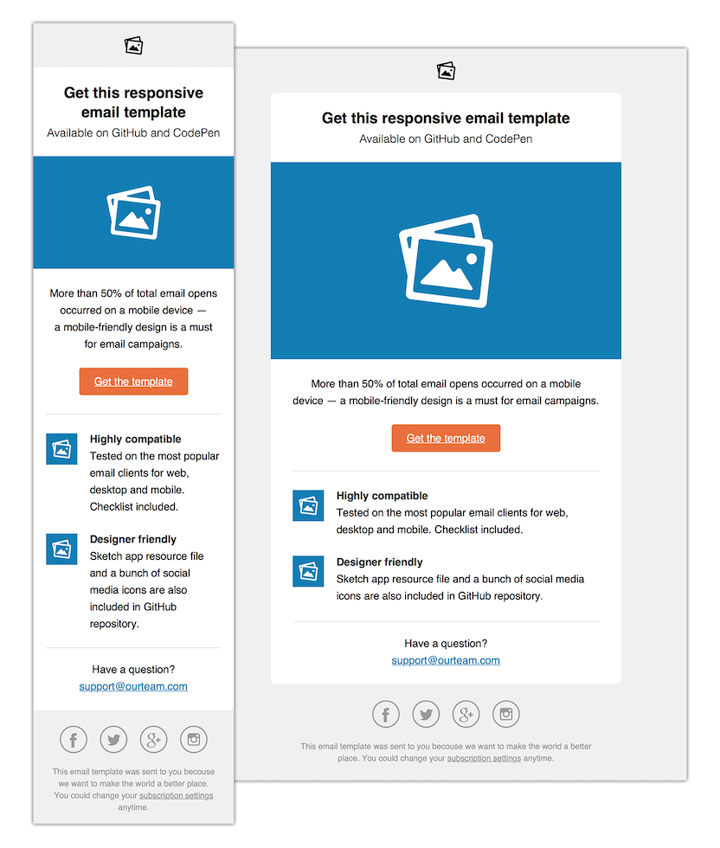 However, the first step to sending a mobile-friendly email is in your subject line and preheader text lengths. Most mobile email clients will generally truncate subject lines above 30 characters and preheader texts above 50 words. Keep in mind, shorter is better.
7. Consistency is more important than you think
Consistency is the backbone of any brand strategy. If you want to build a loyal base with a high level of confidence, try to create an identity for yourself, one they can easily connect to and relate with. Every email you send is an opportunity to deliver on your brand promise and show what you're about. 
When sending emails, try to stick with your brand voice, colors, fonts. Ideally, have a single template for each type of email you'd be sending. 
However, consistency goes beyond just the brand. You should set timing and frequency for your emails, ideally a time when your subscribers are likely to read their emails. Let your subscribers know exactly when to expect your emails, and stick with that.
8. Avoid spamming your lists
According to Statistica.com, about 319.6 billion emails are sent every day worldwide. If you want to maintain relevance in a crowded inbox, you have to avoid sending irrelevant emails at all costs. You can guard against sending low-quality emails by planning your content ahead.
You must avoid sending out too many emails to your audience, and whenever you do, make it count. You can find out the frequency of emails your subscribers would be comfortable with by asking them through surveys or testing several frequencies.
As much as you want to stay consistent with your email frequency, whenever you are not confident about an email's quality, it's always better not to send. On the flip side, if you feel like you have something very impactful that needs to go out immediately, feel free to send it out without minding your usual frequency.
9. Measure and optimize
This a big email list management tip: You need to measure your performance and keep optimizing to improve.
Test your different ideas on your audience, determine the best performance and run with that for future campaigns. A/B tests are quite effective for testing campaign elements like:
Subject line
Preview text
Number of emails
Body copy
Body design
Body images
CTA
Email signature
You can read more meaning into your test results when you run them on list segments.  Also, use a big enough sample size to have meaningful results.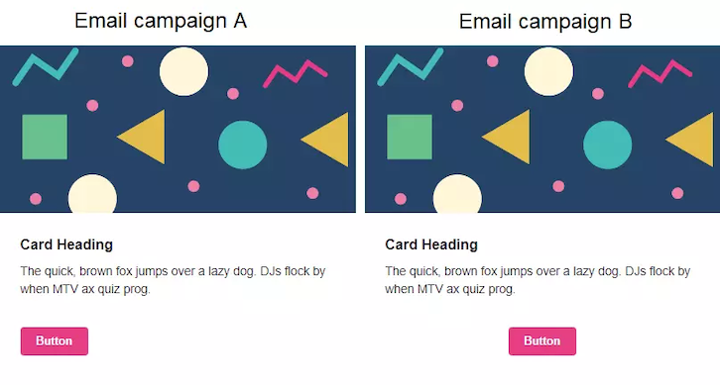 This example from Send Pulse is testing the button placement.
 You should also measure engagement metrics like open rates, click-through rates, and unsubscribe rates. Group your audience by performance (contact scoring). Find what groups have in common and see what you can improve.
10. Make sure your emails send correctly
There are two parts to making sure your email sends correctly: Make sure it's formatted right, and make sure it's actually delivered. 
If you're sending HTML emails, it's a good practice to test your emails before sending them out. At the least, try them on popular email clients like Apple, Gmail, and webmail. Some email clients don't display images, so always ensure your email designs still make sense without images. Use alt tags to describe your images.
As an email marketer, having chunks of your emails land in the spam box is as bad as anything else you could be faced with. Some of the best ways to ensure your emails always get delivered include:
Obtain verifiable consent before sending your emails.
Use double opt-in, especially for larger businesses.
Maintain a healthy list.
Optimize HTML emails.
Avoid using spam-trigger words.
Guard your sender reputation.
Follow the email rules and laws like the CAN-SPAM act.
11. Adhere to rules and laws
This one is really important. Take time to understand the email laws that apply in your country or state when sending marketing emails. Failure to follow these regulations can open you to legal action. Some examples of these laws are the CAN-SPAM act, CCPA, and GDPR for Europe.
Here are some of the most important ways to stay compliant:
Always include your physical postal address in your emails.
Provide a clear and easy way to unsubscribe from your list or update their preferences in all your emails.
Honor all unsubscribe requests immediately.
Do not use misleading subject lines that represent your email content deceptively.
Ensure the "from," "to," and "reply to" addresses are valid and clearly represent your company. 
Improve your email list management
These are the biggest lessons I've learned growing Mailcharmer. Hopefully now you can skip the trial-and-error while you're growing your business and focus on better email list management—and get even better email marketing performance.
Author bio
Daniel Nikolovski has been in the SEO industry for over eight years, building and flipping multiple successful affiliate sites. He is transitioning into building SaaS projects for the SEO community. His first project is Mailcharmer, a B2B email finder. Follow him on Twitter where he will share his journey.