Your presence on social media plays a critical role in your success today. Even when you have an awesome website with unique content and offers, you still need to find a way to market it so that people buy from your brand. 
Social media can form a bridge that makes people aware of your brand and gets them to engage with you. That's why we're going to share how to build a strong social media presence:
Join multiple social networks
Spend time on your profiles
Create a content calendar
Publish content regularly
Build visual content
Respond to users
Before we jump into the strategies, let's cover why you need to pay attention to your social media in the first place.
Why does a strong social media presence matter?
Here are some interesting social media statistics that make it clear you can't afford to ignore social media:
There are around 4 billion social media users today.
Users spend an average of 2 hours and 29 minutes a day browsing through social media content.
43% of users leverage social networks for work reasons.
And 43% of people use social media as a platform to research what to buy.
Social media is a major platform where people do research, get recommendations from peers, and where people also buy products. Not being on social media means missing out on a significant tool to reach your audience.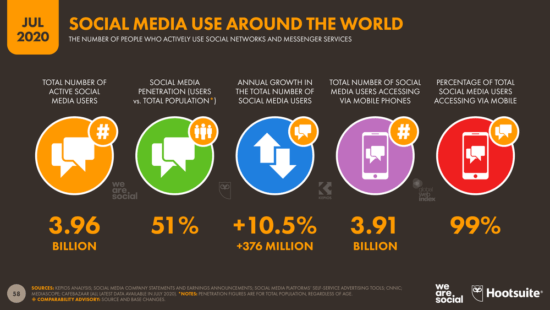 Billions of people are active on social media and the number's only growing.
That being said, managing your social media marketing to achieve this success takes some planning. Let's move on to the best strategies for building a strong social media presence this year.
How to build your social media presence
There are certain best practices you should carry out to become a recognizable brand on social media. Here are six top tips that will help you gain a strong social media presence on the most impactful social media platforms.
1. Join multiple social media networks
Your audience is scattered across a number of social networks. And different demographics also use social media differently. To target more people and create the best marketing strategy for your business, you need to open an account on several networks. 
Here are the major networks to consider:
Facebook
Instagram
LinkedIn
SnapChat
TikTok
Pinterest
There are lots of others, but these are currently the big players. Some of these networks are newer and tend to be popular with the younger generation of potential buyers. LinkedIn is widely used by professionals for business and work reasons. And Facebook has grown in popularity with older audiences.
Having a presence on multiple platforms means that you can reach out to more people and reach out to different demographics, too.
Another reason to set your business up on multiple networks: You'll also protect your brand name by owning social media accounts. You can customize URLs with your brand name to make it easy to find. And you can control the kind of information available around your brand by having accounts on different platforms. 
Your social media presence is also taken into consideration by search engines. Your social media content makes you appear more credible and also adds to the information people can find through search engines. 
2. Spend time on your profiles
All social media platforms have profile elements such as profile pictures, headlines or "bios," cover pictures, "About" sections, and more. 
One mistake that many individuals and businesses do is to not create information in all the available fields. And then, another mistake is to not optimize the content in these fields. 
For example, adding the right keywords in your LinkedIn business page could make your brand easier to find when users search for a specific type of company. You can also optimize your LinkedIn page or account by adding pdfs, slides, and images—content that's not just text. 
Using your social media property to its full potential by adding keywords and relevant content in different fields will make your brand easy to find. 
Creating relevant content also shows visitors that your company is active, engaged, and cares about details.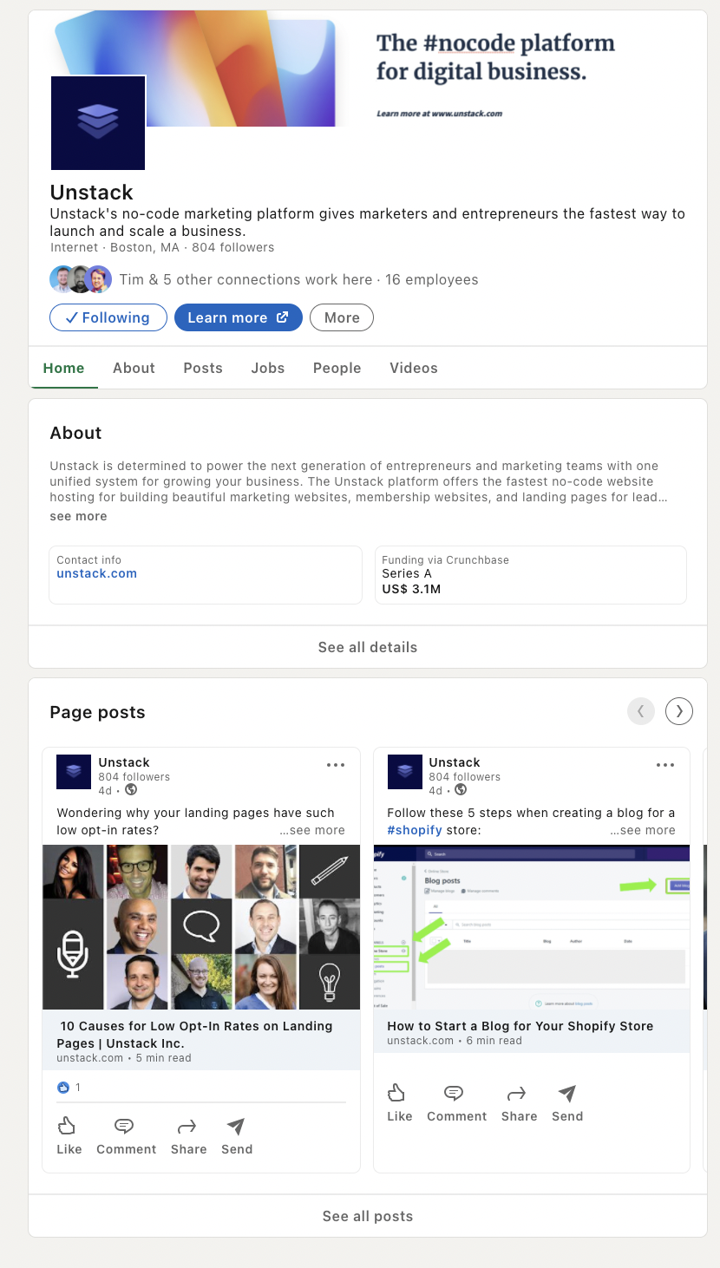 So the main tip here is to take the time to fill out all the fields available in your social network profiles. And to add images, videos, white papers, and as much relevant media content as you can. The quality of your content and the depth and breadth of information you provide are major game changers for boosting your social media presence. 
Want to overhaul your LinkedIn strategy this year? Check out our step-by-step guide here!
3. Create a content calendar
A lack of organization and strategy in social media marketing is evident wherever businesses create sporadic content and get poor engagement.
It is critical for any business that wants to see good results to create content calendars for their social media. 
A content calendar can be a spreadsheet with days and social networks in rows and columns. You can also use social media management tools that include calendars. The advantage of using a social media management tool is that you can schedule your content and get it automatically published.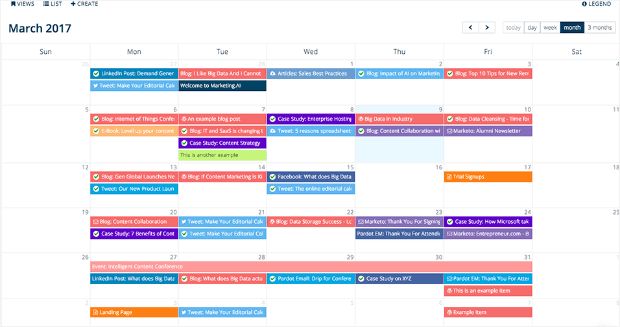 Example of an editorial calendar by GetMintent. Source.
This gives you the chance to focus on other important aspects of social media marketing like tracking data and responding to users. 
4. Publish content regularly
It isn't enough to be present on social media; you have to create content often to stand out or even get noticed. 
It's a time consuming activity and one that has to be done regularly—which is why many businesses have a team or a dedicated person to focus solely on social media content creation and engagement. Here are some things to consider:
For most platforms, you need to create content at least once a day to build your following. To be more specific, studies have found that for Facebook, the number of posts you make depends on how many followers you have already. Twitter content gets buried fast and you can stand to make 5 posts a day. While on LinkedIn, making a daily post is ideal. 
People are on social media at different times of the day. Some part of your audience will be in different timezones, which is why some businesses post content as many as three times a day.
Share everything on multiple channels. You can repurpose your social media content to make sure that it reaches as many people as possible.
Social media algorithms keep changing and it's difficult to tell exactly what kind of content will work. What we can rely on is that posting regularly and creating videos for most platforms improves your chances of getting attention.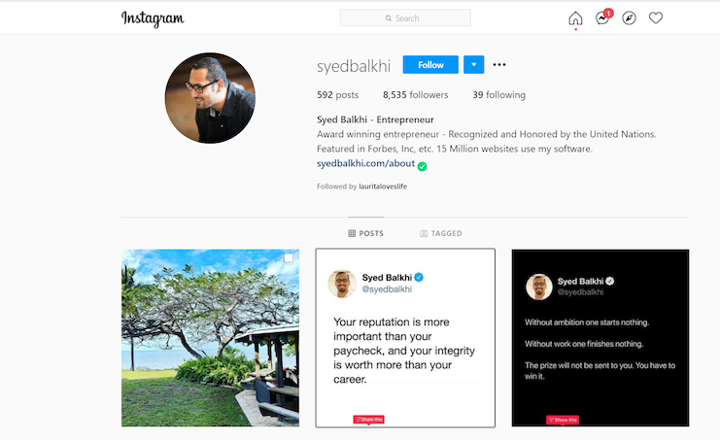 Creating regular content is critical to engage users and show you're active.
5. Build visual content
Social media and visual content are BFFs. While text posts are easier to build and do have an impact, the best content for engaging people is visual content. 
In fact, some social media apps and sites are oriented entirely around images, like, for example, Pinterest and Instagram. Snapchat and Tik Tok are also often used for short video content. 
Most people access social media via their phones. Of 4.14 billion people who use social media, 4.08 billion of them access it via their phones; that's 99% of all social media users. Apps like Snapchat, Tik Tok, Instagram are optimized for visual content and other platforms are following suite by adding Story features. You need to create a content strategy that revolves heavily around live videos, images, and pre-recorded content. 
Creating visual content is challenging but also very rewarding. Here are some tips to consider for making and sharing content: 
Use "Stories" features on LinkedIn, Facebook, and Instagram, or "Fleets" on Twitter. Here, you create short videos that last for just 24 hours before they disappear, making them perfect for FOMO strategies and to push limited time sales.
Invest in free and premium content creation tools to help you build great graphics. Canva has pre-made social media templates that make it easy to create awesome posts
Use CCO or "No rights reserved" images in your posts. You'll find high quality images for free online.
Develop an aesthetic or consistent  style that makes your content distinct and recognizable.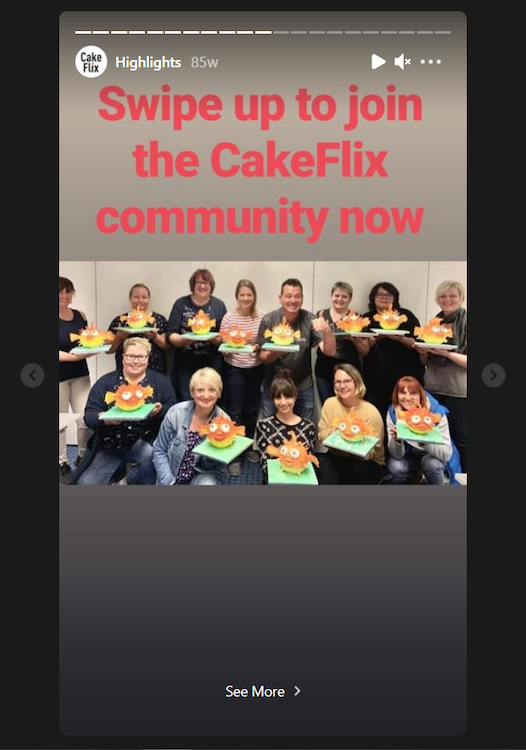 A cake making course shares Stories on Instagram to highlight events.
These tips will help you gain a stronger presence on social media, but remember that you have to figure out what works for you. Test out different types of content on different networks and keep an eye on your analytics reports to see what gives you the best results. 
6. Respond to users
The final but crucial tip is to be active and engaged on social media. The beauty of social media is that it allows you to connect with customers directly.
On a platform like Twitter or Facebook, your brand is more than just a set of colors and a logo. You can get your audience to relate to you by responding to them when they talk to you. 
Dell has a dedicated customer support account and responds to users' complaints.
Remember to make the following activities a regular part of your social media activities:
Respond to comments made to your posts. Often, people ask questions in the comment section and it's a great opportunity to help people and show them that you're listening.
Leverage chat tools. Facebook has chat options where you can create pre-set messages in response to common questions. You can also integrate AI based chatbots to your Facebook page.
Use a casual and friendly manner of speaking. Social media is a place for everyday communication. Make sure that your tone of voice is friendly and you're talking to your audience as if they were a friend.
Consider multiple profiles. Many businesses have an official social media profile and a separate and official support profile. This allows users to get help via social media while the main account focuses on marketing content.
People notice when a brand is engaged and responsive on social media. It assures them that you're listening and that you're likely to have good customer support.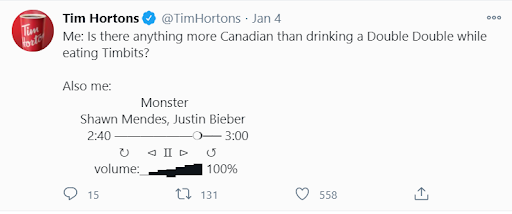 Tim Hortons uses a fun and casual way of creating posts.
Go start growing your social media presence 
Social media marketing can be rewarding especially for small businesses with small marketing budgets. You can find people who care about your products and business and grow a community of avid users. 
However, building traction and having a strong presence on social media are challenging tasks. 
Your first step is to be present by creating accounts and then engaging people frequently through content. We've looked at several other essential steps that will help your brand stand out. Work at these tips consistently and you should see more people flock to your content. 
Author bio
Syed Balkhi is an award-winning entrepreneur and online marketing expert. He is the co-founder of OptinMonster, WPBeginner, MonsterInsights, and WPForms.