With all of the time, preparation, and energy it takes to put on the best webinar possible, you deserve to have the right audience in attendance. No one wants to experience the feeling of logging on and seeing only a few individuals dialing into the webinar. Plus, even if you do have a large audience for your webinar, only those who fit your target audience are going to be the ones who provide you with ROI on this webinar.
That's why it's important to plan ahead with an effective webinar marketing strategy to ensure you'll see results. Here, we're sharing six key webinar marketing tips:
Get the promo timeline right
Set up an effective webinar landing page
Start the conversation on social media
Encourage your employees to be brand advocates
Partner with brands or influencers
Send out the webinar recording
Now close out any distracting tabs, grab a cup of coffee, and get settled in for these webinar marketing tips you will not want to miss. 
1. Get the promo timeline right
As with any marketing strategy, webinar marketing is all about timing. If you don't have your timing right, you will not reach the largest audience possible. Beginning your promotion too early makes it easy for individuals to forget. On the other hand, waiting until the last minute to start your advertising can result in you reaching a small number of individuals who actually fit your target audience. 
According to GoToWebinar's research, the four-week promotion timeline is your best bet for maximizing engagement.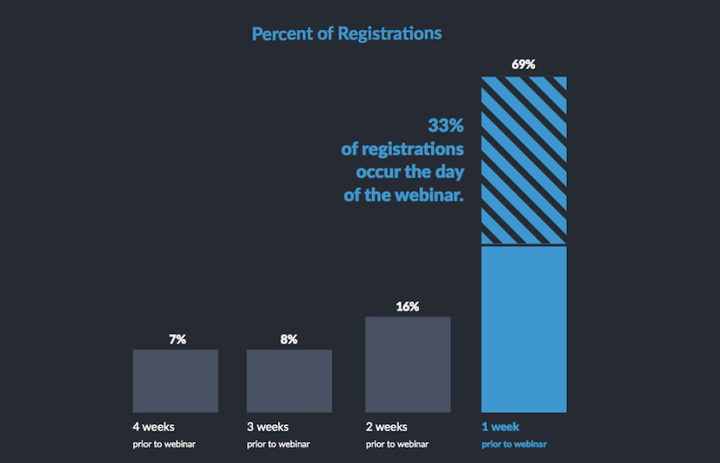 This is the right amount of time to introduce your webinar, get your audience interested, retarget those who did not register the first time, and remind everyone about the amazing webinar you have scheduled. 
Notice that jump in registrants around two weeks before the webinar? Around this time, you should begin to increase the frequency of your promotion to build excitement.
As for when you start your promotion, GoToWebinar found that Tuesday morning is most effective. Tuesdays drive a total of 24% of all registrations. 
Plus, we all spend the first few minutes of their day at work scrolling through emails. By sending out your webinar promotion email first thing in the morning, you have a better chance of being at the top of their inbox. 
2. Set up an effective webinar landing page
Your webinar landing page should be a one-stop-shop for information about your upcoming webinar. Here's what you have to include:
The webinar topic
Date and time
Presenter name and info
Registration CTA
This is what you have to include, but it's not everything you should include. To make a webinar landing page really effective, you need to tell your audience why they should attend. What can they expect to learn? How will this help them? 
As soon as you have this set up, share it. You can set up a banner or sidebar on your website that directs your visitors to the landing page. Add CTAs to relevant blog posts. Include the landing page in emails or newsletters. You can share it on social—which brings me to my next point. 
Want a jumpstart here? Check out our free landing page templates!
3. Start the conversation on social media
You want to create the conversation about your webinar as soon as your promotions launch. 
You also need to get the conversation started by creating engaging posts on social media, ideally Twitter or Facebook. This will reach your followers who might not be subscribed to your email list, and it also could boost your reach, especially if you use trending hashtags and you webinar host shares, too.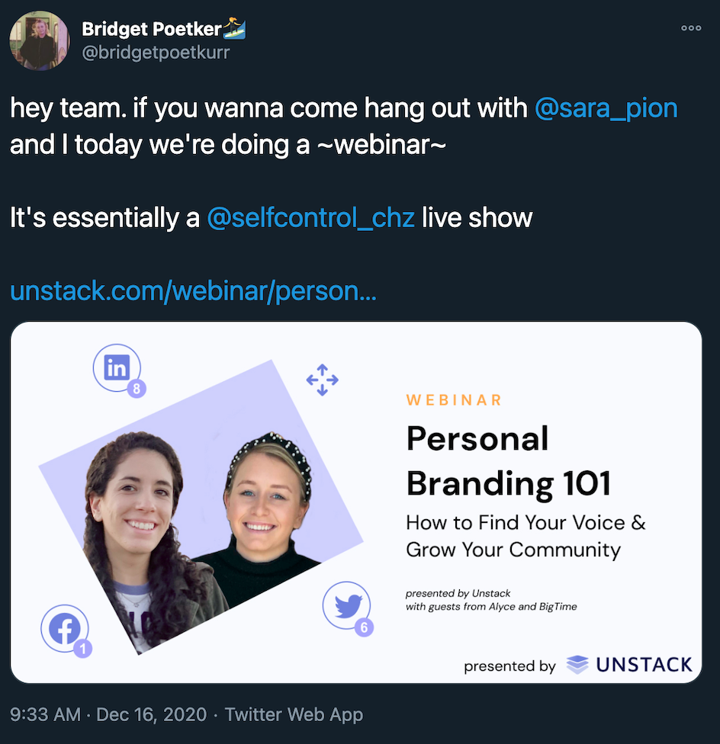 Another great way to start the conversation on social media is to create a unique hashtag that your attendees can use to add to the conversation. Make sure this hashtag is appropriately included on any post you make that related to your webinar. Additionally, you should encourage your audience to share about your upcoming webinar. 
While you have an organic conversation running on your social media accounts, you might also consider running paid ads on Twitter, Facebook, or even LinkedIn. These paid ads can help you reach individuals that may be interested in your webinar that don't currently follow your account. 
4. Encourage your employees to be brand advocates
Your employees can help you generate more interest and registrations for your webinar. While they don't need to become your brand's number one advocate outside of work (unless they choose to do so—more on that in a minute), you can encourage each employee to share posts when they are made available. It only takes a few seconds on their end to help extend the reach of your webinar's marketing promotion. 
Pro tip: If you post from your company's LinkedIn page, there's an option to let employees know you've posted by sending them a notification right in the platform.
Having a hard time getting your employees to share your posts? Instead of trying to cajole everyone into posting about their job on social media—which some people just won't ever be interested in—focus on setting up a program for people who are interested in it. An optional employee brand advocacy program can include guidelines, incentives, and more to get people already interested in sharing more invested in promoting content like webinars.
5. Partner with brands or influencers
Your business doesn't exist in a bubble. That means your webinar topic is bound to align with an influencer's or another brand's message. 
Whenever possible, consider partnering with an influencer or brand that has a similar audience than yours—just make sure the offering is different. This will help you cast a wider net, drive more traffic to your webinar's landing page, and help you gain more registrations. 
How you decide to partner with another brand or influencer will depend completely on you and your brand. However, you should make it as easy as possible for the other accounts or pages to promote your webinar. You want to solidify your brand image and make sure your new promoter does not stray off course. 
Make sure you provide them with branded images and the exact registration link you want them to use at the very beginning. You can even provide them with messaging they can copy and paste into social media posts and emails. This will ensure all of the information they provide is completely accurate. 
6. Send out the webinar recording
Once your webinar is over, you're done, right? Not yet. For great webinar marketing, and to maximize the results, you need to include follow-up. 
Only about 40% of webinar registrants attend. Maybe something came up last-minute, or they missed your reminder email. But it's also completely possible your webinar doesn't align with their schedule—and never will because of work schedules or time zone differences.
That's why you need to record all of your webinar to offer these on-demand, too. This allows your audience to watch them on their time after the live webinar has ended. 
Plus, 94% of businesses make webinars available on-demand afterwards. You want to offer your audience the same high-quality experience so many other businesses are—especially when it includes your competitors. 
For a recent Unstack webinar with our friends at Chameleon, we set up a resource page with the recording, the slide deck, and more information: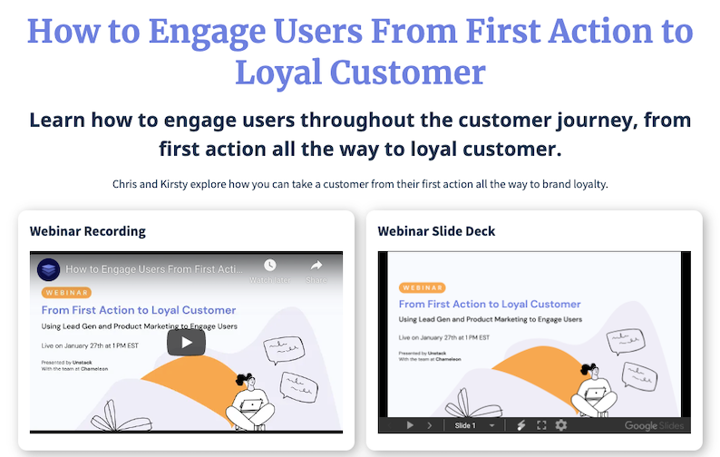 So plan on sending out a great webinar follow-up email, complete with the webinar recording.
Use these webinar marketing tips to maximize your registrations
There are two things you absolutely need for a successful webinar: high-quality content and a solid webinar marketing strategy. Use these tips above to maximize your registrations and host your best webinar yet.