UX is one of those things that you notice most when it's bad or missing. If it's easy to log in and navigate the platform, you're likely skimming words and skipping prompts. But if it's not intuitive? That stands out.
The Facebook log in screen without the copy is just confusing.
Getting UX writing right is so important. That's why we asked experts from Google, Condé Nast, and more to weigh in on what makes for great UX writing. Here, we're sharing their best tips.
But first, let's talk about what UX writing is—and why it's different from other copywriting. 
What is UX writing?
UX writing, or user experience writing, is the process of crafting instructions to move users through a platform or process. 
Shayla Byrd explains this process really well in this video.
If you're a marketer, it might help to think of it like this: UX writing is a type of copywriting. 
All copywriting drives an action, but user experience writing is a little different. "Unlike other forms of copywriting, the goal of UX writing isn't persuading people to buy," explains B2B copywriter Rachael Pilchner. "It's about creating a more human (and less frustrating!) online experience."
This different goal is key in understanding what UX writing is, and how to approach it. 
Shayla, who is a UX writer at Google, breaks this difference down further. "A copywriter's main goal is to write original content that meets measurable business goals and objectives; a UX writer's main goal is to make things make sense," she says. "We design products holistically alongside our UX partners, using things like word choice, content strategy, and information architecture as our artistic tools."
 UX writing, more than other kinds of copy, works best aligned with the product, the design, and the desired experience. That makes for a different process writing this copy—so we asked the experts for their best tips for effective UX writing.
Tips for writing exceptional UX copy
We asked experienced marketers, copywriting, and UX writers for their best tips for getting UX copy right. These are their eight tips for stronger UX writing:
Keep the user in mind
Anticipate confusion
Write with respect
Be brief
Stick to simple language
Make the most of microcopy
Involve your team
Stay on brand
Let's take a closer look at each.
1. Keep the user in mind
This is the first tip for a reason. You should keep your audience in mind in all copywriting—maybe even all writing—but in UX writing, this is especially important. 
Katie Cohen, a UX writer and content strategist, thinks keeping users top-of-mind while writing UX copy is paramount. The goal is to guide the users through a platform or product, so UX writing should not only explain or prompt actions, but also speak directly to this audience.
Take this example from Ahrefs: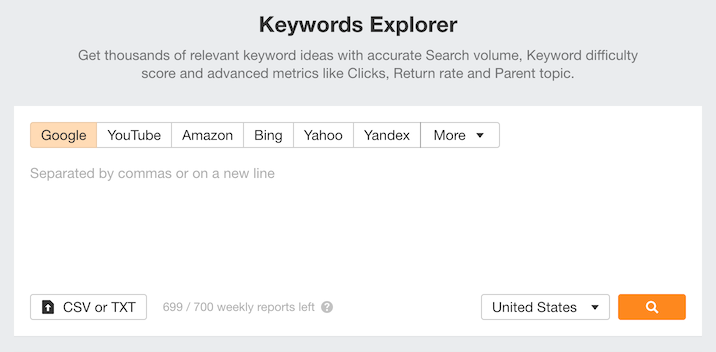 Now, here, you barely notice the copy instructing how to separate queries, alerting how many searches are left, and more—especially after the first time you use the platform. Katie mentions a common description of UX writing as "copy that no one notices." That's on purpose. "When we do it right, the words don't call any more attention to themselves than necessary."
This is where it's key that the function of UX writing isn't to motivate or persuade; it's to guide.
"At the end of the day," Katie says, it's about the users. "They need to accomplish a task, and as UX writers, it's our job to make that as clear and straightforward as possible."
2. Anticipate confusion 
Another reason you need to keep the user top-of-mind when you're working on UX writing is because you don't just explain how they can perform an action. You need to anticipate any spots for confusion. 
"From software dashboards, to form fields, buttons, and pop-ups," Rachael explains, "UX writing gives people subtle support and directions to create a smooth experience as they move around a brand's website or app."
In order to give your users a smooth experience, you need to be thinking about the order they'll navigate your product or site in. Then, you need to frame your UX writing around that. According to Rachael, "it's giving your users the right information at the right time, and anticipating what they need next" that marks successful UX writing.
3. Write with respect
Sammie Spector is a UX writer for Condé Nast who also teaches this skill to other marketers and user experience professionals. She points to respect as one of the ways to make sure you're not only communicating with your audience, but remaining accessible to all of your users.
"I know empathy is a buzzword—even a key tenet—right now for the UX industry, and for good reason. For UX writing in particular, I like to focus on a more particular aspect of empathy: respect." 
This is different than just focusing on empathy, Sammie notes. "Rather than empathizing with their situation, I ask, "What could I do to show users respect?" This means making copy and design accessible, and writing at a suitable reading level for the audience. It means I don't dumb down complex topics; I just try to explain the topic as clearly as possible."
4. Be brief
Another common tip for solid, effective UX writing? Keeping it brief.
"Great UX writing is a unique skill," says Chameleon's Head of Marketing Kirsty Finlayson. "You have to always be "killing your darlings" and cutting down your character count."
This character count could be defined by space—if you're looking for a call to action for a button or text that explains what to enter in a search bar, for instance. But even if it isn't a tight space, you still want to be mindful of length.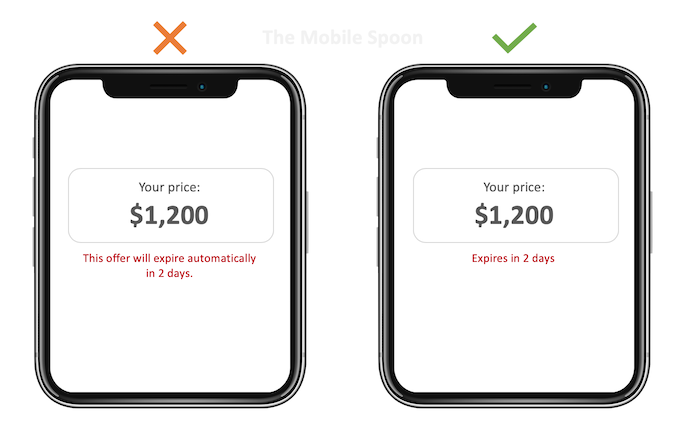 A great, simple example.
This is one of the reasons why UX writing is so different from other content or even other copy. "When you're writing a blog, you can weave in storytelling and really dig deep into topics, with paid adverts, you have a word count—but there's room for variants," Kirsty says. "But with UX writing, you have a set amount of space to communicate a needed action while providing value. Now that's tough." 
5. Stick to simple language
Kirsty says that one of the things she thinks is most important to keep in mind is clarity. "There's no room for fluff with UX writing." In other words, you need to choose your words carefully, and the best thing you can do is stick to clear, simple language. 
Sammie agrees. Her goal in UX writing is to "craft language that is clear and straightforward." That means avoiding long-winded explanations or jargon-heavy blocks of text.
"In other forms of writing, especially in ads and marketing," she says, "the copy is trying to make a big, loud, lasting impression. It wants to be noticed! It wants readers to remember who said it! In UX writing, we strive for the opposite: to fade into the background. You shouldn't notice UX microcopy on a screen because your experience should be seamless and efficient. That's not to say we don't have fun with the language or remove all signs of a product's personality; we can do both. But first and foremost, we aim for clear, straightforward language that gets you through the experience—hopefully in a way that is still personable."
6. Make the most of microcopy
When you're keeping your UX writing brief and using simple, concise language, you need to maximize all the opportunities to guide your user. That means there's no room for wasted copy—even microcopy.
Your call to action buttons, the explanatory text that appears when you hover over icons, and the labels that appear in your drop-down menus. These are all good examples of microcopy in your platform or product, and they're all opportunities for great UX writing. 
Katie points to Slack for their excellent UX writing here. "There are a lot of options in the desktop app preferences, but the labeling and explanatory copy help make the choices less daunting."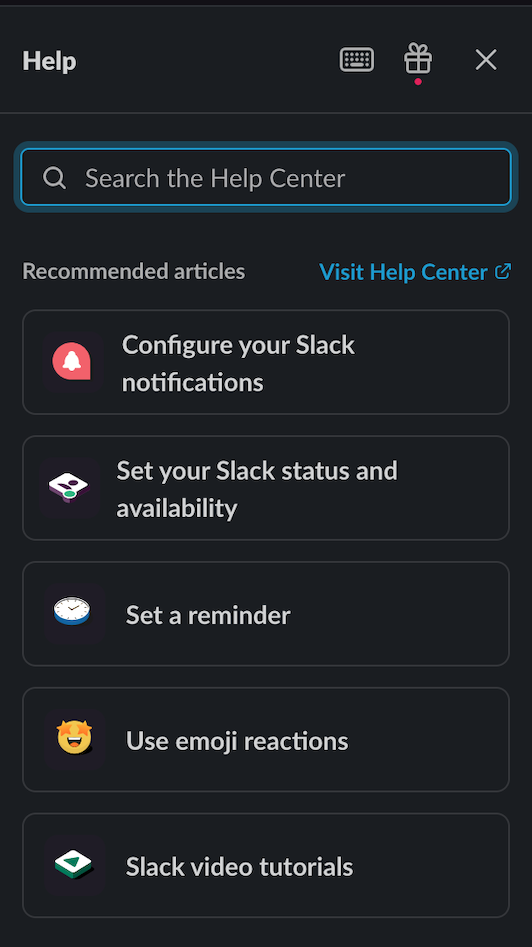 Slack's Help Center, for example, has some clear, concise UX writing.
The text might seem small enough to throw away or stick to standard phrases, but take the time to write and even workshop your microcopy—more on this next. 
7. Involve your team
Most of these tips emphasize keeping your user in mind, so it's probably no surprise that your UX writing can also benefit from collaborating with your team. The best way to improve your UX writing is to make the process collaborative and get your team workshopping copy and, more importantly, working together. 
Kirsty fosters a collaborative environment on her team by offering UX writing up for feedback. 
In fact, this feedback is a part of the process when they're designing or revamping Chameleon's product. "In our Playground, users can play with our tool in a Sandbox environment. We keep the copy short and let the product do the talking—each in-product experience states the main benefit or use case and there is always help available when needed."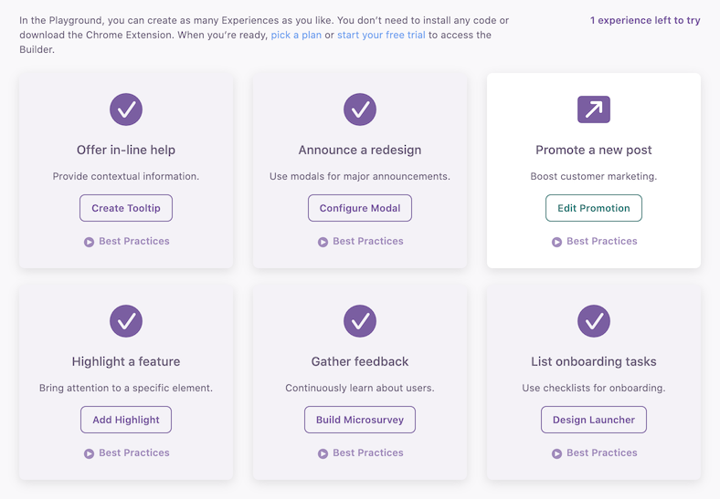 "Each 'Best Practices' CTA opens a video for those who want to learn more before getting their feet wet. UX copy is something everyone on the team is encouraged to give feedback on and improve—and we're always striving to cut back on unnecessary copy."
And you don't need to stop at your marketing department or product team. Rachael explains that the best UX writers don't, at least. "UX writers work closely with design and product teams to ensure there's clear, concise copy that guides a user through their entire journey with a digital product."
8. Stay on brand
This is the last tip, but it's definitely not the least important. UX writing might have a different goal and follow different standards than other marketing copywriting, but that doesn't mean you should abandon your brand here.
Katie recommends finding places where it makes sense to use your brand voice or infuse some brand consistency without taking away from your primary goal. "Compared to copywriting, it's not as beholden as to specific campaigns or creative input. That's not to say that there's no creativity in UX writing; there can be opportunities for a UX writer to reflect the character of a brand, where appropriate. And it's always a somewhat creative challenge to make something more clear and effective, especially when the product or feature is complex."
 Some brands excel at this creative copywriting challenge. Kirsty's favorite example of great UX writing is the Headspace app.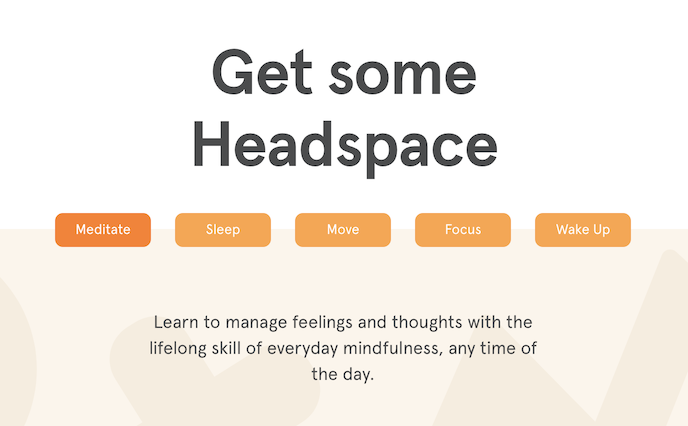 "It's a great example of balancing friendly and simple copy—when you go to Headspace, you're not looking for jargon or misleading copy (the last year has been stressful enough!). Every time I visit their website or app, everything is clear, inspirational, and anxiety-free!" Now, that's on brand.
Improve your UX writing with these tips
You can use these tips from marketing, product, and UX experts to improve your platform's user experience and make your UX writing clearer and stronger.
Here are the biggest takeaways to keep in mind:
Write for your users—all of your users.
Keep your UX writing short and simple.
Make UX writing a collaborative process.
Now, go and get writing!