When you're marketing for a startup, getting handed lots of different projects is inevitable. That's why it's so important to master different types of copywriting. You need to be effective no matter what.
In fact, this is important wherever you're working—these skills not only make you a better writer, but also a stronger marketer.
Here, we're running through the nine types of copywriting that every marketer needs to master, plus how to get started for each. 
Let's go.
1. Website copywriting
Website copywriting is an essential skill for any marketer. You'll need this type of copywriting for your website, which includes homepages, landing pages, and more.
A study by the Missouri University of Science and Technology found that users spent about 5 seconds reading a website's copy before navigating to the next section. That's not a lot of time to capture a visitor's attention, communicate with them, and prompt an action.
That's why website copywriting is such an important skill for a marketer.
The most important thing is to define your objective. Each of your website pages—or, in some cases, sections of a page—should communicate specific information to viewers and prompt them to complete a certain action. Consider this example from Snappa.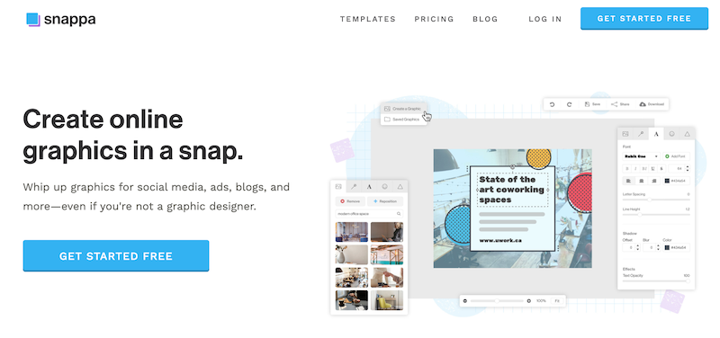 The website copy isn't repetitive, but it's all working toward the same goal—getting the user to start a free trial. The headline is active and conveys the value that Snappa offers, making quick graphics. The copy underneath elaborates on this value by explaining where these graphics could be used and introduces the ideal audience, anyone regardless of design skills. Then, the CTA, which appears twice, takes it home.  
This example is great not in small part because the CTA works. Nailing your CTA is key for writing effective website copy. If you're looking for inspiration, check out our list of 107 call-to-action examples to help get you started.
No time to read now? Download these CTAs to try later!
2. SEO copywriting
SEO copywriting is writing content for your website that is keyword-optimized to help you rank on the Google SERP and grow your organic traffic. That's a crucial skill for any marketing trying to grow a digital business.
Identifying and using the right keywords is the first step, and a tool like Google Keyword Planner, Semrush, or Ahrefs can help with that. 
The next thing you'll want to do is check out what the ranking websites are doing. How are they formatting their pages? What other keywords are they targeting? What topics are they focusing on?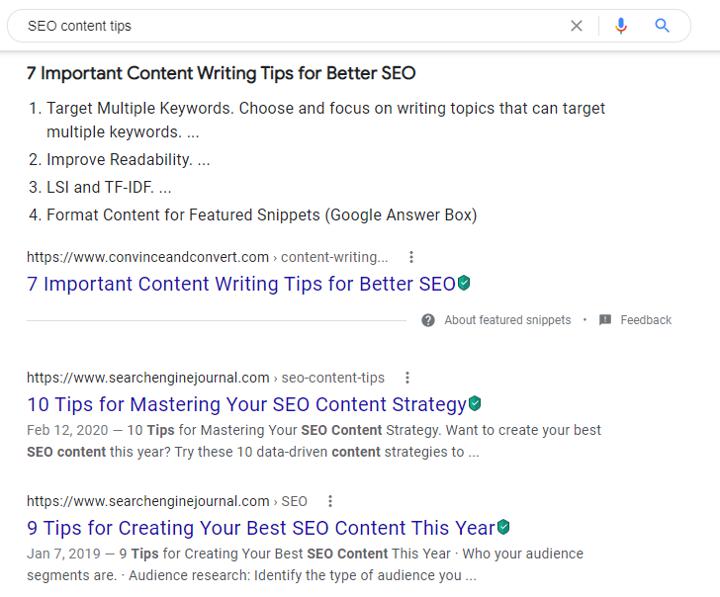 Looking at what your competition is doing and using this as a model to improve on with your own content will help you improve your SEO copywriting.
3. Product copywriting
All copywriting is promotional, but this type of copywriting is focused specifically on featuring your product. You'll need effective product copywriting for your product pages, your feature announcements, and your product descriptions.
The best way to approach your product copywriting is with your customers in mind. That means appealing to their desires, solving their problems, and speaking directly to how your product fits their needs.
When you're describing your product, focus on the benefits, not just the features. Slack does an awesome job with this. Take a look.

The features highlighted here are great for businesses—channels, searchable history, and select invites. That's not as appealing to the audience as these benefits, that hit on keeping communication in one place, keeping an automatic log, and easy collaborating. 
The features or benefits that you stress will vary depending on whether your company is B2B or B2C—which leads us right into the next two kinds of copywriting.
4. B2B copywriting
B2B stands for business to business, and so these companies sell products or services to other businesses. For B2B copywriting, you need to write copy that appeals to people who are representing businesses. 
The biggest thing to keep in mind is that your audience is still comprised of people—businesses aren't reading your ad headlines or reviewing your LinkedIn. People are. 
You still need to make sure you're engaging your audience, being persuasive, and encouraging an action.
But you also need to speak to the pain points of a business. 
Think about the example from Slack in the previous section. The benefit of searchable chat history, for example, is great for an individual, but it's even better for a business. And Slack outlines this: "Projects end, teams change and Slack saves everything." 
That's selling to a business by engaging and appealing to an individual.
Use this advice to get started—and be sure to avoid common B2B copywriting mistakes. 
5. B2C copywriting
B2C stands for business to consumer, so these companies sell their products or services directly to people who need or want them. Think stores you see, and even stores you frequent—where you buy your favorite jeans, where you get your shampoo, where you buy your dog's favorite toothbrush treats. 
If you're still not sure the differences between B2B and B2C copywriting, this video sums it up nicely.
The goal of B2C copywriting is to prompt an action, and it's most often to make a purchase. Unlike businesses, consumers are quick to make a purchase. (And some of us too quick, let's be honest.)
So what's the key to effective B2C copywriting? You need to know your audience really well and sell directly to them. Here's an example from Glossier that I love.

Glossier's copywriting here matches the subdued but trendy color scheme, the natural-looking Instagrammable pictures—in short, it's exceptional brand consistency.  Emphasizing "beauty" instead of make up stresses the skincare options offered, and including "new" sets the tone that you can expect more from this brand. Word choices like "uncomplicated," "intuitive," and "inspired" evoke a simple, thoughtful brand identity. Even styling "OK" with two quick caps feels modern and approachable. 
And the best proof that this is great copywriting? Reader, I bought it. 
6. Direct response copywriting
Direct response copywriting is notable because of its emphasis on immediacy. This type of copywriting encourages the reader to take an action the moment they're done reading the text. 
G2 outlines four key elements of direct response copywriting.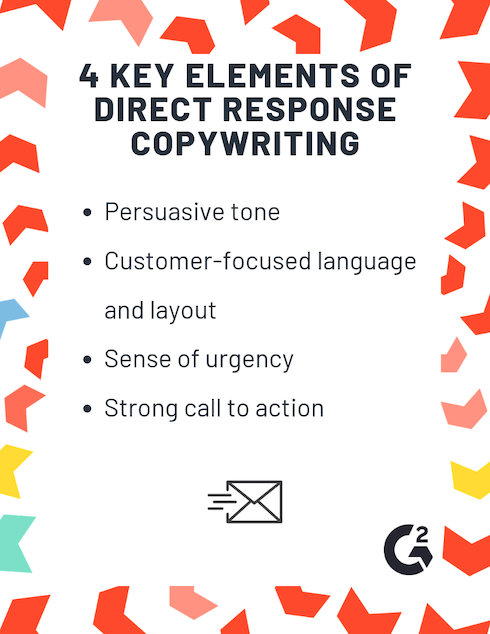 The sense of urgency you need to convey here is crucial.
You can make your copy urgent by referencing time with your word choice, like including "now" and "today." You can also set a deadline, whether it's a specific date or merely an indication that the offer isn't good for long. 
Take a look at this email from Freshbooks.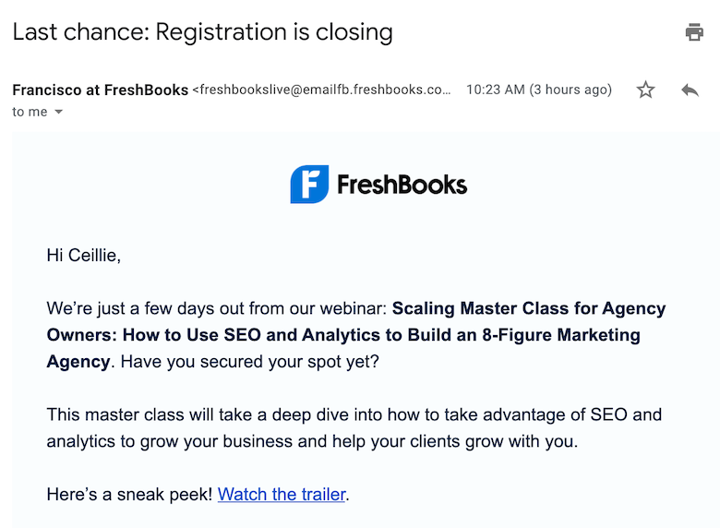 The "last chance" here is a great way to prompt an open with direct response copy. As you can see, this one worked on me. 
7. Ad copywriting
Another type of copywriting that you'll encounter as a marketer is ad copywriting. This type of copywriting could require you to write billboard taglines, descriptions for boosted social posts, video scripts for podcast ads, headlines for Facebook Ads, and more. There are so many kinds of advertising.
In SaaS, though, ad copywriting is more often digital—so skip over the billboard tagline above and think search, social, newsletters, and podcasts. While the formats will vary here, they have one thing in common: strict limits on your word count.
That means for excellent ad copywriting, you need to capture attention, speak to your audience, and convey value quickly and concisely.
Take a look at this Google Ads example from Monday.com.

I was served this ad searching for Asana, another great project management tool. This copy is playfully competitive, which grabbed my attention. (That "so," c'mon.) The rest of the copy does a great job of conveying specific value—efficiency, productivity, and accomplishing more in your work day.
8. Social media copywriting
This type of copywriting is a little tricky to define. Commenting on a picture of your nephew gushing about how cute he is? Not social media copywriting. 
But when you're posting from your company account to share content and engage with your audience? That's absolutely copywriting.
You just have to make sure you're strategic about it.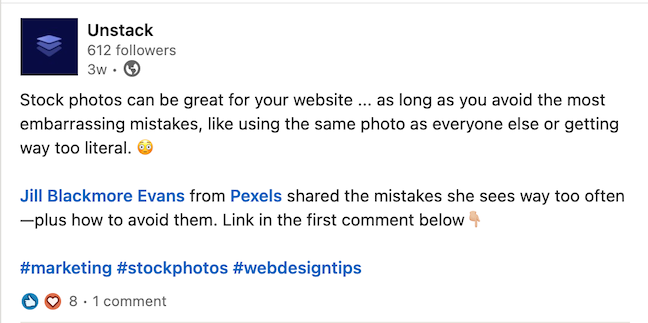 Here's an example from Unstack's LinkedIn page.
See those emoji? Those aren't just for fun. Okay, well, they are—but they also work. According to a Zazzle Media study, posts with emoji have a 57% higher like rate, a 33% comment rate, and a 33% higher share rate.
The most important thing to keep in mind for social media writing is the standards of the platform: Facebook vs. Twitter, Instagram vs. LinkedIn, YouTube vs. TikTok. If you're focused on your brand's social media presence, you need to tailor your copywriting to the conventions of each platform to find out what works and then keep improving it.
9. Creative copywriting
This might not exactly count as a type of copywriting, but I'm including it here anyway. This is more of an approach to any copywriting, regardless of the platform or the goal.
We consume so much advertising every day. From push notifications on our phones, ads while we're scrolling through social media, promotional emails whenever we check our inboxes—and that's before we've even left the house for the day. 
It's more important than ever to stand out from the noise, and focusing on writing creative, compelling copy can help with this. Just be sure to make sure to stay consistent with your brand.
One great for creative copywriting that stays on brand? Wordplay.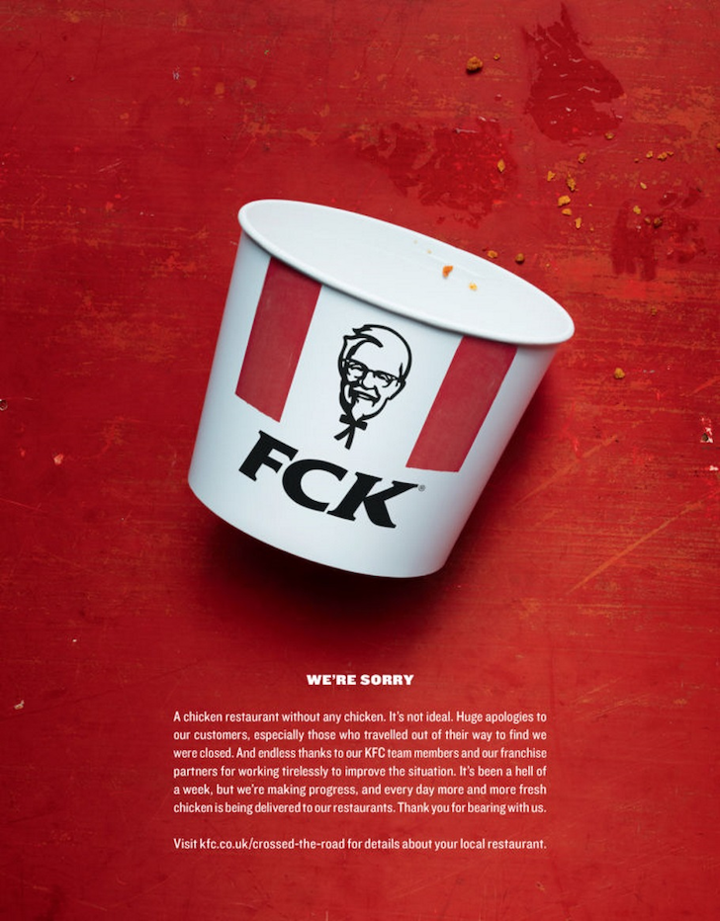 One of the best examples of creative copywriting in action.
Master these types of copywriting
That was a lot. To recap, here are the nine types of copywriting every marketer needs:
Website copywriting
SEO copywriting
Product copywriting
B2B copywriting 
B2C copywriting
Direct response copywriting
Ad copywriting
Social media copywriting 
Creative copywriting
Proving you can write creative, compelling copy for all of these scenarios will make you a better marketer for your current company—and a more attractive hire when it's time for your next role.