You can think of headlines as a key element of a news article. While important for journalists, you may not pay enough attention to optimizing headlines in your eCommerce store.
Instead of spending some time on writing a headline that grabs attention and drives user action, you can end up writing something boring like "Sunglasses – For Man – Category". 
An effective and well thought-out headline can help achieve a higher conversion by communicating the value of your product better and inspiring a client to add an item to their cart. Writing a headline for eCommerce pages is similar to writing a sales email headline. For both, headlines defines if a prospect proceeds to the next stage – opens an email or adds an item to cart.
You shouldn't neglect headlines in your online store. No matter if it is your product or category headline, the headlines with an attribute – h1, h2, or h3, or your contact page headline, they matter.
In this article, we explain how to create a headline that sells and achieve a measurable impact on your business bottom line. Ready to explore? 
Tips for creating captivating eCommerce headlines
Let's review some of the most important ways to optimize your eCommerce headlines to drive more results though a better website personalization. Don't worry – we will show you some examples how other eCommerce businesses are applying these tips. You won't be left alone dwelling on abstract copywriting concepts.
Highlight product value proposition
To sell a product, you should give some reasons to justify a buyer decision. Think of the strong sides of your products and how they stand out from similar products. 
Think about it – there is a big difference between "glasses" and "enduring spectacles".
Case Study – CUBITTS
CUBITTS, an online store selling spectacles has built this headline mentioning endurance as a key strong side of their glasses. When buying a pair of expensive glasses one would want them to "stand the test of time", right?  

Create an incentive to buy now
If you are in eCommerce subscription niche with your store, you can use the following elements to boost conversion:
mention free shipping – it removes friction from buying for the first time

offer

subscribe more, save more

benefits – offer 10% to sign up for 6 months, 20% - for 12 months and so on
If you are operating in traditional eCommerce, you can use the following incentives:
a simple return policy – no questions asked when customer decides to send an item back

time-limited offer – make your products available only for a limited amount of time
See how competitors write headlines
Research how your competitors write headlines and what keywords they use to optimize them for SEO. 
Sometimes, it makes sense to check some eCommerce stores that are popular in your niche and are much bigger than your business. Bigger competitors also have larger marketing budgets and could have already done their homework when it comes to SEO copywriting and headline optimization. Learn from the best!
Add information about discounts
Mentioning a discount in a headline is a powerful way to drive user action. However, you have to use this tactic in a smart way. If you are using discounts too often, you may end up out of business sooner than you start making a reasonable profit. 
For example, you can display headlines with discounts only to first-time buyers – with eCommerce website personalization tools, you can do it with just a few clicks.
Giving discounts is especially useful for subscription eCommerce businesses. While it is more difficult to convince people to pay for something on a recurring basis, by creating some additional incentives such as a discount on the first order, you can significantly reduce friction. 
Also, in this type of an eCommerce business, you have a higher customer lifetime value, so using discounts makes a lot of sense.
Case Study – Esqido
Esqido is using a popup to show a 10% discount for the first order. They also display a big banner and a headline mentioning a $5 gift card.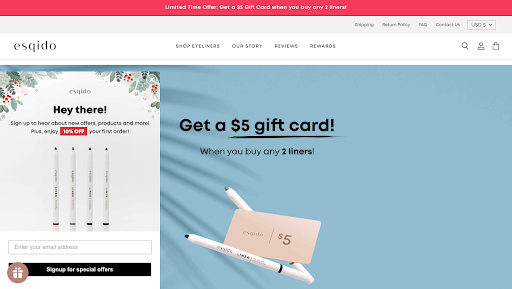 Write short headlines
Don't over complicate your headlines. People won't read long sentences that are hard to understand. Instead of writing one long sentence, break it down in two or three. The idea is to grab attention and get a customer to read the next sentence. Choose a conversational tone rather than a formal one.
Don't copy headlines
When looking for inspiration online, you can fall into the trap of copying someone else's concepts or simply using the same headlines your competitors use. This is the wrong thing to do. It's harmful for your SEO and can lead to getting your domain blacklisted by Google in case you copy too much content from other pages. Copying headlines from competitors also kills your originality and brand voice. 
Doing competitor research and using certain copywriting best practices is in turn the right thing to do. 
Add the right SEO keywords
Make sure you also optimize your headlines for SEO. Make a research using keyword research tools to learn how people are looking for your products – what keywords they are using and which ones tend to be more popular.
Include your keywords in headlines and make sure that they sound natural. SEO-driven content is the one that accounts both for SEO and the end-user – your customer.
Ask questions
Integrating questions in your headlines is also a good way to drive user action. What happens when you ask questions? You make people think of answers, even subconsciously. 
Case Study – Mammut
Mammut is using a headline as a question to help users to choose the right category. This way, users can navigate a website more effectively and find interesting items faster. As a result, they will buy faster.

Hire a professional writer
If you have a lot of content and headlines that have to be optimized, it's worth outsourcing some copywriting work to professionals. It makes the most sense if you want to prioritize the business aspect rather than focussing on copywriting. 
You can do a quick search on freelance websites such as Upwork or Fiverr to find a conversion-focussed copywriter in no time. Prioritize the candidates who have had a previous experience working on optimizing conversion for eCommerce businesses.
Address customer pain points
Think of why customers are on a lookout for your products and what problems they are trying to solve. Write down three to five most important customer pain points and integrate them in your headlines. 
Case Study – Slugg
Slugg, an online store selling pots in bundles. Their pots are of the sizes and shapes that work well together. Slugg's customers face a problem of finding the pots that complement each other well. That's why Slugg tries to relate to this pain using headlines. It helps grab attention and justify the decision to buy their pots.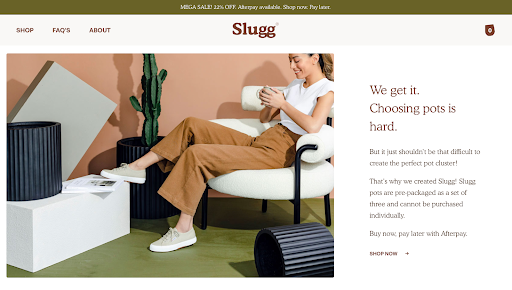 Use action words
Headlines can also become a tool to drive user action. Adding action words to headlines is a great way to convert a user coming to the main page. Action words lead a user to the next page in an eCommerce conversion funnel – a product category page or specific product page.
Case Study – Cricut
Check out how Cricut is using action words on their main page to lead a user to their shop or the additional information about their products. They place their headlines on a clear background and use a high-quality visual to attract attention to their headlines. 
If you want to experiment with similar page images, consider using these free image templates for a start.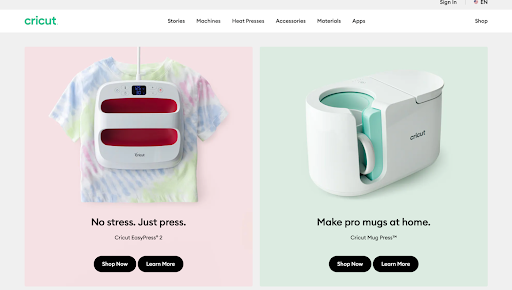 Use A/B testing
You never know if your new headlines will perform better. That's why you have to do some A/B testing and compare your original headlines to the new ones. A/B testing is one of the elements of conversion tracking. You can attribute your new headlines to the increase in sales. You can also see an increase in click-through-rate (CTR) from a category page to a product page. 
Remember to introduce one test at a time. This way, you can learn if one change has an impact on your conversion rate. Otherwise, you won't be able to tell what has worked in the end – your new headlines or better product photos. 
Wrapping up
Headlines are an important part of your eCommerce websites. They are also a powerful tool to boost your conversion rate. Use the tactics we have shared in this article as your starting point for optimizing headlines. Consider working with a professional copywriter if you don't have experience in copywriting. Remember to benchmark and measure results using A/B tests and analytics. You will see improvements in no time.