Websites are key in gaining enough customer engagement and broader recognition to establish a brand, especially for B2B companies. But what does it take to create a B2B website that performs?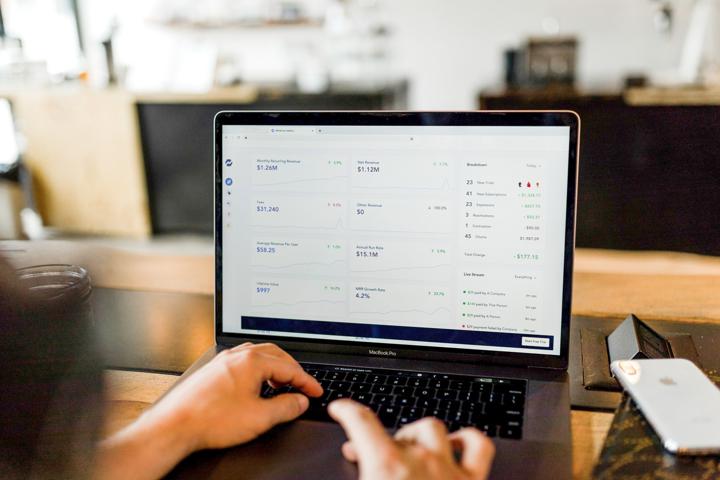 The key to a good B2B website is presenting your business in a concise but eye-catching way. You need to fit your business requirements with that of your visitors. You can do that by including these essential elements that every B2B website needs:
Good content flow and design
A sitemap outlining your website
Consistent branding
Compelling value
Quick load speeds
Right-in-place lead capture
Before we jump into these elements, let's go over what a B2B website is first.
What is a B2B website?
A B2B website is a site designed specifically to sell products and/or services to other businesses. This is different from a B2C website, where the business is appealing directly to consumers. Because B2B businesses often have a longer sales cycle, these websites will have different offers, like free trials and demo calls.
For examples of B2C, think of stores like JCrew or Home Depot. They're selling products directly to consumers. For B2B, think of business or work solutions, like corporate finance or software.
Here's an example of great B2B website from Salesforce: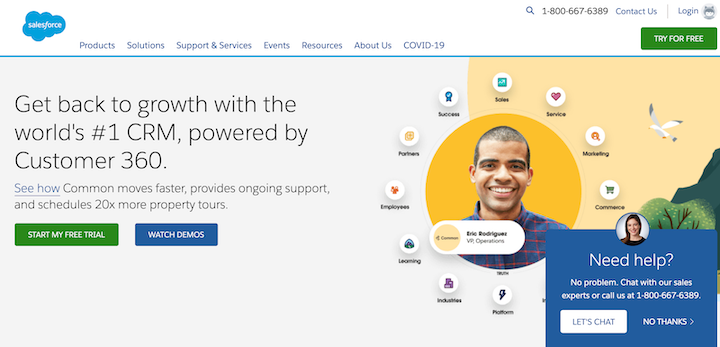 The copy on Salesforce's homepage appeals to business growth and efficiency. The CTAs point to free trials and demos. There's a live chat option to connect with a sales rep right away. These are all elements of a great B2B website. 
Now, let's go over the six elements your B2B website needs to be successful like this.
What are the key components of a successful B2B website?
A good design indeed plays a crucial role in helping your website present an appealing look at what you wish your user would want to see. But is that all?
There are plenty of things businesses can do on their websites but here are the six characteristics that create the foundation of any successful B2B website that might catch your eyes too.
1. Good content flow and design 
Simplifying the view and adding several features may altogether go in vain if your B2B site fails in maintaining a systematic flow of content available in the page design.
Whatever a visitor searches for, they need credibility. A smart content flow and design play a crucial role in making your business look more credible and promising to the visitors.
76% of users would seek a website that eases the task of finding useful information. Surprisingly, only 10% of the users in this report were found considering the look of a website the most important factor in its design.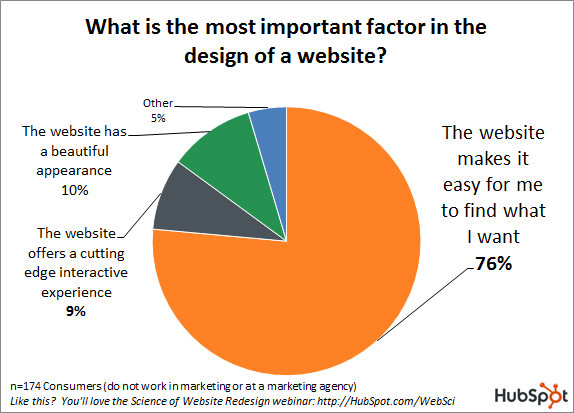 If your content explains what you're going to deliver as per the user's need, you increase your chances of winning this challenge. Moreover, it strongly fulfills the SEO needs of your website. 
2. A sitemap outlining your website
Since sitemap designs the structure of your B2B website, it helps them understand your business through the pages in a more simplistic way.
Moreover, the sitemap is a significant factor in detecting if there are any broken links or bad interlinking between the pages and making it more searchable with a strong B2B SEO strategy. It defines your business objectives through the website.
It enhances the analytical aspects of helping businesses to deal with the loopholes in the structure of the website. 
3. Consistent branding
Your website resembles an online identity of your business. This is the reason why leading B2B businesses brand themselves through their main website URL.
Even though companies having slight differences between the literals of their website and business names would want to indulge consistent branding of their websites on different platforms.
Social media is indeed the most powerful tool to establish your brand among a large audience through interactive content. About 40% of users want to follow the social media accounts of their favorite brands.
Now, look at this figure by Statista defining the increasing number of projected Social media users from between 2017 to 2025. This may help you understand the large significance of social media platforms in acclaiming a strong branding.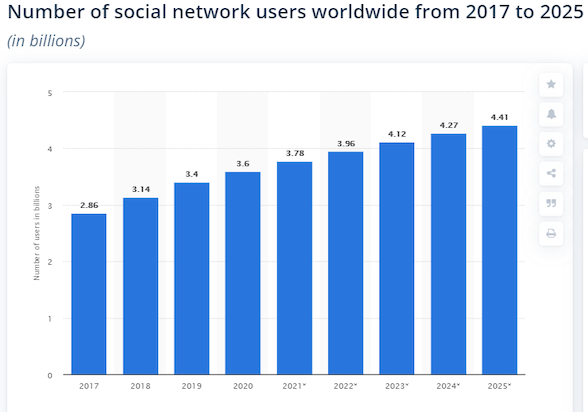 Consistent branding is necessary to bridge the gap between the users coming directly to your website and the users on social media unaware of your services that they might be interested in.
4. Compelling value 
Convenience, simplicity, and integration of engaging features add value to a B2B website. Any B2B business would want to add the maximum value to their website but setting a solid marketing plan will help leverage the best results.
A user's exposure to a B2B website needs to be more engaging and advanced than a normal static website. From a secure domain, logos, reviews, blogs, favicon to features like a navigation menu, right-in-place call-to-action buttons, catchy title, and metatags, these are elements adding maximum value to a B2B site.
5. Quick load speeds
Many argue that they have put lots of good content on their websites but it does not help them gain consistent user engagement. Fast page loading is the key to a great user experience.
The slow website loading speed gives a visitor the first reason to move to another site from yours.
Undermining loading speed is never going to help you utilize the best of your B2B website. Google added page loading as a ranking signal and also patented it.
6. Right-in-place lead capture
Now that you have read all the above-mentioned elements, it might have become clear to you about bringing a visitor to your B2B website and sustaining their presence for a while.
But, we still haven't talked about the ultimate goal of a B2B website: to generate leads and convert them into customers.
There are several things you can optimize in this sequence such as adding a smart sales funnel. With such an approach you invite your visitors to send their queries by filling out basic details about their needs. On a B2B website, homepage, pricing page, landing pages, and even blogs can be used to capture leads.
Want more leads? Try our free B2B landing page templates!
Set your B2B website up for success
Nobody wants  their B2B website to be looking like a brochure. Since a B2B site is a dynamic entity, it should act like it. All the above elements lay the foundation of any successful modern B2B website. 
Plus, your website should not only be visually appealing and informative—good websites should be great sales and marketing tools. These discussed characteristics do not only boost the quality of your B2B site but also help in a dramatic increase in conversion rate optimization. Use them to start improving your website and growing your business today!
About the author
Vertika Nigam is the co-founder and CEO of Openthrive, a B2B Marketing company that specializes in building business websites and bringing the Marketing and Sales teams on the same table. She works with medium to enterprise companies that need to book meetings to close deals. Her personal mission is to grow as a leader, learn every day, and share as much as possible with the people around her. Catch her on LinkedIn!