Effective content creation is widely seen as the foundation of all good eCommerce marketing. It's the core business strategy for 72% of marketers; 60% say that it's important or very important to their eCommerce content marketing strategy, and 56% rely on content engagement data for lead nurturing. Creating content is the best way to raise brand awareness and highlight what your online store has to offer. 
When your marketing content hits the right note, it can feel like magic.
Relevant, useful, and engaging quality content establishes a rapport with your audience and building a community and brand loyalty, but that magic doesn't just happen. Choosing the right topics, content format (ex. video content), tone of voice, image ratios, and content lengths is tricky, because each one plays a major part in your brand messaging and in shaping the types of audience you attract.
But producing effective marketing content is not easy. The top factor for a successful content strategy is the marketing team's ability to resonate with potential customers' interests, yet only 30% of marketers succeed in creating persona-focused content that is targeted to different audience segments, and just 12% manage customer journey-focused content.
There's an ocean of content out there, with more blogs, podcasts, infographics, videos, youtube channels, webinars and social channels appearing every day. Making your eCommerce brand's content stand out and attract eyes is tough, but tailoring it to your target audience is even tougher.
Fortunately, there are ways to make sure your content resonates with the niche audience you most want to connect with. Here are five go-to ways to create engaging content:
Run A/B tests
Float variants on social media
Track conversion paths
Reverse engineer share-worthy content
Perform competitor analysis
Let's talk more about each of these.
1. Run A/B tests
The A/B test is an old tool, but it's still extremely effective at revealing which content parameters are the most successful. Somewhat surprisingly, only 17% of marketers are using A/B tests for product pages to improve conversion rates, even though they can reveal valuable insights for eCommerce sites.
You can and should use A/B tests to probe every content assumption, including topics, title lengths, product description lengths, the number and placing of images, word counts, and more. "Best practices" aren't guaranteed to succeed; sometimes the best content bucks the trends. A tool like Unstack can help you quickly and easily compare different versions of your content and analyze the results.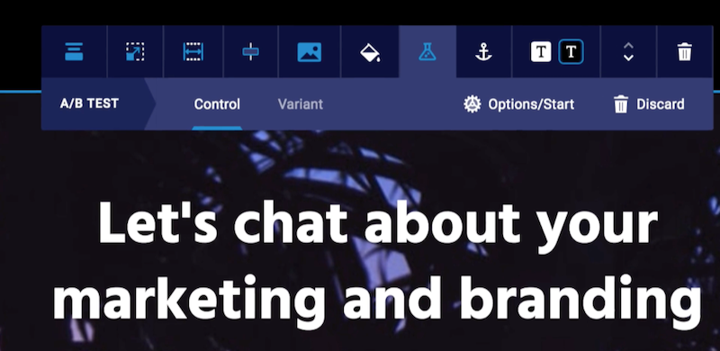 Above, you can see how easy it is to set this all up from within the Unstack editor. Just toggle between Control and Variant to create different versions of the same page, and select Options to determine how each version is served up to different audiences.
An example of an A/B test you may run on your call to action button could be offering two different versions; one that says "Add to bag" and another that says "Add to shopping cart". Once you go live with the test you can watch and learn what leads to more purchases from your audience.
If your audience is large enough, you may even find it effective to use both A/B and multivariate testing, which is where you change several elements at once, so you can see which individual details make a difference and also discover the most effective combinations of factors. 
2. Float variants on social media
Your owned media properties are a great place to run experiments and tests, because you're in the most control of the precise content experience you serve up to audiences. But running experiments on shared media channels makes for more opportunities for your eCommerce business.
Social media can be an awesome petri dish for you to experiment with different types of content and topics. It's relatively inexpensive to float various options and measure engagement based on limited budget ad buys, and with so much activity on the different channels, you'll receive results pretty speedily.
You can run paid Facebook ads, Instagram posts, youtube videos, or post on another of the many social media platforms available and measure engagement levels for the different topics and formats you float. Reddit is another useful tool for researching issues that concern your target audience, but instead of rolling out different posts yourself, you can use it to search and filter the content that's already there to see what generates the most responses.

In the above screenshot, you can see the results of an experiment that Kyle Barry, the owner and founder of KB Social, ran on Facebook, for a local Florida farm to table business, yielding vastly varying click-through rates with the same media budget. Barry recommends running experiments in two phases: first determining the best combinations of audience targeting, and only then trying different permutations of the creative.
3. Track conversion paths
Although most marketers include website traffic and social media engagement in their standard content marketing metrics, measuring conversions lags way behind. Only about 11% pay attention to this metric.
There are some excellent content marketing tools to help you discover what your audience thinks about your content marketing campaigns, but you need to actually use them. That means looking beyond basic metrics like number of views or time on page, and instead tracking which topics move leads through the funnel. Even better than measuring sentiment is measuring the conversion power of your various marketing assets.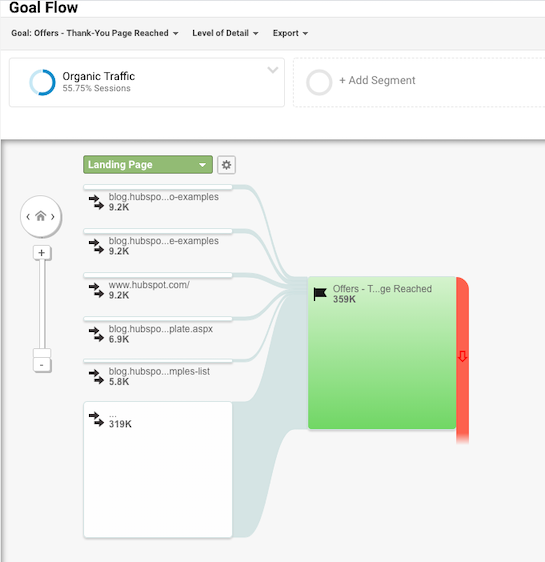 Above, you can see a Goal Flow report that HubSpot used to see which specific blog posts prompted the most organic search-referred visitors to eventually click through to gated offer pages.
You can do this with Google Analytics, by setting up a Goal Flow report of your own—or a Conversion Paths report that shows which channel touchpoints people visit in what sequence before going on to convert. This method does involve multiple steps, a bit of math, and some time input. Alternatively, Klipfolio offers a shortcut to set up a dashboard in just a couple of clicks.
4. Reverse engineer share-worthy content
One of the best ways for finding content that resonates with your audience is to create better versions of content that already does. Buzzsumo is a useful tool for identifying these opportunities. You can enter a broad keyword or topic title that you want to use, and it reveals specific pieces of content relating to this topic that have been shared the most widely.
Ahrefs's Content Explorer module offers similar functionality, only with integrated SEO metrics. Below you can see how someone might use it to see the top five articles, in terms of Twitter share volume, published in the past 12 months, about blog content that resonates with audiences. Just an example, mind you—I was asking for a friend.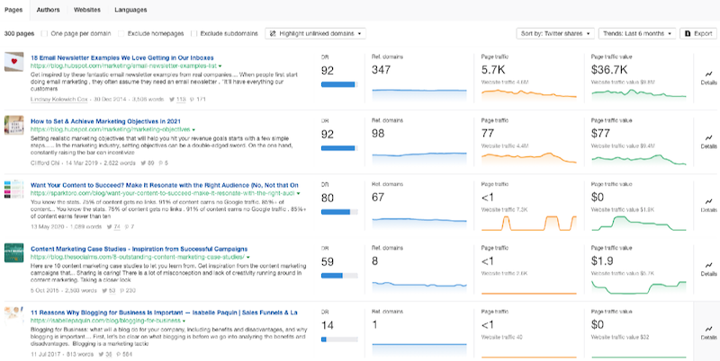 You can use reports like these as springboards to click through to see the length of each piece, its tone and style, the type of blog post, etc., as well as noting where the most engagement took place. Hopefully you'll see a pattern emerging that shows which elements go into the most popular content pieces in your chosen field. Another option is to track the social shares and reactions your own past content has received, to see which pieces are shared the most and receive the most engagement, and then double down on what works.
You can, of course, perform both types of measurement, pre-evaluating content concepts when filling out your editorial calendar and then measuring performance according to social media engagement after publishing. In addition to driving lift in direct click-throughs from social platforms, you'll likely find that over time, this approach also helps improve your SEO, because the more relevant your content, the higher it will rank.
5. Perform competitor analysis
Competitor analysis is especially helpful if you are just beginning to develop a content marketing strategy for your eCommerce website, and you don't yet have a lot of content of your own to test the waters.
Take up to five of your main competitors, and audit the content they're producing. Pay attention to the post lengths, topics, and content types, and see how many shares they receive for each variation. Have a look at each blog post's comments section, and social media engagement for posts referring to each content piece.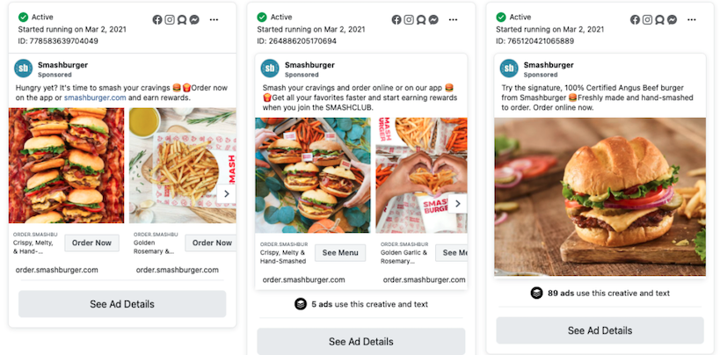 You can also learn a lot by perusing your competitors' social media ads. Using the platform's native Facebook Ads Library tool, for example, Clix Marketing's Tim Jensen noticed that many of Smashburger's top performing ads used a lot of burger and fries emojis in their captions.
To take your competitor analysis up a level for web publishing purposes, a keyword gap analysis tool can help you identify your main search competitors, and to discover their most effective content choices.
Creating engaging content can pay dividends
The right eCommerce content strategy can drive conversions, sales and revenue, but this doesn't happen on its own. Tactics like A/B testing, tracking conversion paths, testing the waters on social media, competitor analysis, and following the results for different pieces of existing content can guide you to make content about the right topics, targeted at the right audiences, that hits all the right notes.
About the author
A consultant, social media specialist, and blogger based in Tel Aviv, Gabrielle Sadeh helps brands share their voices and scale their businesses through powerful digital marketing strategies. Connect with Gabrielle on LinkedIn or Twitter.