88% of B2B marketers use content as part of their digital marketing strategy, so if you haven't created or used any type of content in your business before, it's probably only a matter of time until you do. 
But how can you get started with content marketing if you are brand new to it? The truth is there's a lot that goes into creating content that attracts an audience and leads to your business. But using the right tools can make the process much easier.
Whether you're an experienced content marketer looking to refresh your tech stack use or you're brand new to content marketing, the tools I've highlighted in this article will help you no matter your experience level.
Here we go.
Content Management Systems
These are the foundation of your content marketing toolkit. Your CMS is where you'll set up and publish your blog posts, manage your landing pages and resource hubs, and track your content's performance.
1. Unstack
Unstack's no-code marketing platform starts with an awesome CMS that's built to help your business scale. You can manage your blog posts, landing pages, and more all in the same place. Plus, because it's a no-code tool that's easy to use, you can launch web pages and build out your content without needing any dev or design support.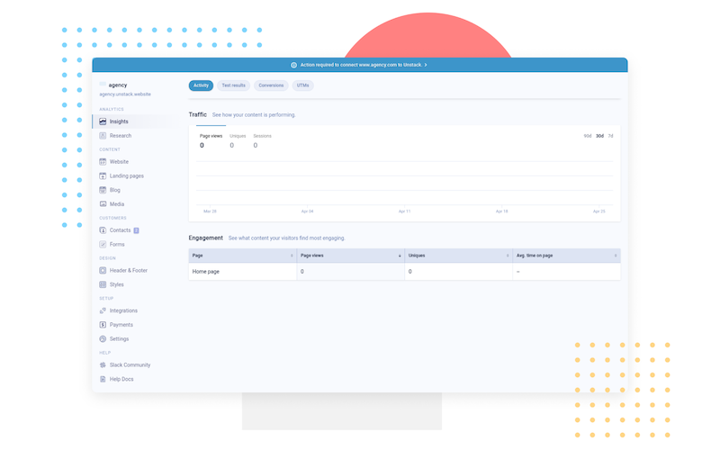 Unstack also has integrated content analytics tools, including data from Google Analytics and Google Search Console, contact activity tracing, and A/B testing. 
2. WordPress 
WordPress is the most widely used CMS globally, powering about 30% of websites on the web. WordPress offers its users everything tools they need to create a website or blog. The platform can be used for content creation, content uploads, and visitor tracking. Just keep in mind that WordPress almost always requires dev support, so extra costs are likely here.
3. HubSpot  
HubSpot is an all-in-one sales, marketing, and CMS/CRM suite that gives content marketers the tools they need to create content that attracts leads to their business. Some of the most popular tools HubSpot offers include a form builder, live chat options/chatbots, and an all-in-one WordPress plugin specifically for marketing. This CMS option is works well for established, enterprise companies.
Also, HubSpot's blog is also a fantastic resource if you're looking for tips and guides on how to market your business online. 
Word Processors
These might not seem like content marketing tools at first, but you try to write and format an engaging, in-depth guide in a notes app or, worse, an email draft and then we'll talk.
4. Google Docs
If there's one place that every content marketing professional hangs out on a regular basis, it's Google docs. In case you don't know, Google Docs is a free, web-based word processor that offers users the chance to create and format documents and easily collaborate with others. 
Google Docs come free as part of a suite offered by Google that includes various other web applications, including Google Sheets and Google Calendar.  This is one of our go-to content marketing tools.
5. Microsoft Word (Part of Microsoft 365) 
There was a time when using Microsoft Word felt a bit old school, but with the enhancements Microsoft has made to the application over the past few years, it's now an innovative, easy-to-use word processor. 
Microsoft's latest version of Word goes far beyond word processing. With features such as instant translation, web page formatting, and 3D Model insertion, users can use Microsoft Word for a wide range of different projects. Plus, you can get it for free.
One benefit of using Microsoft Word? These files will keep a history of track changes and comments, which Google Docs doesn't do—yet. 
Content Enhancement Tools
Here are some content marketing tools that can help you take that great content you've created and take it to the next level.
6. Grammarly 
There's no point in creating content that's full of typos and other grammatical errors. One tool that will catch any typos and grammatical mistakes you do make is Grammarly. Grammarly is a digital writing assistant tool based on AI. Grammarly's algorithms flag issues and offer suggestions for grammar, spelling, wordiness, punctuation, and style. 
Grammarly is available as a web and desktop editor and a browser extension for Chrome, Safari, Firefox, and Microsoft Edge. Grammarly has also recently released a beta plugin for Google Docs, so you can use Grammarly to check your content as you write. It's the perfect tool to use if you like editing your content as you go or want to check the overall quality of your content. 
Grammarly also offers a premium service where you can enjoy features such as a plagiarism checker and navigate between languages and language variants such as British and American English.
For example, I use Grammarly when creating an article. Once I am done writing the piece, I simply paste the entire copy into Grammarly and the app will show me a few grammatical mistakes that need to be worked on. 
The above screenshot is what you would be looking at when Grammarly finds a mistake within your content. You will be shown the correct spelling/ version of the sentence, the reason for the change, and the ability to make the change in the copy. 
Grammarly will also give your content a score from 1 to 100 and the score will gradually improve as you correct your errors.  It's a great way to make sure your content is always error-free and ready for publishing.
7. Canva
If you're looking to liven up your content with high-quality images, then Canva is the tool you need. Canva is a graphic design platform that users can use to create social media graphics, posters, documents, presentations, and other visual content. The great thing about Canva is that it doesn't require users to possess existing graphic design skills to use the tool. 
From a content perspective, Canva is great for creating content marketing material such as social media images, social media cover photos, blog cover photos, or enhancing existing content with new pictures or images. 
8. Pexels
Pexels offers free high-quality stock photos that you can use for your content and website. All you do is type in your topic into the search bar to find the image you're looking for. For example, let's say you're writing a blog post for a law firm, all you'd need to do is type in "law firm" into the search bar, and you'll have free access to a bunch of law-related images that you can use in your content. 
The cost of stock images can gradually stack up, particularly if you're starting a new website or optimizing a lot of content, so Pexels is a great option to keep image sourcing costs down.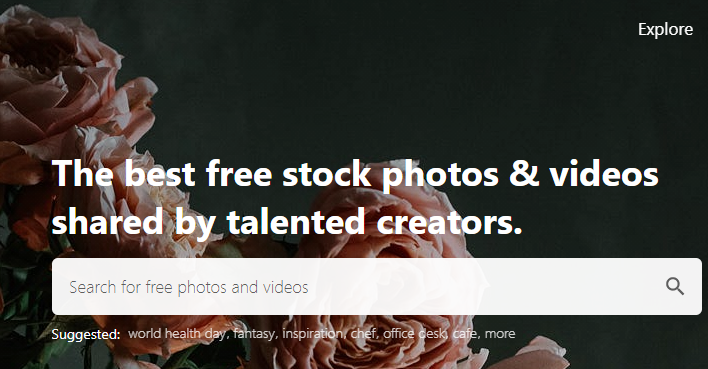 Good news for Unstack users, too—you can access Pexels right in the platform so you can improve your blog post or landing pages with high-quality images without ever changing tabs. 
9. Flipsnack
Flipsnack is an online content creation tool that allows users to design or customize their marketing content materials and stunning visuals for their preferred social platforms. 
Its' intuitive interface comes to the rescue each time so you don't need to worry about lacking creativity or technical abilities.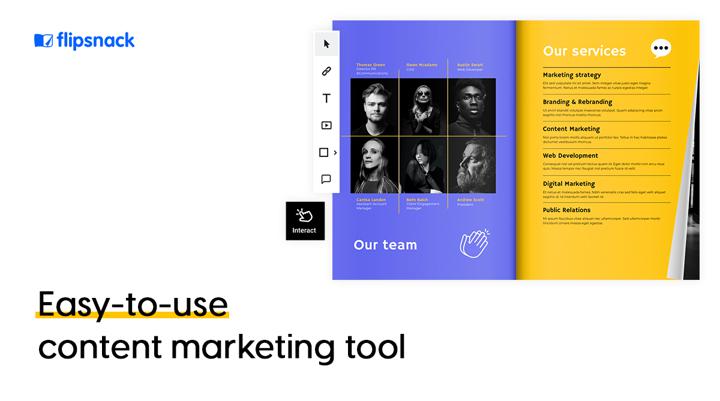 You can easily create from scratch your own flipbooks, presentations, magazines, catalogs, brochures, you name it, thoroughly guided by the drag and drop editor. 
If you want to speed up the process you can also just use one of the many preexisting templates available in the integrated library and adjust it to your own taste. 
With Flipsnack you can easily create engaging content by adding audio, videos, photo slideshows, GIFs, and many more interactive elements. You can even embed Google maps into your presentation or add social media buttons that will guide your readers straight to the indicated platforms without any fuss.
10. Loom 
Loom is a free piece of screen recording software that makes it easy for users to record and share videos directly from their browser or from a downloadable application. Through Loom, you can record your screen, voice, and face, which allows you to create instantly shareable videos in less time than it takes to write and send an email. 
Loom is fantastic for creating product walkthrough videos, how-to videos, and any other kind of video content you want to produce from a content perspective.
Pete McPherson, a amazing blogger and owner of DoYouEvenBlog, regularly uses Loom when creating video content for his email subscribers.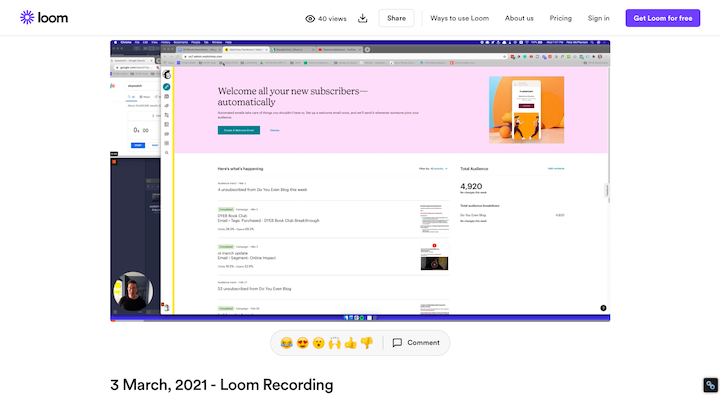 As you can see, the amazing piece of software allows you to record your screen as well as add an icon of your face on the side—this means it is great for walkthrough videos where you want to explain something to your audience as Pete is doing in the example above.
Content Analysis/SEO Tools
How do you know if your content is effective if you're not tracking its performance? You don't. Here are some content marketing tools focused on performance.
11. Semrush
Semrush is one of the most comprehensive content analysis tools out there. With Semrush, you can quickly view what keywords your competitors are using to gain organic rankings and see which keywords your company and your content are ranking for. Semrush has a host of other features that you can utilize for every part of your content creation. If you haven't created a Semrush account before, you can get started with a 30-day free trial.
You can also see an overview of a keyword you are going to be targeting down the line. For example, here is the keyword overview for the search term "invest in stocks":
Good news for Unstack users: Semrush tools are now available right in the platform!
12. Google Analytics 
Google Analytics is a free tool that marketers can use to analyze their website and content's performance. When you first jump into Google Analytics, it can feel a little overwhelming due to the amount of data it collects, but when used correctly, it can provide invaluable insights that content marketers can utilize to measure and improve their content. 
As Google Analytics is free, it's one of the best digital marketing and content analysis tools to use if you're on a budget or just getting started with content marketing or making money online.
13. Ahrefs
Ahrefs is one of the most comprehensive SEO tools your company could possibly use. It is also the most premium which is why some people avoid using the tool to save on costs. However, I would say that it is well worth what you pay for it. 
Ahrefs can give you a complete breakdown of your site's SEO metrics and can help you understand where you stand as compared to your competitors. Let us look at a few examples of Ahrefs at work in the law content space.
Roman & Gaynor is a personal injury law firm that is trying to rank better on Google for terms that their customers are likely searching for within their industry. If the owner or digital marketing expert at Roman & Gaynor is trying to figure out what terms they should be focusing on ranking for, Ahrefs can lend a helping hand.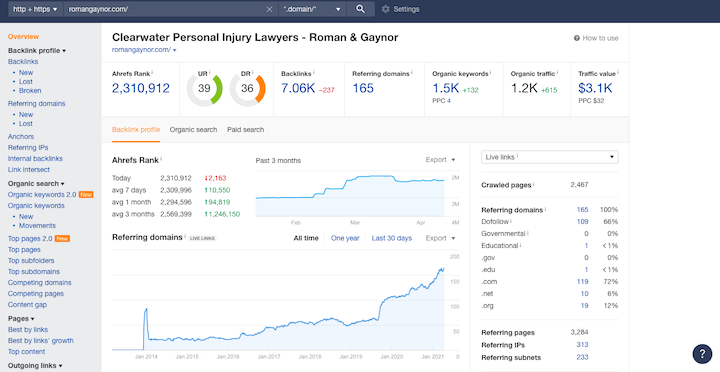 Once you input the site name into Ahrefs, and go to "competing domains," you will find a list of domains that are ranking for similar keywords that your site is ranking for. 
In the case of Roman & Gaynor, Lavent Law is on the top of this list.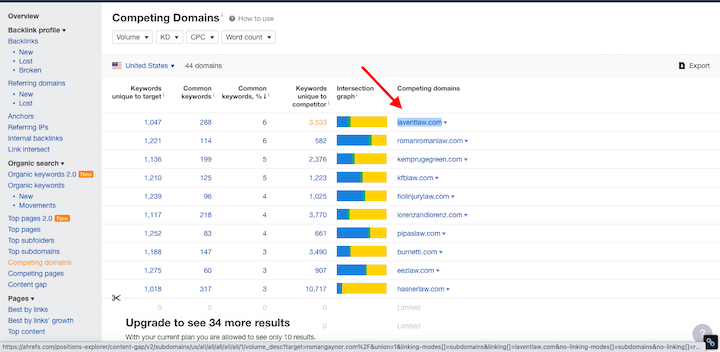 After clicking on the "Keywords unique to competitor" number in that same row, Roman & Gaynor now has 3,533 keywords worth targeting and that they can very possibly rank for (since their competitor with a similar backlink/DR profile is already ranking for them).
Project Management Platforms 
If you're working in content, you know that it's a challenge to keep up with all the moving parts. That's why you need to add a project management platform to your stack of content marketing tools. Here are a few I love.
14. Trello 
Both experienced, and newbie content creators and marketers need an efficient way of managing the process. A perfect tool for managing the content creation process is Trello. Trello is an easy-to-use simple project management/kanban tool.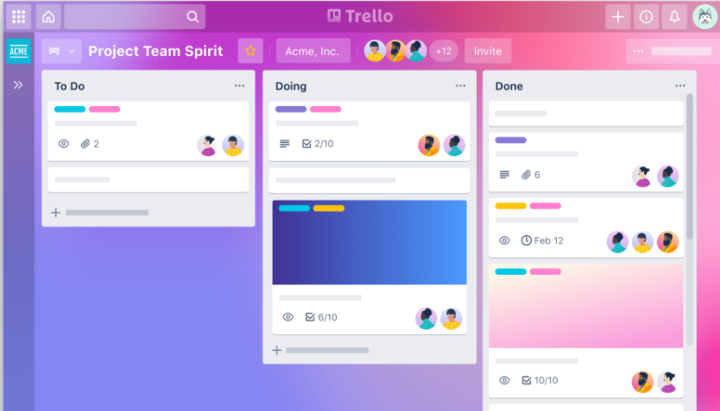 The platform uses boards to represent projects and uses cards to represent tasks that need completing. Whether you're working on content strategy or managing your calendar, you can use Trello to track and organize team files and projects all in one place.
15. Asana 
Similar to Trello, Asana is a project/work management tool that allows teams to work together on tasks and projects. Asana makes it easy for team members to share projects, monitor the activities that everyone on the team has carried, and assign new projects to team members. With Asana, you can also organize tasks by priority, eliminating the overreliance on email for communication and spreadsheets for collaboration. 
16. Slack
Who doesn't know Slack at this point? It is one of the most common communication software options used by remote teams and in-house office teams alike. Slack allows teams to create a "workspace" they can use to keep in touch with each other.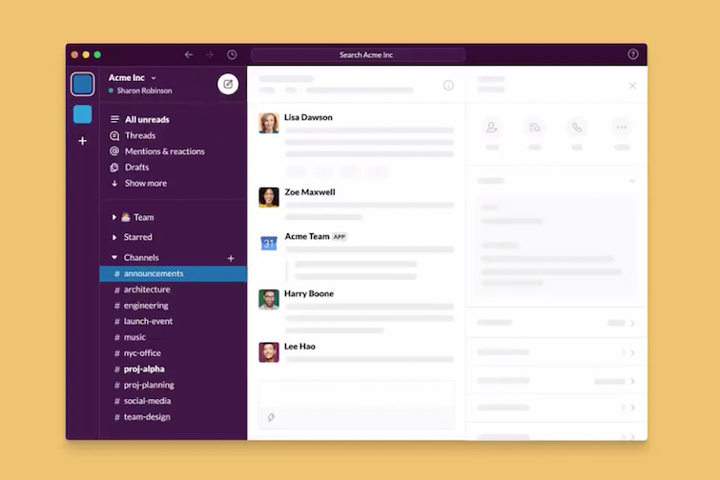 Especially in the case of remote teams, Slack can be extremely helpful in bridging the communication gap and keeping everyone on the same page. It can also be integrated with other remote team software options like Nectar, an employee recognition software that allows teams to reward each other with everything from an Amazon voucher to cookies for good work, challenge each other to perform better, and much more.  
This simple communication tool can help foster collaboration, create a positive work culture, and keep teams on the right path no matter what time zone everybody is working from.
Content Promotion Platforms
Content marketing is a multi-step process. After you've planned, created, and released content, you're still not quite done. You need to distribute it. Here are a few content marketing tools that can help you.
17. Constant Contact 
Constant Contact is one of the most popular email marketing services on the market. It comes with powerful reporting and email tracking capabilities that allow you to manage all your email marketing projects, such as newsletters, customer surveys, webinars, and product update emails. 
You can use a tool like Constant Contact to email your customers and prospects whenever you publish a new piece of content, when you have a new product available or a new promotion running, or any other types of emails you're sending.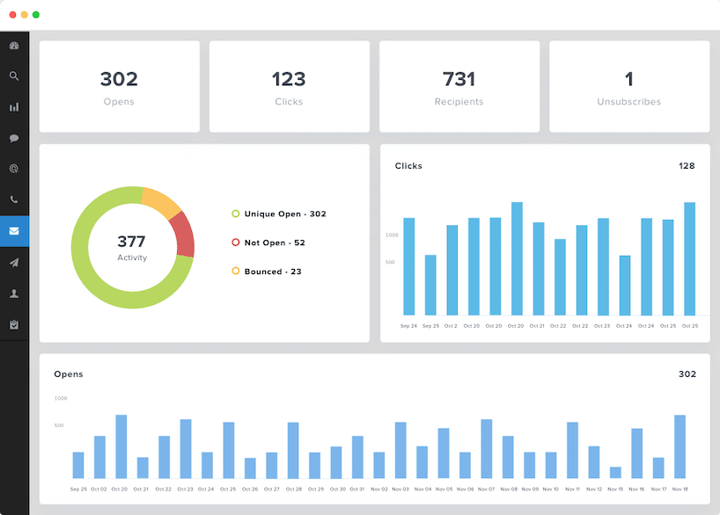 As you can see in the dashboard above, Constant Contact allows you to start email campaigns where you can send out an email to all of your subscribers (or those in a particular segment that have signed up for a certain opt-in form). 
You can then track open rates, clicks (how many people have clicked on links within the email), how many people have unsubscribed from your list through that email, how many emails bounced, and much much more.
Inside Constant Contact, you'll also find in-depth training materials, an active user community, and online support to troubleshoot any problems you have while using the platform. 
18. GetResponse
Similar to Constant Contact, GetResponse is an email marketing service that allows you to send professional-looking emails to your audience and promote your content with ease. Inside GetResponse, you'll find an email intelligence feature to analyze the performance of your campaigns. 
The same feature allows you to tap into accurate customer targeting so you can gain further insights into how your audience is reacting and responding to your content and the emails you're sending. 
19. BuzzStream  
Email isn't the only way to promote content. Another method is to reach out to influencers in your niche to get your content shared or generating links back to it. BuzzStream can help you with both of these goals. Within the BuzzStream platform, you can find and connect with influencers in your niche, manage relationships and engage in personalized outreach. 
The way you use BuzzStream can depend on your needs or which type of outreach you want to do, so make sure you have an idea in mind before starting a paid subscription for the platform.  
Wrapping It Up
As you can see from the breakdown of content marketing tools listed above, the type of content marketing tools you'll use will depend on where you are in your content creation process. If you're just getting started, make sure you choose the right CMS and find a word processor you are comfortable with. 
From there, you'll want to use tools such as Semrush and Google Analytics to carry out the necessary keyword research to produce, analyze, and optimize your content. The 18 tools we've briefly introduced in this article are just the tip of the iceberg. As your content strategy continues to change, be prepared to consistently review the tools you are using and never be afraid to test out new tools or software to improve your content's performance.